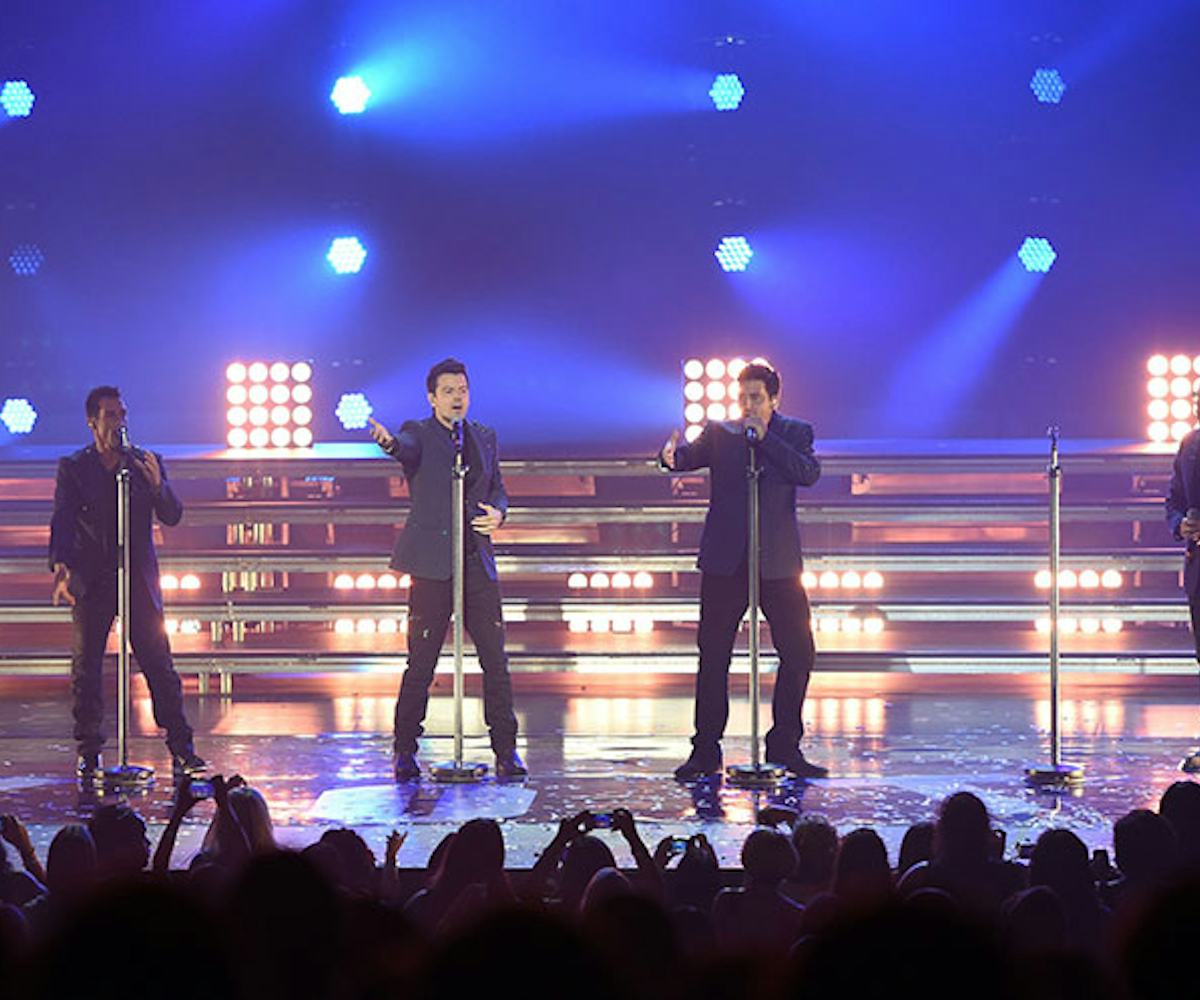 photo via getty images
your favorite 90s bands are reuniting
new kids on the block, tlc, nelly, and the best tour ever.
We've known that the '90s were back for some time now—we updated our outfits with retro plastic choker necklaces and have been streaming Friends on Netflix almost non-stop since it became available January 1. But now things are getting seriously real: The New Kids on the Block are fulfilling all of our dreams by reuniting for what's will probably be the best tour ever. Even better, this time the boy band will be accompanied by none other than TLC and Nelly, as they announced this morning on Good Morning America.
Apparently the tour will be their biggest and best yet. With bar seats set up around the stage, concertgoers will be able to get up close and personal with the band. Donnie Wahlberg explained, "Our fans can literally sit right on the stage and converse with us, hang out and heckle us, and we can share their snacks and drinks if we want to." Forget your cherished signed CDs and posters—this is your chance to actually befriend the band of your childhood.
While the New Kids have made no promises of actually reuniting and making new music, TLC has set out to record their fifth and final studio album with the help of fans through Kickstarter. With perks like signed vinyls and a slumber party with T-Boz and Chilli, the Kickstarter aims to raise $150,000 by February 19, and fundraising effort will also be assisted by a $10,000 donation from the New Kids themselves. While Nelly has been recording on and off the past 15 years, we're hoping that the tour will inspire him to perform some old favorites. Seriously, who doesn't love jamming out to "Ride Wit Me" anyway? Previous NKOTB reunion tours included acts by Boyz II Men, the Backstreet Boys, and 98 Degrees. 
Tickets for the tour go on sale January 31. And with that, the '90s dream is alive somewhere other than Portlandia.