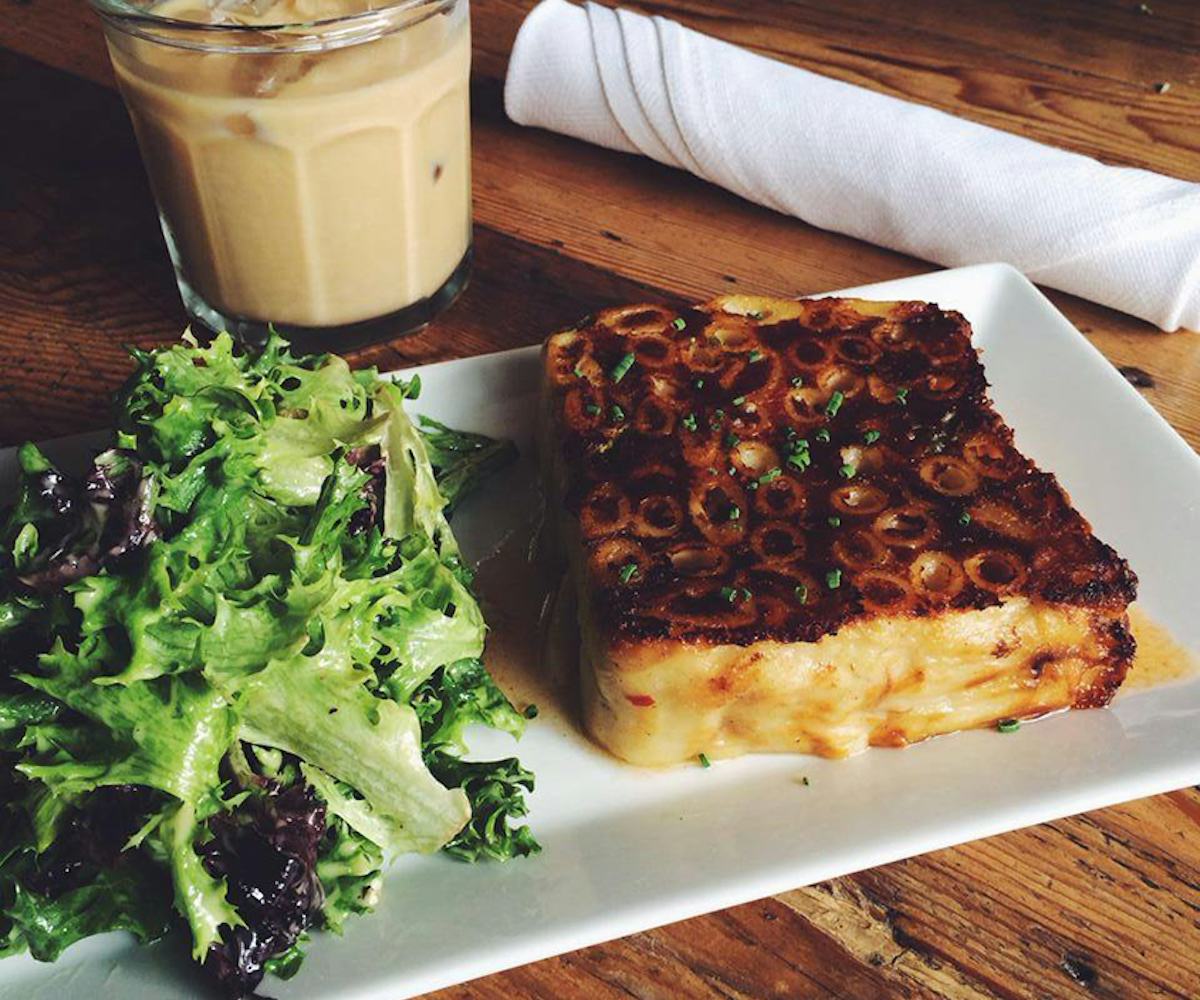 photo via the queens kickshaw on facebook
nylon guide to nyc: coolest cafes edition
the top 10 best coffee shops you'll actually want to do work in.
Welcome to the NYLON Guide to NYC, our new feature where we hook you up with the best places to visit in NYC, based off of a certain theme. This week's theme? Coolest cafe's to do work in! So read below to find out where you can knock out your next screenplay, school paper, or break-up note and stay tuned to find out where we're going in NYC next!
We all have our favorite spot for that morning hazelnut cappuccino on-the-go, but when it comes to getting coffee in New York City--where latte foam is its own form of art and some of the city's best coffee purveyors are quickly becoming chains--a stop at your favorite beanery can feel like a tourist trap.
If you're looking to find a place where you can get a little caffeine-fueled work done this summer, while still having some peace of mind, we've got you've covered. Here are our top 10 go-to cafe's. Think we missed one? Tell us your favorite in the comments below!
If you're looking for the perfect pick-me-up while you're typing away, then definitely head over to The Queens Kickshaw in Astoria. They have great coffee and ciders, but are really known for their delectable gooey grilled cheeses. But, FYI, if you go for brunch, you need the Layered Potato Cake.
While Mud's extension of the outside is a really good balance of natural light and indoor comfort, one a really nice day, we love doing work outside. On those days, we go to Mud--especially for procrastinating by people watching. We're talking Internet first dates, NYC newbies, East Village locals, and people who have just stumbled in and have no idea where they are--these characters will definitely inspire you to keep writing. 
This coffee shop is both cozy and super relaxing. With a giant open door, the space really feels like an extension of the street. Their woodgrain-covered space feels like it's half of a club and yet half of your favorite spot to read a book in your apartment. The best part? If you end up staying through happy hour, this venue also serves wine. 
Blank Cafe is another one of those super cozy spots with an open door and great lighting. They've also got sandwiches, cookies, beer, and inspiration. The latter comes in the form of a bunch of books on shelves around the Broadway spot next to Urban Market. So, if you're in the market for a random good read, stop by for a latte and browse the gems on their shelves. Bonuses? Free WiFi and an ATM (since they're cash only).
OK, so technically Joe Coffee is a chain, but their 13th Street outpost is everything we could ask for in our go-to work spot. A nice long table, soft music, and friendly, attractive baristas (heeeey). 
Walking into Grounded feels like walking into someone's cool NYC apartment, straight out of a movie. There's tons of comfy couches, tables, and a criss-crossing of powercords happening. While its certainly quiet, just be warned--sometimes it's so comfy in there people never leave, so you've got to get there early if you want to grab a good seat. 
Think Coffee - NYU, West Village
If you're a student, this is where you can meet to chat about your best-slash-worst professors, and find your peers flocking for a good cup of joe and WiFi during late-night cram sessions.
Ciao For Now - East Village or West Village
While Ciao for Now has tasty coffee, we're partial to their ginger iced tea. And that's just one reason why it's the perfect summer hangout for getting work done. The atmosphere isn't so serious, with the staff enjoying every minute of being there just as much as you are; singing along to the music, making food puns--this totally beats a library.
Glass Shop - Crown Heights
Australian-style coffee spot Glass Shop, located in a former glassworks shop (hence the name), serves up La Colombe and olive oil cake, which make for the perfect treats while enjoying their back garden.
The Civil Service - Bed-Stuy
Not only will you get a comfy couch to relax on when you hit up The Civil Service, but you'll also get signature menu that'll make you want to spend all day eating here (and yes, we've noshed on breakfast, lunch, and dinner at the spot before--we suggested pairing their insanely good croissants with their insanely good iced coffee).