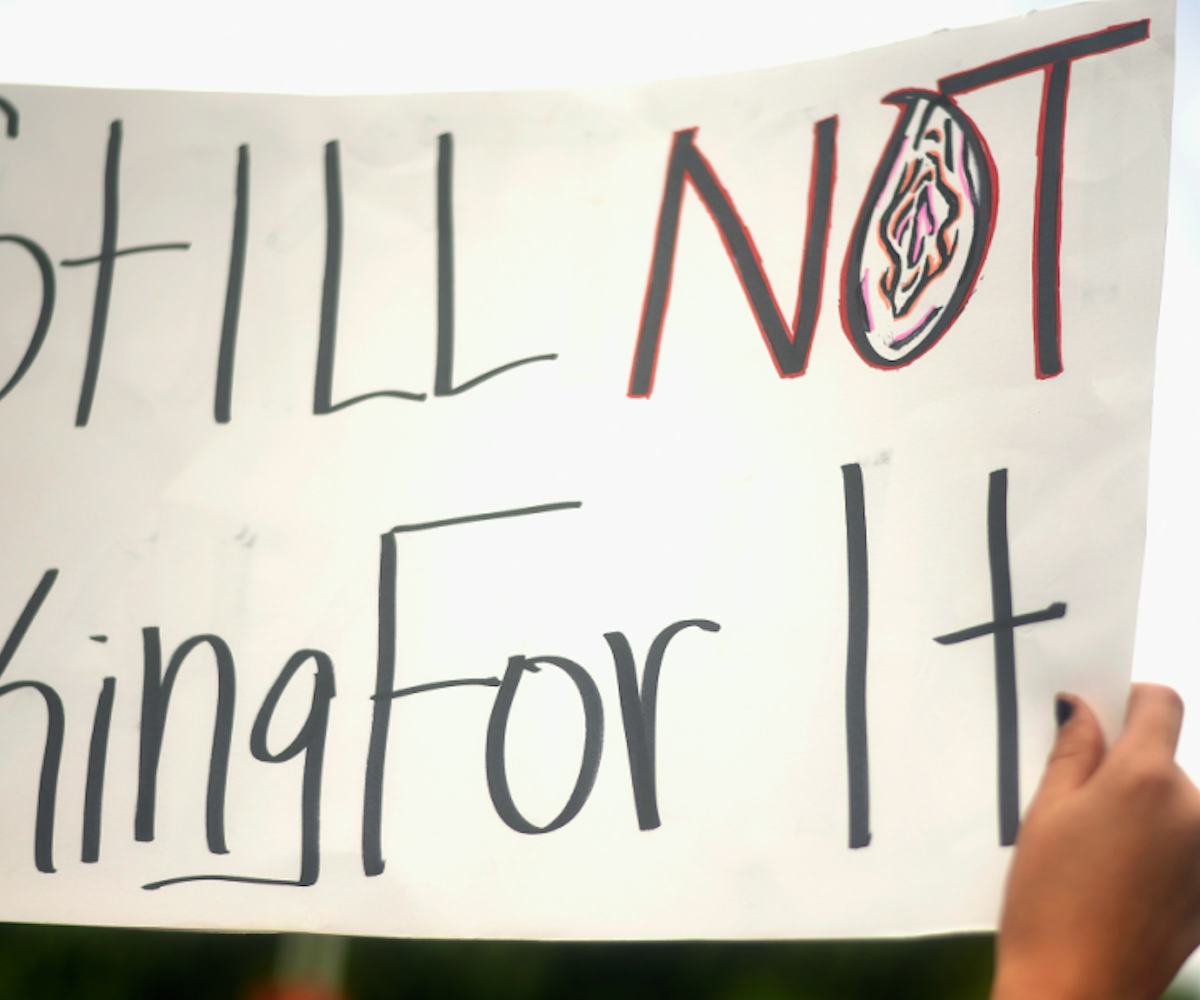 Photo by Chelsea Guglielmino/Getty Images
New York Passes Bill Banning Police From Having Sex With People In Custody
"This is such a common sense issue"
Today in "how was this not already a law?" news: Earlier this week, New York passed a bill that prohibits police officers from having sex with people in custody. According to BuzzFeed News, a loophole that exists in the law made it so that officers could potentially get out of sexual assault convictions for encounters with people in custody by claiming they were consensual, but this new bill would finally close that gap.
The bill, according to the New York State Senate website, "relates to establishing incapacity to consent when a person is under arrest, detention or otherwise in actual custody." It states:
Section 1 of the bill amends Subdivision 3 of Section 130.05 of the Penal Law by adding a new paragraph (j) to establish an incapacity to consent when a person is under arrest, detention or otherwise in the actual custody of a police officer, peace officer or other law enforcement official and the actor is a police officer, peace officer or other law enforcement official who is responsible for effecting the arrest of such person or maintaining such person in detention or actual custody; or knows or reasonably should know, that such person is under such arrest, detention or actual custody.
This is great news, but it's really just a great start. New York isn't the only state that needs a bill like this—in fact, it's just one of 35 states that don't have laws explicitly stating that those in custody cannot legally consent to sex. In states that don't have this legal loophole to contend with, having sex with someone in custody is considered an automatic sex crime. But in the states that do? It's not so simple.
In California, for example, first offenders are charged with a misdemeanor, facing felony charges only for additional violations, according to BuzzFeed News. And in Texas, sex in custody is simply considered an "administrative offense" and perpetrators face up to only two years in prison. Without this new bill, the way New York laws are currently written, officers can admit to having sex with a person in custody and be convicted of no more than a misdemeanor for official misconduct.
Since February, BuzzFeed reported that at least six states have begun drafting or have introduced new bills to try and prevent such gross abuses of power, but what about the rest? That this is an issue affecting more than half of the United States—one that nearly 30 states have yet to take formal action on—is truly disturbing. 
Mark Treyger, a New York City Council member representing Brooklyn, talked to BuzzFeed News about why this new bill is so important, stating:
I am proud that our leaders at the state level have recognized the need to finally close this antiquated loophole and ensure that our laws on sexual consent align with basic common sense and human decency. This is such a common sense issue. There is no reason, no excuse that similar loopholes should not be closed in other parts of the country where they may still be in existence.
Honestly, agreed. Here's hoping more states come through with legislation like this bill ASAP.