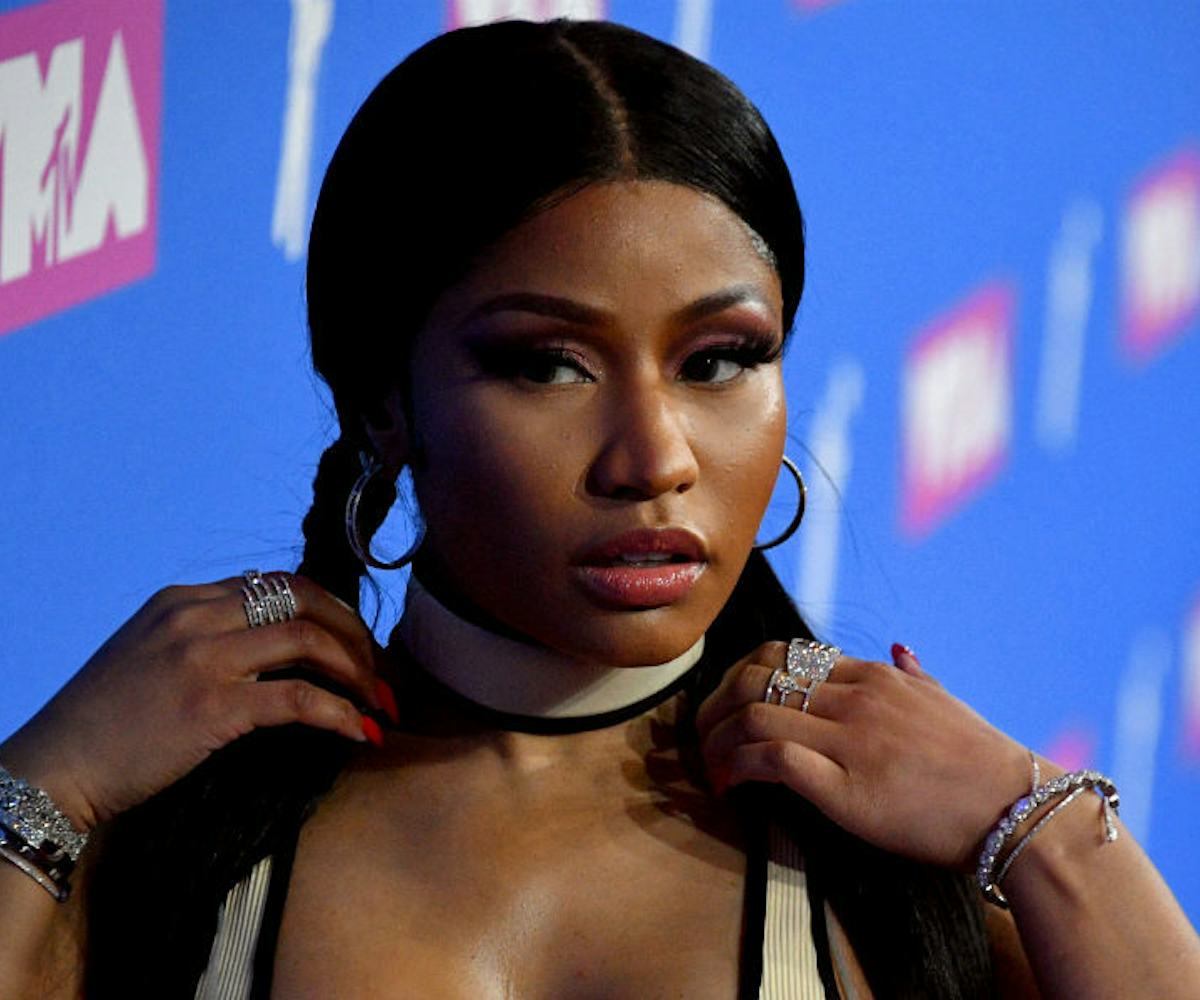 Photo by Dia Dipasupil/Getty Images for MTV.
Nicki Minaj Suggests Cardi B Has Postpartum Depression Following NYFW Drama
So, we're still doing this
No, the Nicki Minaj and Cardi B beef has not ended. In fact, we might be in the trenches of it as we type.
To recap: The rumored feud came to a head this past weekend when video footage of Cardi and Nicki fighting at Friday's NYFW Harper's Bazaar party started circulating on the internet. Following this, Cardi took to Instagram to air out her frustrations, noting that she's let a lot of stuff slide in the past, but she won't tolerate someone talking about her child and making comments about her parenting. 
Cardi then got a Tom Ford lipstick named after her. It subsequently sold out, and we thought the drama had been put to bed. Wrong. 
Yesterday, Nicki went on Queen Radio to give her side of the story, and she had a lot to say. "The other night I was part of something so mortifying and so humiliating to go through in front of a bunch upper echelon," she said, referring to Friday night's events. "The way they passed by looking at this disgusting commotion. I was mortified." The rapper then said she couldn't get into specific details of what happened because of "legal reasons," but proceeded to rebuke the claim that she talked about Cardi's daughter. "I just want people to know that Onika Tanya Maraj has never, will never speak ill on anyone's child," she said. "I am not a clown. That's clown shit." She quickly added though that, as Cardi once said, in a beef, nothing is off-limits. 
After Nicki accused Cardi of having women beat up for allegedly messing with her husband, things took a turn when she referred to her as a "disgusting pig" and said she should be worried about her newborn, not fighting. "Let's get up a 1-800 number for postpartum depression," she suggested. "You just had the biggest blessing of your life with a child, and in two weeks, you have attacked three women. One at Fashion Week… Get this woman some fucking help. This woman is at the best stage of her career and she's throwing bottles?... Who the fuck is gonna give her an intervention?"
Cardi B has yet to respond to Nicki's comments.