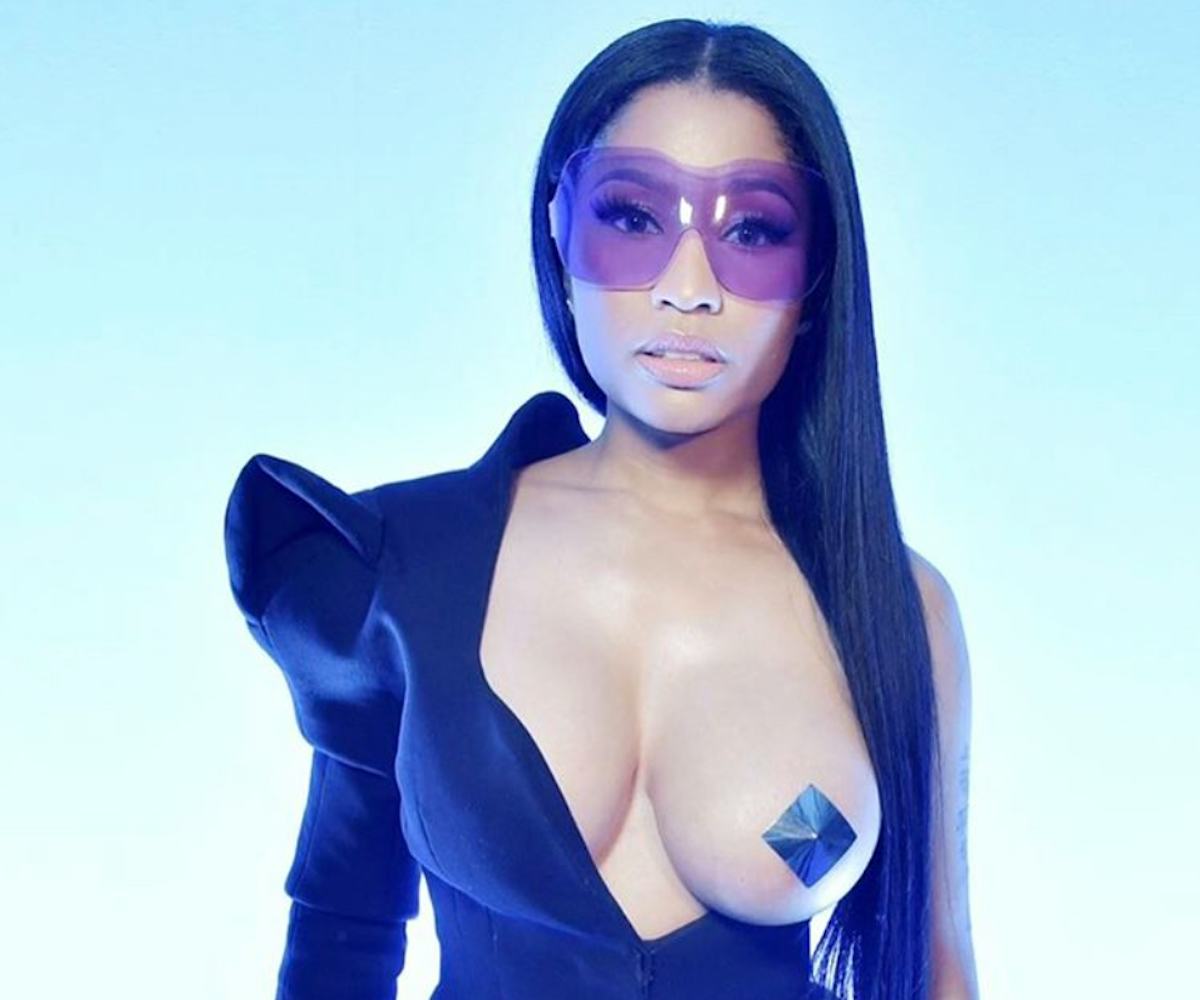 Photo via @Nickiminaj/Instagram
Nicki Minaj Served A Cyberpunk Lil' Kim Look At Paris Fashion Week
Nicki Minaj has clearly not been in the studio working on a response to Remy Ma following the release of two highly controversial diss tracks and attacks on social media earlier this week, but she's certainly been putting in time with a skilled stylist. At Paris Fashion Week, Nicki shocked and delighted audiences with a futuristic take on a classic hip-hop look: With one exposed breast, Minaj paid homage to rap legend Lil' Kim's most iconic red carpet outfit. But Nicki's putting her own spin on this throwback and has us wondering: Is this advanced cyberpunk aestheic a step forward in Minaj's evolution?
Check out the look, below:
Giving credit where credit is due, the jacket is by Mugler, the shorts are by Givenchy, the pastie is by Agent Provocateur, and the shades are by Veronique Leroy. Those who remember the scandal that broke out when Minaj's predecessor wore a rather similar outfit on MTV's red carpet in 1999 at the VMAs will surely draw conclusions about how much this outfit is (or is not) a sartorial tribute:
Notably, Lil' Kim herself has been trying to stay far away from Minaj and her current feud. "We all know the situation that's going on with Remy and ol' girl," said Kim to Billboard just a few days ago. "That's their situation and I have nothing to do with that."
Instagram connoisseurs will note that Nicki's been amping up the whole cybernetic future-bitch thing for a hot minute (most notably with oversized sunglasses, her current accessory of choice), and we're all just catching on: