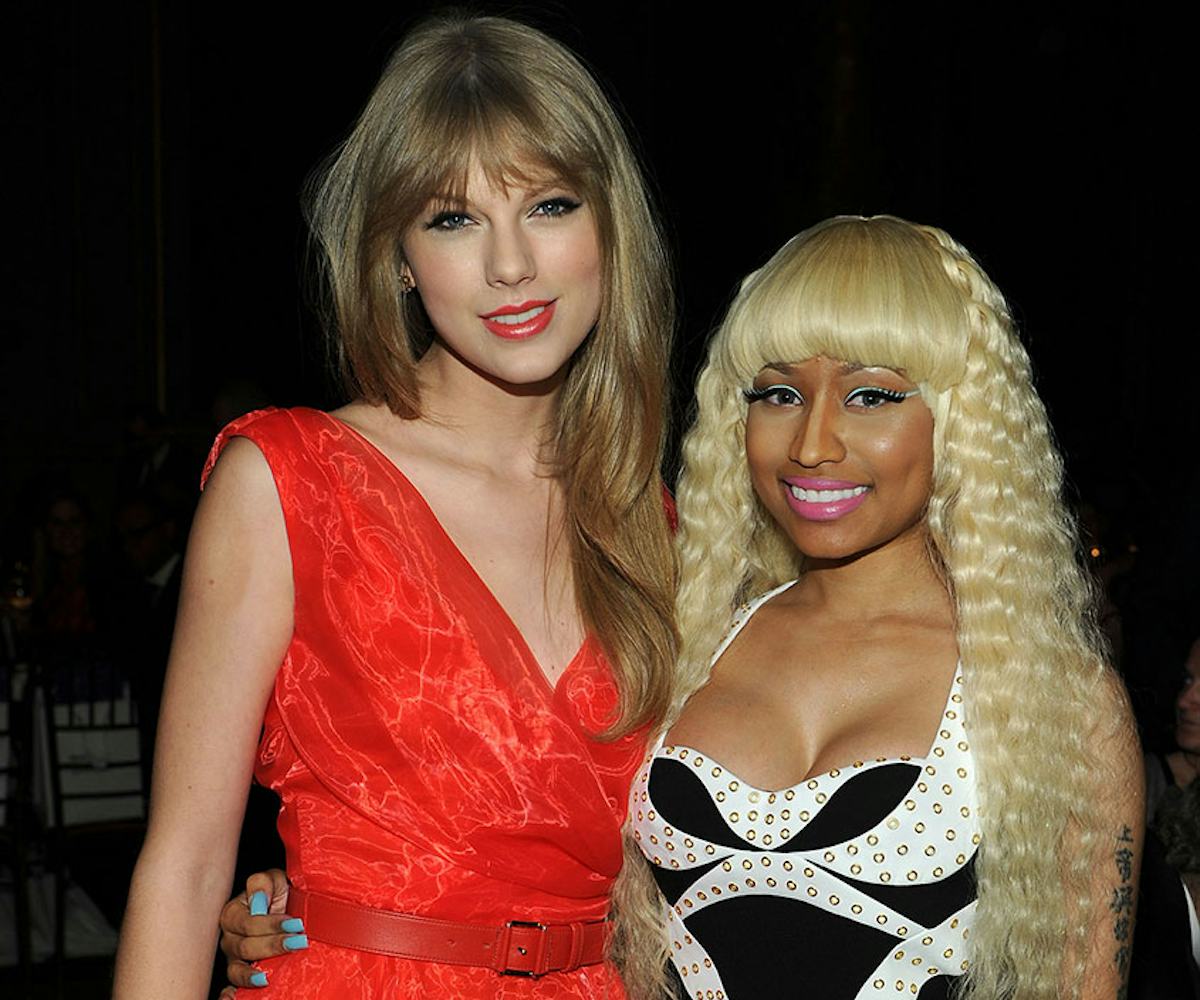 Photo by Larry Busacca/Getty Images
nicki minaj's vmas outrage overshadowed by faux taylor swift beef
The MTV VMA nominations were announced yesterday to much celebration and frustration. Taylor Swift, the seemingly unstoppable force that she is, earned a whopping nine nods, beating Beyoncé by two. Both ladies were, however, the only females to make it into the Video Of The Year slot. Nicki Minaj, creator of "Anaconda," arguably one of the best, most female-empowering videos of the past year, took notice and went to Twitter to air her frustrations.
"If I was a different 'kind' of artist, Anaconda would be nominated for best choreo and vid of the year as well," Minaj tweeted yesterday afternoon that soon snowballed into a "Twitter feud" between Taylor Swift. You could say the "Bad Blood" started spilling soon after. And the media Ate. It. Up. 
The high school back-and-forth drama was, admittedly, juicy to watch unfold on our screens. It didn't progress anything, but it was certainly juicy. It's a shame Minaj's reason for speaking out in the first place—to call attention to the way white, female artists are awarded for doing the same thing black, female artists do—was overshadowed by petty drama. The conversation that had been started was drowned out by folks picking sides; BuzzFeed literally asked people whether they were more Taylor Swift or Nicki Minaj. Swift's interjection—whether good-intentioned or done so because she saw herself in Minaj's Tweet and felt attacked—was insensitive. (Her second response did nothing to quell the "beef.") There was an opportunity to advance the conversation of racism within the music industry and media at large, and Swift turned it around and made it about herself. Where Minaj was searching for answers, Swift subversively pinned two women against one another and blamed Minaj for doing so—all over Swift's video for "Bad Blood," a video about pinning women against women. The irony of it all is astounding.
You can be assured the dialogue isn't over, either. Whatever goes down at this year's VMAs, an award voted for by the general public, will be indicative of how far we still have to go before Minaj's point is driven home.
http://mxx-ams.tumblr.com/post/124750894478/blacksnobbery-blacksnobbery-but-this-is-the