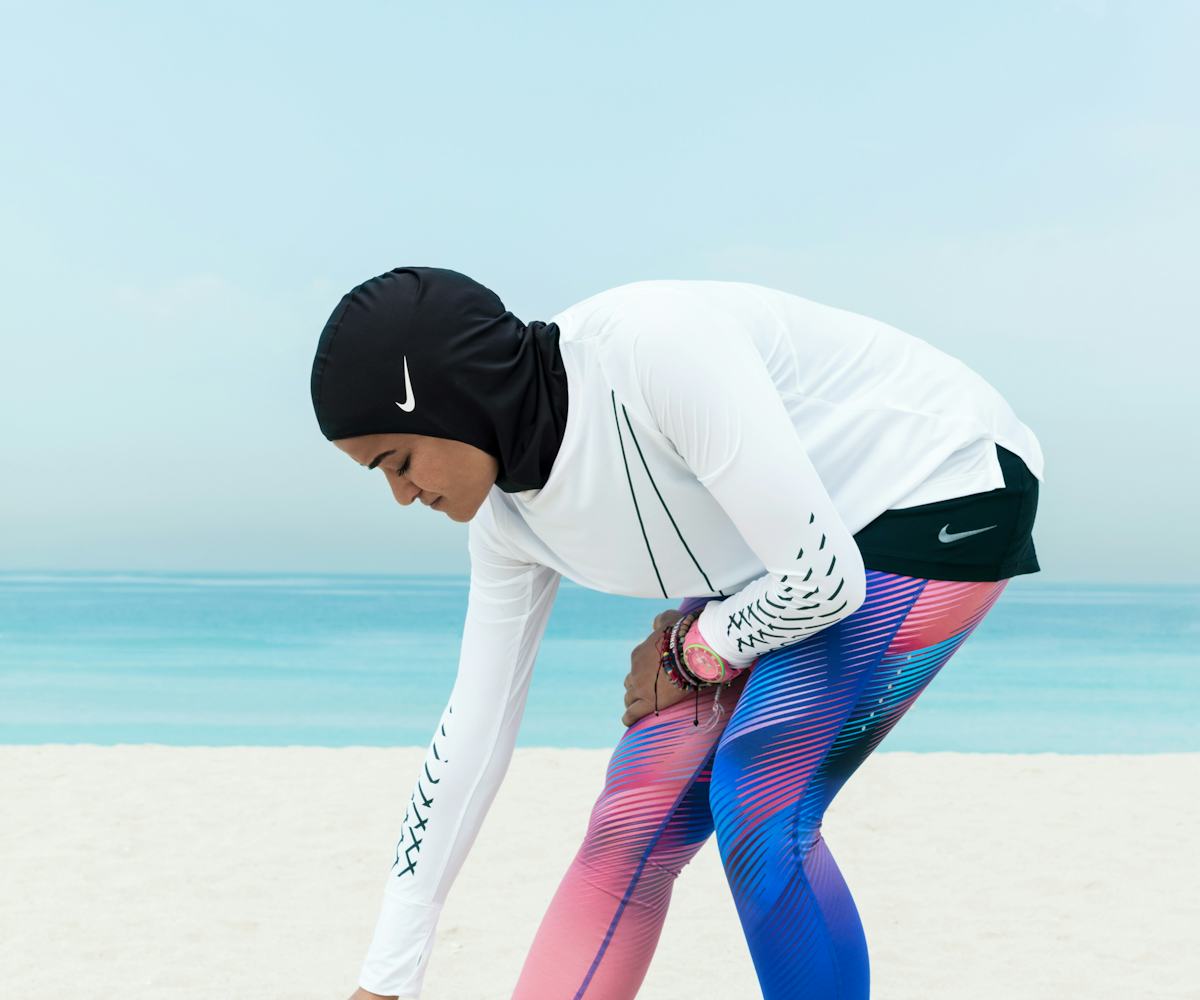 Photo courtesy of Nike
Nike Just Introduced A Line Of Sport Hijabs
Because Muslim women are athletes, too
The past two years have been pretty monumental in terms of hijab and cultural inclusivity within the global fashion industry. With last year's launch of luxury hijabs and a modest fast fashion line to last month's announcement of Halima Aden becoming IMG's first hijab-wearing model—proudly walking the Yeezy Season 5 show at a time where the country is dealing with unwarranted religious prejudice—the fashion industry is taking steps to being more inclusive all-around.
However, one segment that has yet to be addressed is activewear for Muslim women. Sure, there is now a slew of modest options available for women looking to get dressed for work or dinner, but what about for an early morning jog or a game of basketball? Well, Nike is here to finally address this lack in the market. Just a week after launching their first plus size women's line ever, the athletic wear giants have introduced yet a new game-changing collection: Nike Pro Hijab, a line of sport hijabs set to launch later this year.
"By providing Muslim athletes with the most groundbreaking products, like the Nike Pro Hijab, Nike aims to serve today's pioneers as well as inspire even more women and girls in the region who still face barriers and limited access to sport: Fewer than one in seven girls participate in locally recommended sport activities for 60 minutes or more," reads a press release from the brand.
This new line was no easy feat—it's been a year in the making, with extensive research and testing going into it. Not only did Nike have the product tried and tested for functionality by elite Nike athletes—from Emirati figure skater Zahra Lari to Nike+ Run Club coach Manal Rostom—and throughout the Middle East by everyday runners and cyclists, but they sought opinions on the aesthetic too. As each country has a specific hijab style, the design had to be able to accommodate any variances in addition to meeting cultural requirements.
While we don't have a specific debut date just yet, we can expect these new sport-friendly hijabs to launch in black, vast gray, and obsidian sometime this fall.