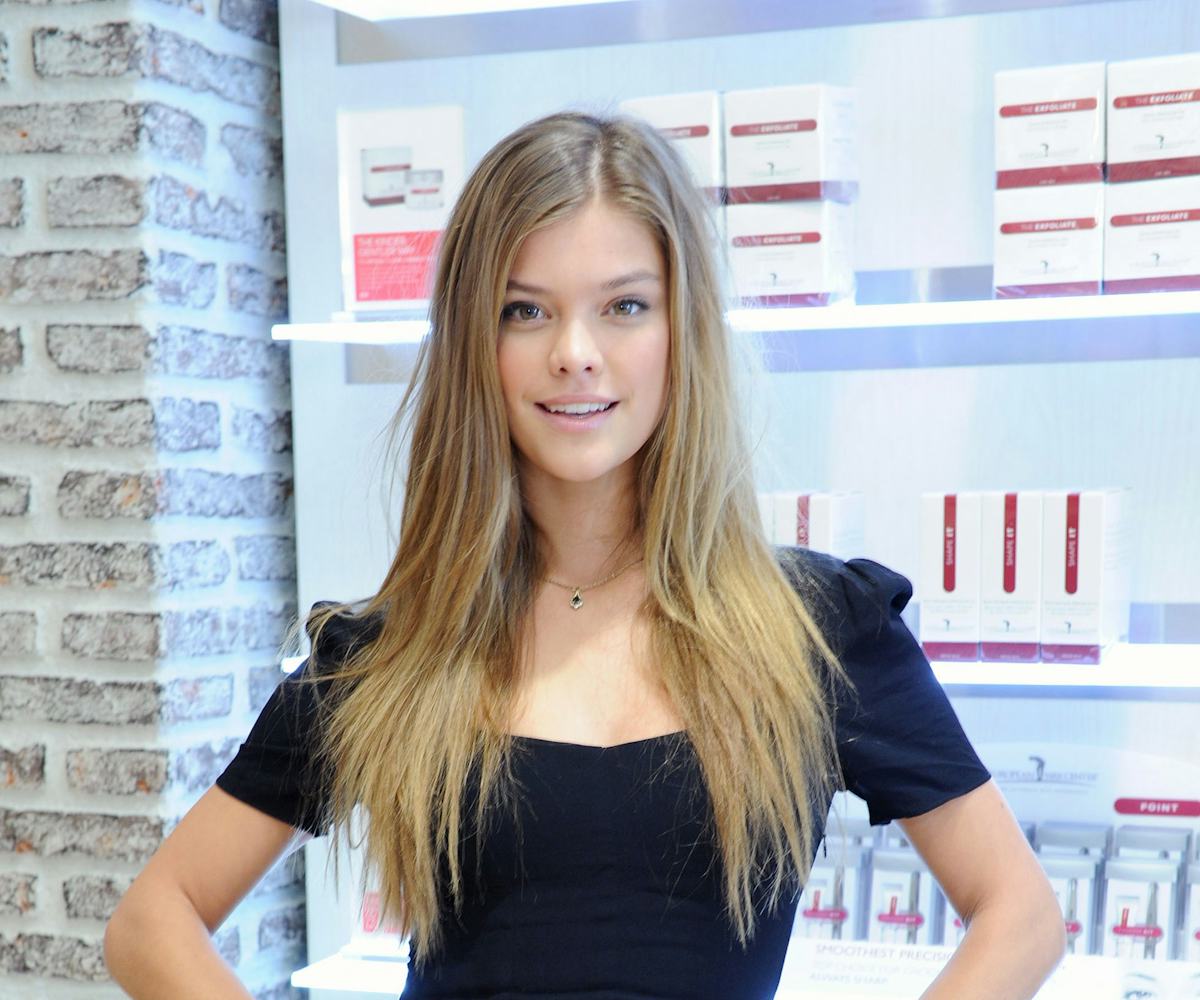 rookie of the year
learn the ins and outs of bikini modeling with burger-obsessed nina agdal.
Being named Sports Illustrated's Rookie of the Year is pretty much a entry ticket to the supermodel club. (Which we know has to be a real thing.) Nina Agdal took home the title in 2012 at just 21-years-old, and has been dominating the modeling world since, posing for American Eagle, Victoria's Secret, Bebe, and working as a brand ambassador for European Wax Center.
In front of the camera she's a Gisele Bundchen-style babe, we'll admit, but in real life she's a pretty big goofball who has been counting down to Shark Week on herInstagram and is seriously obsessed with finding the perfect hamburger. (A girl after our own heart.)
We chatted with her find out exactly how that hamburger should be cooked and why her outfit of choice is sweats and sneakers.
Do you remember the first time you got your eyebrows waxed?
Not really. It's not really a thing like losing your virginity! [laughs] I think everybody's scared for the first time, but it's not bad.
When you started modeling were you nervous to be a swimsuit and lingerie model?
When I started my Dad was against it. He didn't like the fact that I was doing lingerie and swimsuits. I grew up to have boobs and curves, and it's just better to do swimsuits and lingerie when you have that. I don't feel nervous or anything, though, it's just my job.
Exactly how cool was it being named Rookie of the Year in Sports Illustrated?
It was exciting. I didn't see it coming. Kate Upton won the year before and ended up on this year's cover, so it was great accomplishment for sure.
Do you have any big career aspirations?
A dream would be to be on the cover of Sports Illustrated. Whether it's one year from now or in five years, I don't care, it's just a dream of mine. I also want to build a name for myself where I can be a face for charities and give back that way.
What's it like being so young but having such a fan following?
I am young, although I feel older. I actually have a living, so it makes me feel like an adult.
Do you have a lot of friends your age?
My friends are usually older than I am. People who are younger don't understand why I have to travel so much, but when they're older, they understand that I'm never around because of my responsibilities for my job.
When you travel, what are three things you absolutely have to put in your bag?
I never leave the house without my body lotion from the European Wax Center. That's obviously important because after a long flight my body needs rehydration. I also don't leave without hand sanitizer and a good lip balm. I really like Elizabeth Arden Eight Hour Cream. You can kind of use it on your face for highlights too.
How do you deal with all the travel and all the separation from all your friends and family?
I don't think about it. I hate it, I absolutely hate being away from them. As a model you sacrifice a lot, people don't understand that. I was very afraid of flying when I first started, too. I had to see a therapist. I have a lot of fears, actually.
What are your favorite things to do on your days off?
Sleep and eat. Yeah, that's it!
What's your favorite food?
A burger. I like the bun to be fresh. I hate when it's a dry bun. It ruins my whole experience because if I'm going to sin, I want to sin right. The bun needs to be a little toasted with butter on it. I love butter on everything! I like the burger medium with cheddar cheese, red onion, lettuce, ketchup, and mayo.
Do you cook in your spare time?
I'm actually pretty good at cooking. I had some friends over and they were pretty surprised. My signature dish is a Danish curry with chicken or meatballs in it, that you can serve it with all different kinds of sides. I make a really good tortilla lasagna too. That takes me a long time to make, but it's delicious. I was in the kitchen for four hours the last time I made it!
If you had to wear one outfit for the rest of your life, what would it be?
Sweatpants, a sweatshirt, and sneakers. Can I say that?! [laughs] I always go out in sweatpants. I think sweatpants are sexy on girls. Aerie has a lot of great ones. I like the boyfriend cut where it's tight at the ankle and baggy at the top.
What's your favorite pair of sneakers to wear?
I like Nike Air Max sneakers. I also like a classic pair of Converse. Anything comfortable and cool.
Is there a song gets you in the mood on set?
"Wild Ones" by Flo Rida. When that song is on I feel like a wild one. [laughs]
If you had to pick a spirit animal, what would it be?
I like to think of myself like a cheetah. A cheetah is fast and sneaky. There should be a cheetah week like there is Shark Week. I would watch that!