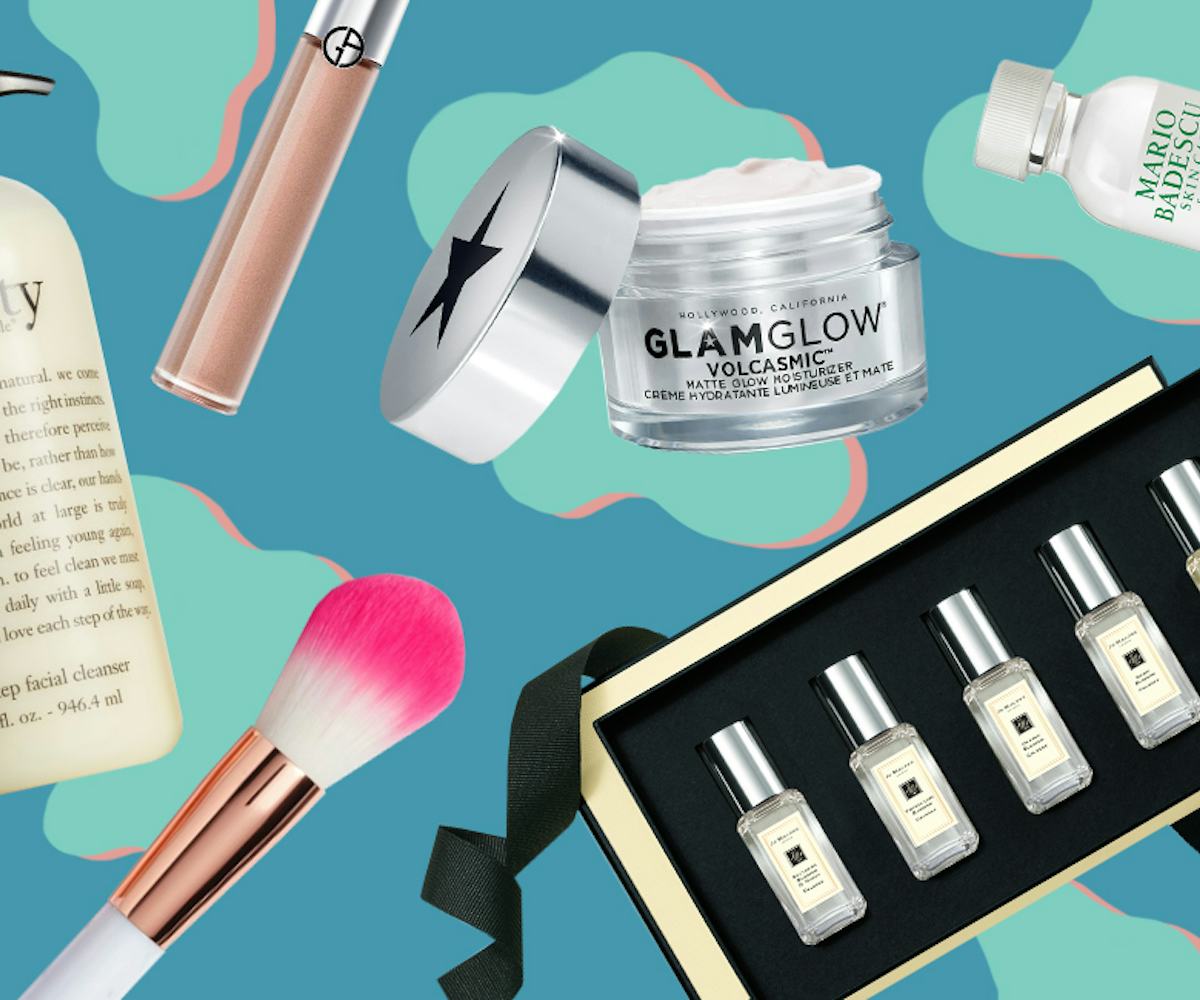 25 Beauty Products To Pick Up At The Nordstrom Anniversary Sale
They include exclusive sets, limited-edition products, and more
It's not Christmas yet, but it is the annual Nordstrom anniversary sale, so it's basically the same thing since customers can get some of their favorite brands at an extreme discount—clothes, accessories, shoes, you name it. 
We'll be hovering around the beauty department, though, because Nordstrom goes the extra mile to work with brands on exclusive sets, limited-edition products, and really great deals you can't find anywhere else. Also, there are hundreds of options to choose from which can be overwhelming in a really, really good way. 
To help you sort through the offerings, we were granted early access to every lipstick, rose spray, and beauty device being discounted. Click through to see some of our favorites and get your wish lists all figured out ahead of time. 
P.S. The pre-sale is happening now while the public one starts tomorrow and lasts through August 6. And if you plan on checking out the selection in store, starting tomorrow, the retailer will be holding daily beauty events for customers, which include on-the-go spa treatments and smoky eye tutorials.
This double-sided palette includes 12 eyeshadows (with matte, shimmer, and metallic shades), two blushes, and two bronzers. So, pretty much everything you need for day or night in one place.
Bobbi Brown, On Trend Eyes & Cheeks Palette, $98 (value $365), available at Nordstrom. 
Five different Diptyque candles for each and every one of your Instagram flat lays.
Diptyque, Scented Candle Set, $55 (value $75), available at Nordstrom.
These cute mini chubby crayon lippies are perfect to throw in your bag and/or suitcase.
Clinique, Chubette Set, $25 (value $34), available at Nordstrom.
This (highly discounted) device can be your first foray into the wonderful and weird world of microneedling. Plus, it comes with a body attachment so that you can work on anti-aging yourself from head to toe.
Beauty Bioscience, GloPro with Body Attachment, $163 (value $244), available at Nordstrom.
Here we have a selection of Drybar's best sellers so that you can keep your blowout intact past Friday night.
Drybar, Tressed To Impress Set, $154 (value $224), available at Nordstrom.
Lotion is so easy to forget to restock, but it doesn't have to be when you have a gigantic container of one of the best moisturizers on the market.
Kiehl's, Creme de Corps, $50 (value $75), available at Nordstrom.
Diffusers in an apartment screams: Look how sophisticated I am, and how much of my shit I have together! Have that diffuser be Nest and nobody will ever question how in control of it all you are again.
Nest Fragrance, Diffuser Set, $54 (value $84), available at Nordstrom.
Have uneven skin due to pesky acne scars and hyperpigmentation? Dr. Dennis Gross' peel products are one of the few beauty items that actually can help them fade. It'll take some time, but this set will help speed up the process tenfold.
Dr. Dennis Gross, Iconic Radiance, $155 (value $236), available July 21 at Nordstrom.
A group of nail polishes that you can wear now and well into fall.
Butter London, Cashmere Cremes Patent Shine Nail Lacquer Set, $44 (value $72), available at Nordstrom.
This set comes with two existing cult favorites, Orgasm and St. Lucia, as well as two new limited-edition shades, Remember Me and Fox Dancer.
NARS, Mini Multiple Coffret, $32 (value $44), available July 21 at Nordstrom. 
Have a perfect hair day every damn day with these Living Proof products.
Living Proof, Perfect Hair Day Collection, $75 ($130 value), available at Nordstrom.
If you don't actually end up using these very pretty, very millennial-friendly brushes, they'd make a great addition to any vanity.
Skinny Dip London, Professional Brush Set, $35 (value $56), available July 21 at Nordstrom.
A Giorgio Armani eye set without the typical Giorgio Armani price tag.
Giorgio Armani, Beauty Eye Set, $70 (value $110), available at Nordstrom.
If you haven't been sleeping on a Slip Silk pillowcase, you're doing yourself and your hair a disservice. They are a bit pricey, so this is the perfect time to stock up.
Slip, Silk Pillow Case Duo, $109 (value $158), available at Nordstrom.
You can never have too much sunscreen and Supergoop! makes some of the best out there. Take in all of the summer in style—and with protection.
Supergoop!, SPF 50 Antioxidant-Infused Sunscreen Mist, $38 (value $57), available at Nordstrom. 
Wear these solo or combine them for a personalized scent. This sampler is exclusive to the sale also so get it before it inevitably sells out.
Jo Malone London, Cologne Collection, $115, available at Nordstrom.
This is another product you'll only find during the sale time. If you're already a fan of Hourglass' Diffused Light products, consider adding this highlighter, blush, and bronzer trio to your collection.
Hourglass, Ambient Diffused Light Palette, $62, available at Nordstrom.
Are you someone who has always wanted to try La Mer, but couldn't justify the price tag? Now's your chance to try it without feeling the sticker shock.
La Mer, Mini Miracle Set, $85 (value $140), available at Nordstrom.
The price of this Foreo cleansing device is nearly $100 cheaper than normal. Deep clean your skin and use that extra money to treat yourself to something else.
Foreo, Luna 2 Pro Facial Cleansing & Anti-Aging Device, $166 (value $249), available at Nordstrom.
This is known as the "icon" collection for good reason. I have one of these sprays at my desk, in my fridge, and in my work bag year round—it's that good.
Mario Badescu, The Icons Home & Away Collection, $32 (value $46), available at Nordstrom.
You can also pick up this Elizabeth & James trio in Bourbon, White, or Rose if that's more your style.
Elizabeth and James Nirvana, Black Set, $110 (value $163), available at Nordstrom. 
Never run out of this cult favorite again. Read up on what, exactly, is the deal with acids here.
Paula's Choice, Skin Perfecting 2% BHA Liquid Exfoliant Duo, $35 (value $56), available at Nordstrom.
Pretty in every shade of pink courtesy of makeup artist extraordinaire Charlotte Tilbury.
Charlotte Tilbury, Day-To-Night Lipstick Set, $60 (value $90), available at Nordstrom.
Keep the big bottle at home and take the mini ones with you when traveling. It should last you well into next year's anniversary sale.
Philosophy, Purity Made Simple Cleanse & Smooth Trio, $55 (value $87), available at Nordstrom.
Three of the brand's cultiest products at a discount. The YouthMud is our favorite of the bunch, but they're all worth trying out.
GlamGlow, Youth, Contour & Glow Set, $54 (value $95), available at Nordstrom.