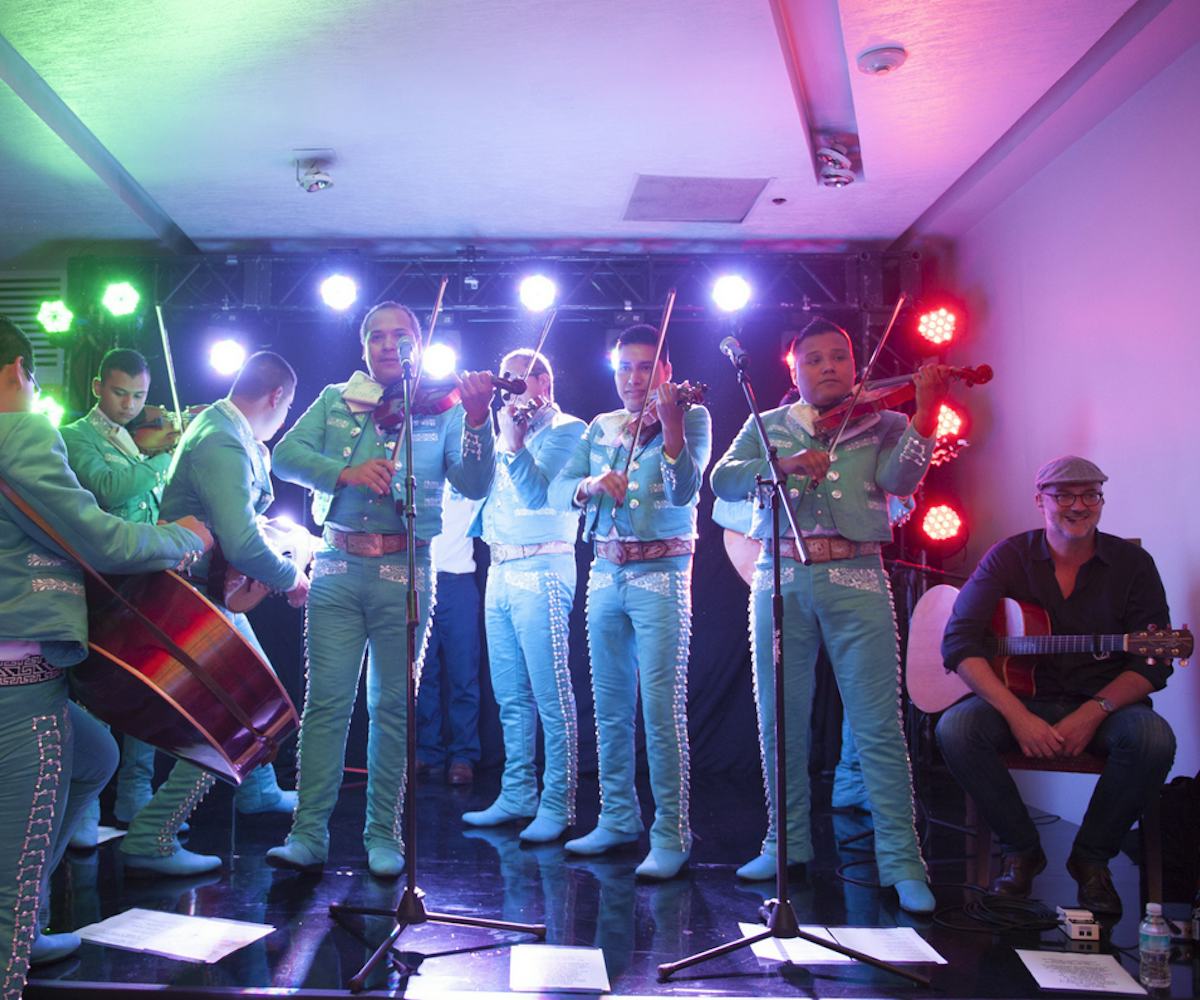 nouvelle vague, le meridien + the new wave of hotel soundtracks
The typical hotel experience is usually fraught with hassles. Whether you're traveling for business or vacation, be it at a luxury hotel or a hole in the wall, the simple fact is it's basically a giant pain in the ass to travel. Savvy hotels know this, which is why they spend so much effort trying to enhance your first impression. For Le Méridien, the Parisian-born chain with some 100 locations around the world, that effort comes in engaging guests on a cultural level as soon as you walk in. At the Mexico City location, for example, where I travelled last week as part of a media trip, that means imposing sculptural and wall-sized photography installations from artists like Gwen Vanhee and Gray Malin that dominate the lobby space on the visual side, and, from an audio perspective, a well-curated soundtrack.
Music has long been a tradition in hotels stretching back throughout history, whether that just meant a piano player in the lobby, or, increasingly today, an in-house DJ. For their tailored experience, Le Méridien has rummaged through the record crates of French act Nouvelle Vague, who they tasked with designing a 24-hour playlist that plays in all of the public spaces of their locations throughout the world.
It doesn't sound like much, but a decent playlist can make the experience of taking the lift up to your room more enjoyable, and when you're beleaguered from the road, sometimes that makes all the difference; there's a reason why the term "elevator music" has become so reviled. The selections here from the French bossa nova act—best known for their covers of post-punk and new wave hits—is decidedly better than muzak, or the even more odious trend in hip hotels of thumping electronic music day and night. 
The band themselves were on hand for a performance in the hotel's lounge on Wednesday night last week before a quick string of dates in Mexico. Over the past year they've performed in other locations, from Kuala Lumpur to Abu Dhabi and Shanghai. 
"It is quite unique and unusual, but it's very creative," the bands's Olivier Libaux explained of the playlist, seated in one of the Mexico City location's newly redesigned suites. Over the course of the day, that mood and tempo progresses, from slower and more contemplative by morning, to faster beats per minute as day turns to night. 
"It was a good way to select songs that were the inspiration for Nouvelle Vague, to do a kind of mood through the day, starting very cool and relaxing, even with some classical music, to go to something more up tempo," his partner Marc Collin elaborated. "It's a way to make a real difference from other hotels. You can hear something that can really be selected with French taste, by us as French artists, and I think it's really unique to select all the songs and to know people everywhere around the world will hear these songs." 
"I think for the customers of Le Méridien who don't know Nouvelle Vague, they will be able to hear our covers and think, what is this cover of the Cure!?" Libaux joked. 
The concept of hearing a song that is somewhat familiar, but maybe not recognizing it at first—the Dead Kennedy's done in bossa nova style, for example—is a sort of cultural easter egg the brand wants guests to associate with their overall experience, much like their Unlock Art program, which provides guests with free access to local art museums around the world.
Laying out the hundreds of songs that went into the playlist was a bit like sequencing the pace of a live set, Libaux said. 
"The fact that we've toured for ten years now helps a lot. After playing so many gigs, you know how the audience reacts. We usually start slow, not too loud, just to say yes of course you know us, Nouvelle Vague. But as a live band we are more dynamic—after a few songs we pick it up. Then slow down, then back up." 
The choice of Nouvelle Vague for an international hotel brand is actually somewhat inspired. The band, who are distinctly French, play largely covers of British punk bands in a Brazilian musical context. It's a veritable musical melting pot. 
"I think as we are French, and all the albums have been recorded in Paris, and most of the people contributing to the albums are French, we are bringing something that is kind of international, but it's very specific, and you can't compare it to a band coming from New York or London, because we have a sense of the international that is different from somewhere else," Collin said. 
At each stop they've played at one of the hotels, they've dug deeper into that sense of place and international fluidity, however. In India, they collaborated with a sitar player, in New Orleans a brass band. For the gig in Mexico City, after running through favorites like "Dancing With Myself," "Too Drunk to Fuck," and "Dance With Me," they brought a mariachi band onstage, which made the already once or twice translated version of Echo and the Bunnymen's "The Killing Moon" even more distinctive.  It was a curious mix: we were decidedly in Mexico, but it felt like being a citizen of the world.