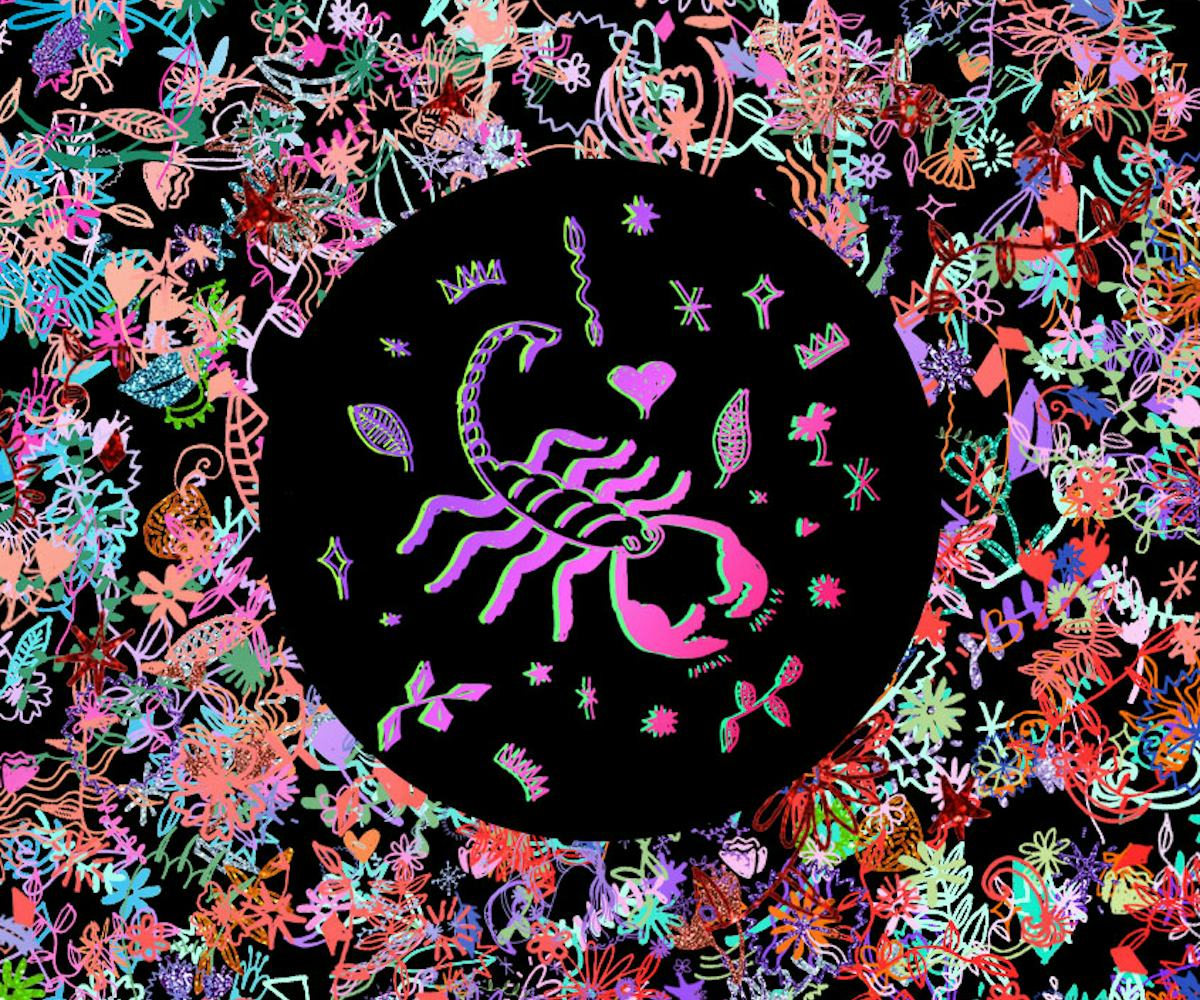 Illustrations by Liz Riccardi
Horoscopes November 2015 - Astrology
For those of us in the Northern Hemisphere, November is a mysterious, sleepy month nestled between Halloween hangovers and Thanksgiving bingeing. It's also the birth month for many mid- and late-season Scorpios, as well as their fiery neighbors with early Sagittarius birthdays. But Scorpio—the sign of death, sex, and rebirth, sometimes characterized by the Phoenix rising from its ashes—has a big story to tell during this transformative month.
The month kicks off with sharp, intense communication on November 2 as sister Scorpio sits with quick-thinking and incisive Mercury. From now until November 20, there will be nil miscommunications when it comes to speaking from the heart. (And for those of you close to Scorpios, you know their tongues can sometimes be as cutting as they are honest.) On that same day, though, sweet Venus entwines with her cosmic lover, war god Mars, in earthy Virgo—an unparalleled aspect that will illuminate new depths of love and intimacy for water and earth signs.
Days later on November 8, Venus dances into ultra-compatible Libra, harmonizing partnerships and relationships until early December. Mars follows hot on his lover's heels into Libra on November 12, where he'll gladly stick his neck out to fight in the name of true love. Sandwiched between this astro-drama is a new moon in Scorpio on November 11, doubling up the intensity and clearing the way for positive transformations. And if that wasn't enough, on November 13, Venus and Saturn link alongside Mercury and Jupiter, making it a banner day for professional advancement.
Scorpios are known for their sharp minds, but this month—many-a Scorp's birthday month—your bullshit meter is exhibiting sensitivity like never before. You're done bending over backwards for those who have demonstrated that they don't deserve your strength or the powerfully healing tonic of your love. This is all thanks to communicative Mercury, who will be touring your sign from November 2 to 20. Whatever you have to say within that period will not be able to be ignored.
On November 11, a poignant new moon—also in your sign!—will clear a path for a fresh start in your personal life. Initiate life changes and cast out anything (or anyone) who's been sucking up your magic in the following two weeks. Don't be surprised if your sweetheart or romantic prospect disappoints you near November 18. You may feel deeply upset or just plain confused about your future and how to proceed. Unfortunately, no clear solution will be immediately in sight, so you'll have to sit with your emotions for a while.
At the end of the month, you may receive a chunk of change from an investment, or alternatively, pay off a large debt (think: student loans and credit cards). Around November 25, you may get news of changes to your benefits or compensation at work. The information may be a letdown, but try to stay as positive as possible during this month of transformation.
November is all about social mixing for those born under the Sag constellation. With your social life picking up the pace from November 8 until early December, your shared chemistry with a friend could easily transform into something more. Don't be afraid to dive into the waters of love and sex this month, Sag—whoever you fancy is sure to reciprocate.
Mid-month, near November 18, a family matter may come to a head that leaves you confused. Stay calm and don't freak out—clarity will come. On November 20, fast-paced Mercury will enter your sign, and from then until December 9, you'll have an excellent edge in communicating your thoughts and ideas. People will be hanging onto your every word. A friendship or business relationship may either deepen or end in late November, and with your emotional sensitivity so on edge near November 25, it'll be easy to overreact. Remember that you must be kind to yourself first and foremost.
With Venus—the planet of money and talent—soaring alongside Mars, ruler of ambition, in your Professional 10th House, you're ready to wrestle with any challenge to succeed at achieving your most important goals. Career-wise, November couldn't be sweeter, and if you've been playing with the idea of going independent or entrepreneurial, this is the month to branch out. Thinking of applying for a new job or throwing your hat into the ring for a promotion or raise? Do it. Success is at your fingertips.
Once November 11 rolls around, you'll be ready to emerge from your cocoon as a social butterfly. Be bold and insert yourself into social settings that you might otherwise avoid; you never know who you'll meet, and with bright aspects like these, you're sure to meet at least one interesting (and possibly highly influential) person. After November 20, your homebody side comes back strong and you'll likely need to spend more time alone to recharge. Don't expect too much from anyone at the end of the month—promises made in good faith may be unintentionally broken, causing unnecessary heartache.
Your pinnacle professional goals are on your mind this month, and with an energizing new moon in your 10th House of Career on November 11, it's an excellent time to initiate projects that will bring you closer to achieving them. This new moon may even embolden you to chat with your boss about a raise or a promotion. If that's the case, try to schedule time with VIPs on or in the days after November 13. And for you entrepreneurial Aquarians, November 13 is also ideal for tapping potential investors for startup money.
A creative project dear to your heart may finally reach culmination in the days around November 25. This isn't a time to be modest, Aquarius—strut your stuff and show 'em what you got. By the end of the month, you may have to make a tough decision regarding your relationship or matters of the heart. Finding the right path will require you to navigate between the emotional and the rational—emphasis on the rational. Be chill.
Stop what you're doing, find the nearest calendar and your boldest highlighter, and draw a big circle around November 2, Pisces. On this day, when Venus rendezvous with her lover Mars in your Seventh House of Relationships, you can expect to get all the sexual healing you've been craving in the past weeks. Then, between November 8 and 12, it's likely that your partner will hear news of a pay raise or a nice chunk of change, inspiring a delightful Sugar Daddy/Momma phase you're sure to relish. Alternatively, you and yours may decide to start building your financial future together, either with a joint bank account or credit card. Make a plan and stick to it, and not only will you prosper financially, but also personally as you build a solid foundation of trust and respect.
Going back to school might be on the brain this month, too, and if so, a prime opportunity could arise near November 11. If you're not interested in going for an advanced degree or professional license, a thrilling overseas trip could be in the works. After November 20, Mercury will be igniting your 10th House of Profession, making important conversations with bigwigs interested in advancing your career very likely. From now until December 9, it's a gorgeous time to pitch your ideas or sign a career-related contract. Keep your schedule as light and flexible as possible around November 25; a full moon in your Fourth House of Home and Family may deliver emotionally charged news about a close relative who may need your support.
The competitive streak trademark to the sign of the Ram will light a fire in your heart as November begins, and when it comes to relationship matters, you want to fight to win. When Venus enters your Seventh House of Relationships on November 8, your ruling planet—warrior god Mars—will follow her. By November 12, you'll be certain if there's anything worth fighting for in your relationship, and your warrior spirit won't waste any time conquering in the name of love. Sometimes, this aspect inspires more conflict than usual in your partnership, but be confident that those spats and disagreements will ultimately deepen and solidify your bonds.
Work-wise, if you've been putting your nose to the grindstone on a communications-based project (think: publishing, teaching, or journalism), you'll see your hard work crescendo near November 25. Alternately, you may feel rushed to renew a lease, either for your car or your home. Even if it seems like a NBD chore, wait until the following week. Terms of contracts are likely to be fuzzy and disorganized, and you don't need that mess.
At the same time, you may feel cheated by your core values, faith, or beliefs. It may be time to take an honest look at what is and isn't serving you on a foundational, spiritual level, urging you to flush toxic elements down the drain. Doing the right thing can also be the most trying—but I've never met an Aries who wasn't energized by a challenge.
November starts with a bang (literally) as Venus, your sweet ruler, embraces her lover Mars in über-compatible Virgo on November 2. Bonus points: super-sexy Scorpio, your equal and perfectly opposite sign, will move into Mercury, easing communication tensions in your love life and ensuring that your partner knows exactly how to tantalize you in the bedroom. All this romance and physical passion leads up to a sweet renewal of your love on November 11. You may decide to solidify your relationship as exclusive, cohabitate, become engaged—or even elope (just kidding—you're too steadfast for a surprise like that, Taurus). Whatever materializes, rest assured you'll have a steady sweetheart for all your upcoming holiday parties.
Partnership is the name of the game all month long, and you may decide to take a new business partner. But try not to make any major decisions about business connections until November 13. Collaboration will be a huge theme in the workplace from November 11 onward as Venus and Mars—those crazy kids!—move through your Sixth House of Work lending you a punch of ambition and tact to succeed.
Your financial status might feel shaky by November 25, but please, don't make any emotional decisions now about your money—you're bound to regret them later. Borrowing money or maxing out a credit card is not advised now. Simply stifle your insecurity and do what you do best, Taurus—come up with a solid game plan and handle it.
Genuine love is within your grasp this month, especially after November 8 when sensual Venus enters your true love sector, followed by her cosmic lover Mars on November 12. These two planets will tango through the area of your chart that dictates dating and falling in love, making it impossible to avoid lighting hearts on fire. Get ready for romance if you're single, but if you're in a committed relationship, sparks will fly as you and your special someone reignite the flames of young love. At the same time, Venus and Mars will stoke the flames of a creative passion project. If you've been putting your artistic and expressive talents on the back burner lately, harness this energy to feed your soul.
Developments are afoot in the workplace, especially after November 11 when a new hire may join your team, or alternatively, when you're asked to spearhead a major project. If you're fed up with your career around November 18 to November 25, sit on any big decisions. Don't try to stifle your emotions this month, Gemini—be real about how you feel, but don't obsess.
Get ready to mix and mingle: As the month kicks off, watery Cancers will likely feel the uncharacteristic urge to leave their shells in pursuit of some hot adventure. Communication in matters of love and dating is golden during the week of November 2, but you'll have a plethora of opportunity to meet an actual prospect around November 11. But, being a Cancer, your social streak won't last long and you'll be back in your groove of domestic bliss, focusing on the home and family for the majority of November. After November 8, you may feel driven to revamp your space with a crafty project or new décor. (Don't go nuts on your bank account or credit card, though.) A relative or close family member may cause a kerfuffle around November 12 that requires your energy to iron out.
At the end of the month, a moral or ethical dilemma between you and a coworker may build major roadblocks at work, especially near November 26. Whatever you can't see eye-to-eye on may be paramount to your foundational beliefs, but try to reach a compromise instead of letting simmering resentment destroy a respectful work relationship.
Looking to move? This is the month to do it, Leo. Even if you simply start putting your feelers out for your next abode, you may be surprised with how easy it is to upgrade your home life and commit to a more luxe setup compatible with your regal, Leonine self. By mid-month, you may even sign a new lease. (If the opportunity arises, hold off on signing anything until November 13—you can thank me later.)
A change of scenery is just what the doctor ordered to settle your jangled nerves this month, Leo, and if you're dating or attached, a quick getaway with your partner-in-crime would be the perfect pick-me-up. If you're single, you might take a quick trip with a sibling. You may notice words and ideas flowing out of you freely around November 20, driving you to either initiate a new creative-writing project or build on an existing one. Communication with your sweetheart will likely improve around this time, as well. Single Leos will want to take advantage of this energy. If you feel so inclined to mix socially, you'll do well playing the field. A close friend may need your shoulder to cry on around November 25, but alternatively, you may feel it's time to detach from an old friendship that no longer serves you. Lastly, don't make any risky moves with money after November 26—you're bound for disappointment if you do.
November bursts onto the scene with anything-but-virginal vibes for you, lucky Virgo. I'm talking 'bout S-E-X, baby, and you've got all the right moves. November 2 will be a mind-blowing day of stellar sex appeal, thanks to Venus and Mars doing the horizontal twist in your sign. Your ability to manifest your heart's desires is unparalleled right now, so don't be shy about getting creative: Your allure is magnetic. This is the month to go for yours—whatever you want—in the bedroom, in the boardroom, in your bank account, in your life. Don't stop, get it, get it.
Financial strength will be key after November 8, with money flowing easily until early December. However, bills and expenses seem to be piling, but thankfully you'll have the green to settle up whatever may be outstanding on November 12. After November 20, talks with your family may become exciting and you might even decide to host your nearest and dearest for Thanksgiving (if you live in the U.S.). Or, you may start toying with the idea of moving. By November 25, you'll have taken the limelight at work, and you deserve it. You've been working hard all year, and you can bet on receiving an award, praise, or—even better—a raise from higher-ups. Go you!
Thanks to Venus and Mars' sexy entanglement early on in November, you're the envy of the zodiac all month long. You're feeling yourself (finally!)—and everyone else is, too. On November 8, Venus—your ruling planet—will hang out in your sign where she'll camp until early December. Expect a lightness you haven't felt in months, a newfound vibrancy to your look, and a major upgrade in your love life. Then days later on November 12, Mars enters Libra granting you a stellar opportunity to manifest whatever your heart desires. You can make anything happen. The downside to this brilliant opportunity—one that only comes twice a year—is that you need to be fully in touch with what you want in order to achieve it. Once you fearlessly nail down your desires, nothing will stand in your way—especially with Mars lending you some muscle through January 3. Financially, opportunities may arise near November 11 with a lovely new moon in your Second House of Earned Income. Again, it's up to you to make it all happen. Be wary of what you choose to share with coworkers at the end of the month and avoid gossip.