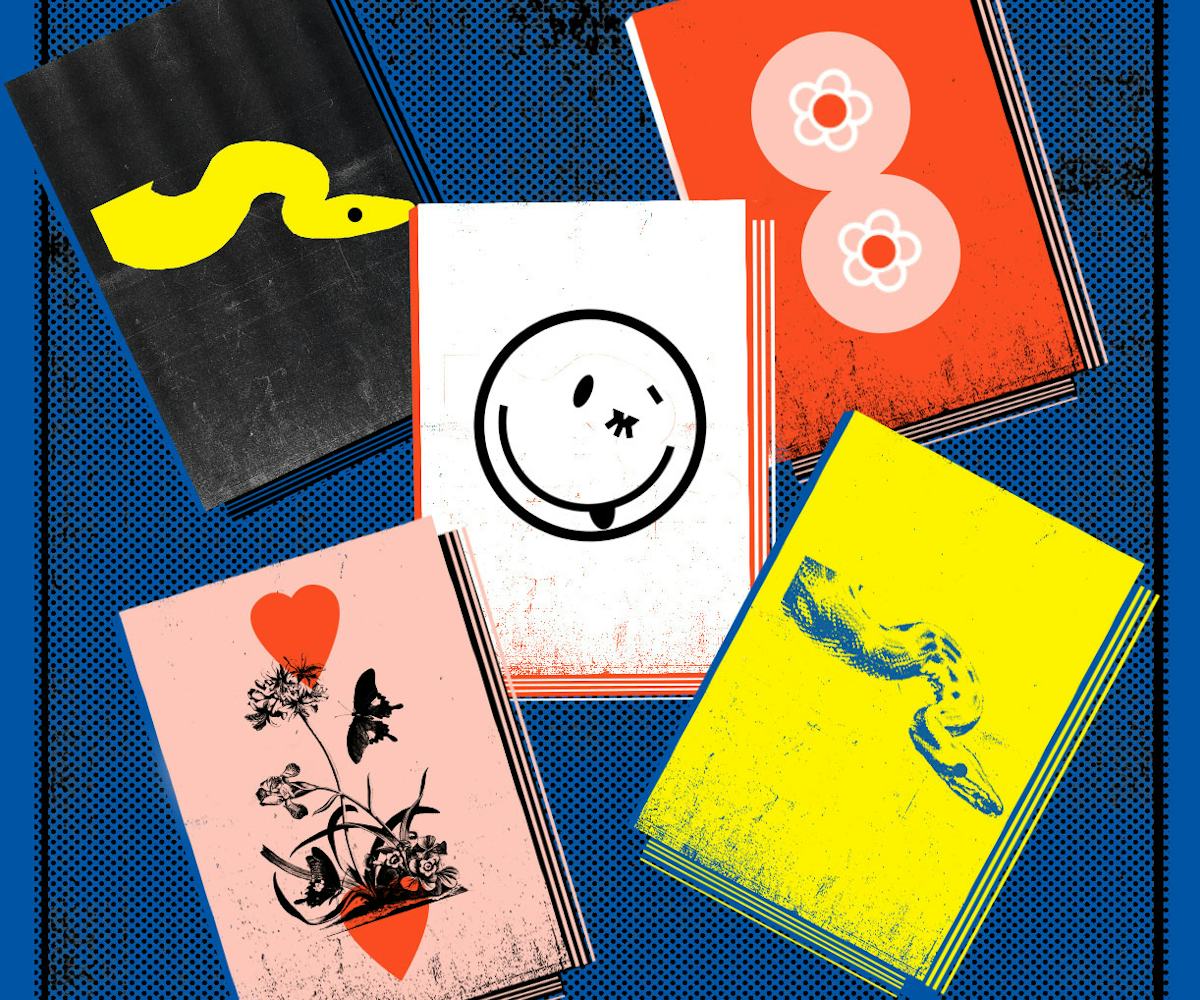 13 Publishing Insiders On The Books, Zines, And Mags That Inspired Them The Most
For those of you lamenting our screen-obsessed society and mourning the gradual disappearance of all things printed, may we suggest taking a trip this weekend to Long Island City, a neighborhood in Queens, New York? There, your faith in humanity will be restored as independent publishers from around the world gather at MoMA PS1 to hawk their creations at an annual bazaar known as the NY Art Book Fair.
Now in its 11th year, the title doesn't quite capture what you'll find at the event. Designers, photographers, writers, illustrators, artists, and people who just love to make stuff will be selling magazines, books, zines, photography tomes, and all sorts of other swag. It's more of a craft fair than a book fair, with everything created out of pure passion, because let's face it—independent publishing is a labor of love.
So with that in mind, we asked 13 NYABF vendors to share the publications that first inspired them to get into the print game. 
Maxwell Anderson is founder of Bemojake, which "publishes books by young and emerging artists, working in close collaboration with the artist, designer, and printer."
"
by Paul Graham, published by Grey Editions, 1987. It introduced me to the idea that the editing of a body of work in book form could be conceptual in itself, and the editing of the book adjusts the whole reading of the work. This also occurs in Paul Graham's
, published by Scalo in 1998.
by Takuma Nakahira, published by Fudosha, 1970, because of the design; it was strong, bold, colourful, and alluding. It was my first insight into the idea that a photo book cover doesn't just have to be a photo, but can be the space of expression for the designer and illustrator.
"Sentimental Journey/ Winter Journey 
by Nobiyoshi Araki, published by Shinchosha, 1991. Combining design, which is both elegant and playful, with work that really took hold of me, it incorporated handwritten notes within the layout. The shade of red cloth is perfect, along with the slipcase which references Japanese photo books of old, but with a modern design. Also probably the first book I kind of fetishised over, picking up two copies of it while I was in Tokyo, even leaving the shop's tissue paper wrapping on the book and keeping it in the brown paper bag they gave me. I then received a third copy from a friend who went home to Tokyo for a few weeks.
by Seiichi Furuya, published by Akaaka, 1997. It had beautiful printing and creative production. The design of this book is deceivingly simple, but has subtle quirks to it that are not overpowering."
Christopher Schulz has been publishing Pinups for ten years. "Each issue is a portrait—a queer zine which can be dismantled, and the pages tiled to reveal a single, monumental image of the subject."
"So many great vintage magazines, like
After Dark,
S.T.H.
, and
Physique Pictorial
, inspired 
Pinups
, but the biggest inspiration was
, the organization behind the NY Art Book Fair. Printed Matter is a gold mine of one-of-a-kind books and zines that introduced me to the notion that anything goes. It's what gave me the courage to scrap the familiar magazine format and make something new."
Jennifer Calandra is an independently published, New York City-bred erotic illustrator and sculptor. She is the founder of Collective Delusion/Mass Hysteria, "a female/non-cis gendered collective, art zine and traveling exhibition."
"As a teenager I was initially inspired by the underground comics of the late '60s and '70s, primarily by S. Clay Wilson, Robert Crumb, and Spain Rodriguez. Beyond their themes and aesthetics, I was drawn to their independent publishing practices through Zap. This period of illustration, across the board from political pamphlets to magazine commissions in High Times and smut rags like Screw, has been incredibly influential on my work. The erotica zines I publish, like Gelähmt or Disposable, take direct cues from the counterculture movement of the '60s mixed with BDSM, sexual expression, and non-conforming gender roles."
Sarah Gottesdiener, founder of Modern Women, is an artist and designer whose work is about "the metaphysical, design, and being a queer feminist."
"Growing up as a lonely weirdo teen, I came across the work of 
, and I'm so grateful. She's a singular Canadian artist known for her publication
Her work is bizarre, completely original, and hilarious. 
and her zine
Meatcake
blew open my young mind as well. She's a master of creating whole other realities that I wouldn't mind slipping into IRL.
"More recently, one of my favorite zines is 
by musician, artist, and historian Osa Atoe. Everyone needs to buy the beautifully designed collection. A personal visual favorite is 
by Edie Fake. [It's] queer weirdo longing and utopia at its best."
Josie Keefe and Phyllis Ma of LAZY MOM will release their newest zine,
Thirsty,
at the NY Art Book Fair. "It features an array of absurdist cocktails made from eggs, gummy bears, salad dressing, marshmallows, shrimp, spaghetti, and a pet goldfish. It's our sixth self-published zine."
"A big inspiration for us was a zine we discovered at the book fair last year by Jess Smith. It's a collection of super-mundane yet cryptic photos, like a photo of a cabbage alongside a detailed shot of a hand squeezing a mound of foreskin. There were only 10 produced, and the photographer was adamant that there were no text or descriptions within the zine as if he didn't even want credit for it. It was refreshing to feel his passion for his work and nothing else, although we still don't know anything about him and he has a name that's impossible to Google."
Denise Schatz's Miniature Garden is an independent publishing project inspired "by a photograph in a book about terrariums. A grid of instructional photographs shows a pair of hands selecting a container, gathering soil, handling tools, placing the plants into dirt, and carefully watering them. Being small and independently contained, the miniature garden is similar to a book where ideas grow."
"I have been collecting books about houseplants for 10 years. I am drawn to the ones produced in the 1970s, when introducing foliage to home interiors became a trend. The design, color, and crazy green vibrancy of these publications combined the science of plants with the technicality of everyday indoor gardening. Inside the pages, instructional drawings are placed next to photographs of home interiors. Lists of the latin names of common houseplants that do well in various corners and rooms run down the margins with templates for how might one set up a successful indoor greenhouse.
"Attached is a photo of House Plants by Mariella Pizzetti, with photographs by Giuseppe Mazza and published by Chartwell Books Inc. in 1976. It is a heavy book with thick pages and beautiful layout. It hauntingly asks the reader, 'How will you ensure that your houseplant survives?' giving exhaustive and sometimes mysterious information about cultivating a balanced indoor environment—entangling the human and plant condition."
Jane Wilson and Jeremy Kunze are the co-founders of Jane & Jeremy, a small independent publisher located in London who produce handmade limited edition books. "Established in 2006, we place emphasis on finding new and upcoming creatives as well as established artists whose work we admire."
"It was our first time to Paris Photo in 2005 that we came across the complete set of Ed Ruscha's books—16 in total. They were beautiful objects, well crafted, great typography, and it just felt like they were perfect for viewing photography. We couldn't afford them obviously, but they inspired us to set up our own little publishing press the following year."
Cay Sophie Rabinowitz is the founder of OSMOS, a "project space for art gatherings, publications, and exhibitions in the East Village storefront that was once a saloon frequented by Emma Goldman and other radicals." She will be launching issue 10 of OSMOS Magazine at the NY Art Book Fair. 
"I got my start as a contributing editor for Art Papers, which was founded in the 1970s as a kind of newsletter for the Atlanta Art Workers Coalition. Scrolling through their website, I found one of my early 1990s Art Papers features, entitled "Is Art Still What Makes Life More Interesting Than Art?: Thoughts on Art in the Wake of Tragedy," which "tragically," I don't remember writing. But what I do know: My experience at Art Papers gave me the credentials to become a writer and eventually senior editor of Parkett, Fantom, and OSMOS, which incidentally I also publish. With each of these imprints, I evolved personally and professionally in my close collaboration with artists and writers."
Ken Kirton is the founder of Hato Press, "a team of international creatives specializing in editorial, print, digital, and experiential design." Hewill be selling BLOCKS BLOCKS BLOCKS 
by Chiaozza at the NY Art Book Fair. "I met Adam and Terri from Chiaozza last year at the book fair, and we instantly found common ground through our love of fluorescent colors and the physicality of objects. On visiting their studio a week later, we quickly realized that we had an equal love for our design heroes, namely those of the Italian design masters Bruno Munari and Enzo Mari. BLOCKS BLOCKS BLOCKS in many ways has essences of an homage to our above heroes who helped inspire us to get where we are today."
"There's been piles of books that have inspired us at Hato to be doing what we love to do today. But with the New York Art Book Fair on its way, we have to select one in particular that has been a great inspiration in the lead-up. This has to be the great product designer Enzo Mari's book 
Sea-Saw
, which narrates the simple story of different animals balancing on a seesaw. The book was accompanied by a lovely wooden jigsaw puzzle which could be bought separately." 
Elana Schlenker is the publisher and designer of Gratuitous Type, an occasional pamphlet of typographic smut. This week, Gratuitous Type launched Issue 4.5, the first in a series of mini readers from the magazine. 
"I worked as an intern at
when I first moved to New York. The magazine is a beautifully produced publication, ad-free and full of artists projects that tip in, fold out, pop-up, and more. It's packed with wonderful surprises and production details, so each issue is a really special object. Engineered almost entirely by the magazine's publisher/editor, Tod Lippy,
Esopus
expanded my understanding of what a magazine could—and should—be." 
Ray Mock is a writer and photographer as well as the founder of Carnage NYC, "an independent publisher of books and limited-edition zines and artist collaborations documenting graffiti and street art in New York and around the world."
"One of the first zines I picked up when I was a high school student in the '90s in Seattle was called
Cometbus
. It consisted of collections of stories about the adventures of the author, Aaron Cometbus, and his friends, a motley bunch of punks and freight train hobos in the Bay Area. What I learned from
Cometbus
, along with the many other zines I subsequently picked up as well as the DIY music scene in Seattle, was that if there is a book or record or anything else that you want in your life and that you can't quite get elsewhere, you can just make it yourself. It'll be a lot more fun than just passively consuming culture."
Romke Hoogwaerts is a photo editor and writer and runs his own independent publishing company called Mossless. Most recently, Mossless published a photo book on the boundarylessness of contemporary privacy in conjunction with Charlotte Cotton and the ICP.
"While it might not exactly be a cool unknown book, 
by Phaidon is a collection of contemporary photography that inspired me to take on the challenge of publishing myself. That book brought together a huge array of disparate voices in a clean format with strong writing to boot. I wanted to reinterpret this concept in a variety of ways with my own independent publishing company, Mossless. Our latest book, 
Mossless 4: Public/Private/Portrait
, made in collaboration with Charlotte Cotton and the ICP, surveyed a new generation of photographers that explored the shifting line between what is public and private with portraiture."
Aron Morel is the founder of Morel Books, which was "started out of passion for collecting artist books. All books are made closely with the artist, thus the unconventional and lack of consistency in design, essential in retaining the book as an 'artist's book.'"
"It sounds weird, but William Blake's poems and illuminated books were a big influence. They were self-published and totally rebellious, anti-state, and sexually liberal. They're like 18th-century zines or artist books, printed at home and hand-painted. In turn that made me want to link poetry and visuals and do books. Plus his work influenced everyone from the Chapman brothers to Patti Smith. Thus I did a copy of them, well, 30 copies printed on ancient paper, and to link it to contemporary culture, Patti Smith sent me a picture of a Blake life mask she photographed, so it all links together."