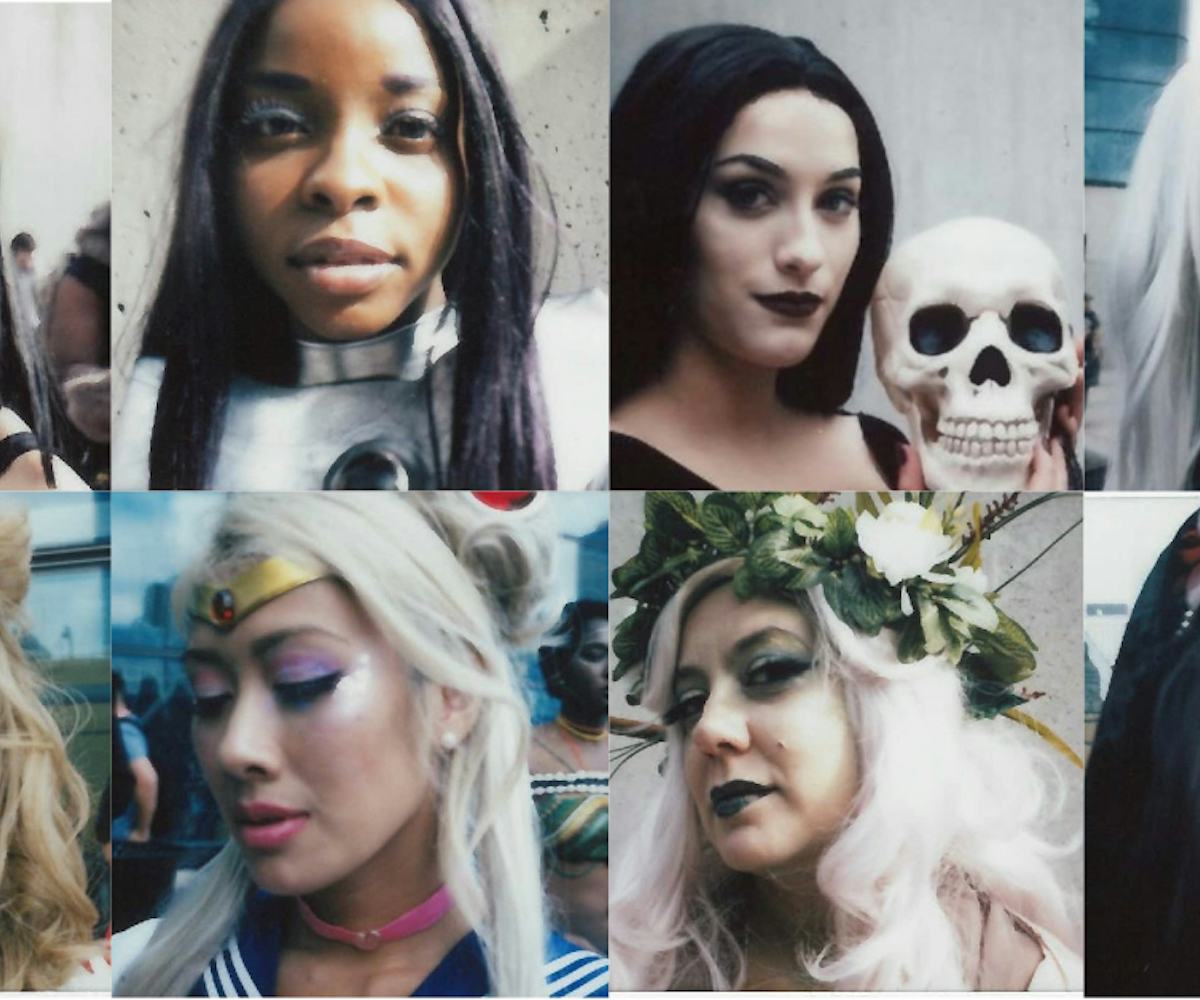 All The Best Cosplay Beauty Looks At New York Comic Con
When fandom and fashion collide
For those of you who thought of cosplay as just dressing up in a Halloween costume on a different day of the year, allow me to correct you. Cosplay is way more than that. Cosplayers will study their favorite characters from television shows, movies, video games, anime, you name it, and will then transform themselves into those characters. To do so, they're not grabbing any old painty palette from Party City. They're digging into their makeup kits for some of our favorite everyday products, from drugstore brands to the likes of Marc Jacobs and Anastasia Beverly Hills. 
At New York Comic Con, cosplayers were absolutely killing the beauty game. Scroll down to see some of your favorite characters reimagined by some of NYCC's best cosplayers, and find out what products you'll need to recreate these looks for yourself. 
Also featured in NYLON's #BlackCosplayerHere mini-doc, this squad set the bar for cosplay beauty pretty high. Definitely taking notes on Karina's (Jinx's) use of lip color to create a hyper-pigmented color brow.
Left to right, from top
Jinx, League of LegendsMakeUp Forever, Ultra HD Foundation, Huda Beauty Obsessions Palette in Mauve, NYX Liquid Suede Lippie Duo in Little Denim Dress for brows, Lime Crime Matte Velvetines in Raven.
Morgan, DarkstalkersLancome Foundation, NARS Radiant Creamy Concealer, Fenty Beauty Killawatt Freestyle Highlighter in Trophy Wife, Fenty Beauty Flyliner Longwear Liquid Eyeliner, Revlon Mascara, Shea Moisture Lip Balm.
Blackfire, Teen TitansMarc Jacobs Shameless Youthful-Look 24-Hour Foundation, e.l.f. Shadow Stick, e.l.f. Eyeliner, Winky Lux Lip Gloss.
X-23, X-MenMilani Conceal + Perfect 1-in-1 Foundation, Too Faced Eyeshadow, Ulta Eyeliner, NYX Lip.
We stan a goth queen. Taking beauty cues from The Addams Family aesthetic is always a good idea.
Morticia Addams, The Addams FamilyHuda Beauty #FauxFilter Foundation, Kat Von D Powder (Contour), Anastasia Beverly Hills Glow Kit, Anastasia Beverly Hills and Sephora Eyeshadows, Anastasia Beverly Hills Brow, Laura Geller Lips.
The '80s were ripe with over-the-top makeup trends, which is why GLOW characters (and their wrestling alter egos) are the perfect chance to flex your wild makeup skills. 
Top to bottom
Debbie Egan aka Liberty Belle, GLOWToo Faced Hangover 3-in-1 Primer and Setting Spray, Fenty Beauty Pro Filt'r Soft Matte Longwear Foundation, Sephora Blush and Contour, NYX Velvet Matte Lipstick.
Kat Von D Lock-It Foundation, Tarte Amazonian Clay 12-Hour Blush, Urban Decay Eyeshadow, Ciaté London Fierce Flicks Precision Tip Liquid Liner, Estee Edit Lip Flip Shade Transformer (no longer available), Cover Girl Colorlicious Lip Lava, NYX Face and Body Glitter.
The trailer for Venom may terrify me, but this smokey eye definitely doesn't. Teach me your ways, please. 
Kat Von D Lock-It Foundation, NARS Blush, Anastasia Beverly Hills Contour, Kat Von D Shade + Light Eye Contour Palette, Kat Von D 24-HR Super Brown Long-Wear Pomade, Kat Von D Tattoo Liner, NYX Lip Liner and Liquid Lip.
RIP, the velvet color-your-own Sailor Moon poster that was Scotch-taped to my bedroom wall growing up. I'll never get tired of seeing my favorite manga character-turned-late-night cartoon queen reincarnated in the halls of NYCC each year. This all-pink makeup look really brings the cosplay up a notch. 
Anastasia Beverly Hills x Nicole Guerriero Glow Kit (no longer available), Violet Voss Rainbow Palette, Sugarpill Sparkling Liquid Lip Color in Barbara, Stila and Elektra Cosmetics Glitter.
Forever mesmerized by an ombre lip and the fact that cosplayer Cat Van Buren stayed in character the entire time she listed off beauty products to me.
Too Faced and Kat Von D Foundation, Wet N Wild Goth-O-Graphic Highlighter, Urban Decay Gwen Stefani Eyeshadow Palette, Tarte Eyeliner, Kat Von D Lip.
For full-white Harley Quinn face makeup, she recommends using L.A. Girl Pro Coverage Liquid Foundation Mixer.
Star Wars, but make it fashion. I think Yoda's force ghost should rock a flower crown in the next film, yeah?
From left to right, top to bottom
NYX BB Cream, NYX Eyeliner, Revlon Balm Stain.
High Fashion Chewbacca, Star WarsL'Oreal True Match Foundation, e.l.f. Eyeliner, Jordana Brow, e.l.f. Lip.
High Fashion Yoda, Star WarsBrand and product names unknown.
Harley Quinn was probably the most popular choice at NYCC this year, but this cosplayer's shadow-and-messy lip combo was particularly on-point.
Harley Quinn, The Batman Adventures, Suicide SquadKat Von D Lock-It Foundation, Urban Decay Full Spectrum Eye Palette, Maybelline Color Sensational Vivid Matte Liquid Lipstick.
My two favorite fandoms, made into what might be the best cosplay-combo I've ever seen.
Kryolan Foundation, Kevyn Aucoin The Sensual Skin Enhancer Concealer and Foundation, Sephora Contour, Kat Von D Eyeshadow, NYX Brows, Sephora Lip, e.l.f. Glitter.
Artist Hannah Alexander reimagines popular characters into gorgeous flowery sketches, and cosplayers can't resist bringing them to life.
Starfire, Teen Titans (in the style of Hannah Alexander)Sugarpill Makeup.
Raven, Teen Titans (in the style of Hannah Alexander)Mehron Celebré Pro-HD™ Mineral Finishing Powder, Ardell Lashes, Kat Von D Lip.
This Disney princess was dewy and glowing as others sweated the day away in the crowds at NYCC.
Cinderella, CinderellaL'Oreal Infallible Pro-Matte Foundation, NYX Blush, Wet N Wild Highlighter, NYX Eyeshadow and Eyeliner, Anastasia Beverly Hills Eyeshadow on Brows, NYX Soft Matte Lip Cream.
A mix of high-end and drugstore products to absolutely nail the ultra-emphasized cheekbone on this famous cartoon character.
Jessica Rabbit, Who Framed Roger RabbitNARS Foundation, M.A.C Mineralize Skinfinish, BH Cosmetics Galaxy Chic Eyeshadow Palette, Wet N Wild Color Icon Glitter Eyeshadow, Wet N Wild Lip.
Maybe not from the same universe, but kicking NYCC ass side-by-side nonetheless. Madison's use of Revlon palettes to make her Lara Croft makeup look both like she's just been through a battle but still has it all together? Inspirational.
Top to bottom
Rei Ayanami, Neon Genesis EvangelionMakeup by Cover FX and Smashbox.
Lara Croft, Tomb Raider Makeup by Revlon.
This pixie swiped on colors from Kat Von D's holographic palette over her lip color to give it an otherworldly sheen. 
Rainbow Fish MermaidUrban Decay Full Spectrum Eye Palette, Kylie Cosmetics Lip, Christian Louboutin Lip.
PixieToo Faced Lip, Kat Von D Alchemist Holographic Palette, Tarte Be A Mermaid Palette (no longer available).
Urban Decay may make a good neutral palette for your eyes, but it also is perfect for making your entire face look a little roughed-up.
Punisher, The PunisherToo Faced Foundation, NARS Blush, NARS Bronzer, Urban Decay Eyeshadow, L'Oreal Telescopic Mascara.
I'm going to need to test out stage makeup-favorite Kryolan because somehow the brand made a lavender-gray hue blend effortlessly with a natural skin tone.
Raven, Teen Titans (in the style of Hannah Alexander)Kryolan Foundation, Mehron UltraFine Setting Powder, Stila Stay All Day Waterproof Liquid Liner, Burberry Cat Lashes Mascara.
If only you could see the linear designs on their lids, creating a cut-crease look that feels as if it was pulled straight from the animations.
02, Darling in the FranxxToo Faced and Lime Crime Eyeshadow, Tarte Eyeliner, NYX Color Mascara in Coral Reef for brows.
Miss Fortune, League of LegendsSephora Eyeshadow Palette, Kiss Me Heroine Make Smooth Waterproof Liquid Eyeliner, M.A.C Brow.
I'm pretty sure the Steven Universe artists should take some animated-style cues for a Pink Diamond makeover. 
Pink Diamond, Steven UniverseBen Nye Creme Stick Foundation, Sugarpill Pressed Eyeshadow in Poison Plum (used as contour, as well).