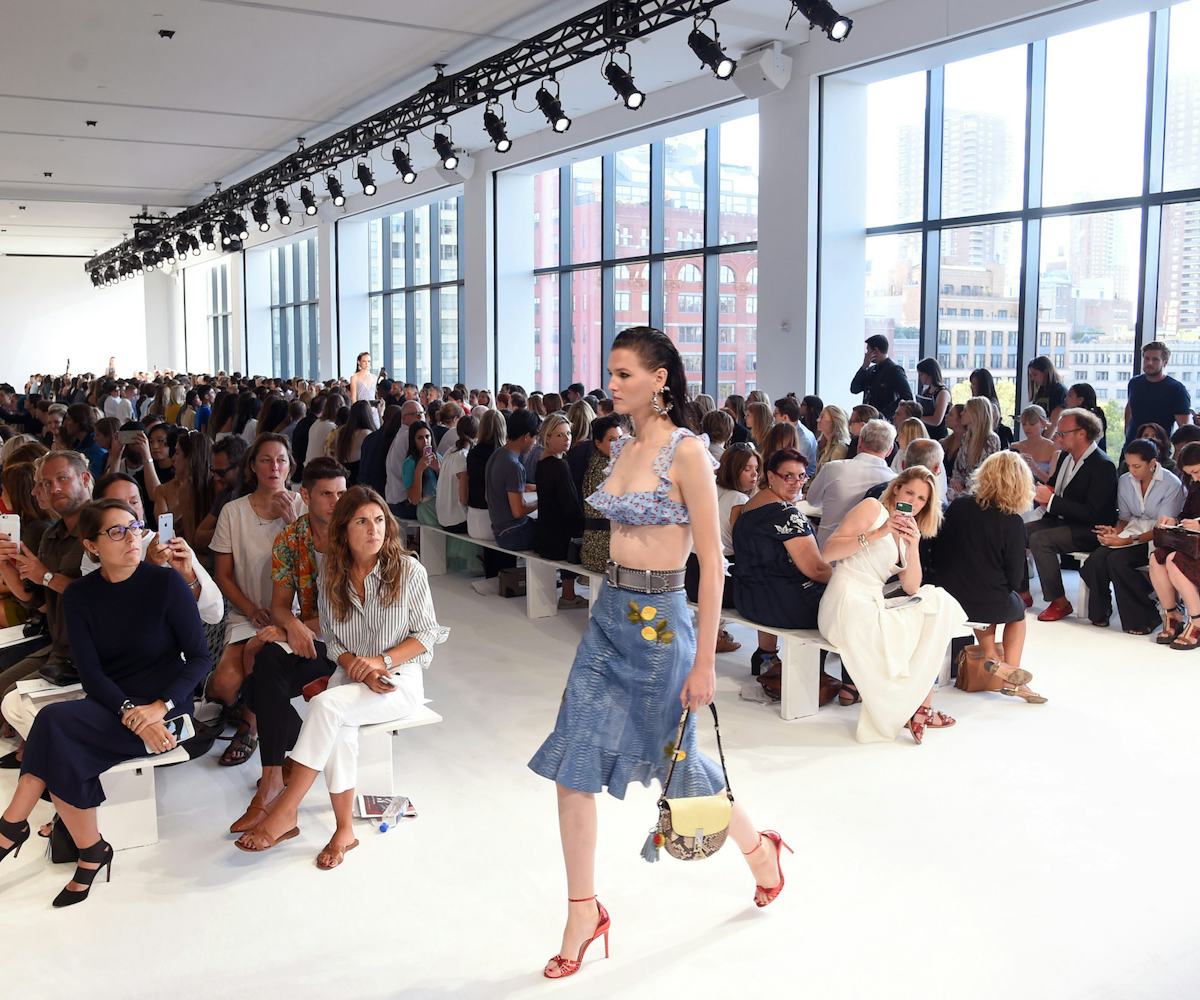 Altuzarra SS17. Photographed by Jamie McCartney / Getty Images
How New York Fashion Week Has Changed Over The Last Decade
You might not even recognize NYFW from 10 years ago
Each year, fashion week promises to be bigger and better than it was the season before. Designers recruit more and more big names to attend their shows (hashtag Kardashians) and double their audiences by expanding outside the confines of typical show venues (even infiltrating the digital realm).
One way to ensure you have a seat front and center at fashion week is to follow along online because you can usually count on the action being documented by the fashion-savvy crowds that attend the shows, like with this video I shared to Instagram of Rebecca Minkoff's SS17 show, which took place on the streets of SoHo.
Of course, most of the responses I received on this video had less to do with the clothing and more to do with the atmosphere, specifically how many cell phones could be seen on the periphery of the runway—yet another example of how today's runway shows are different from those of the past.
How, then, are designers, bloggers, editors, and fashion-loving New Yorkers responding to the ever-changing nature of fashion week? To find out, we decided to take a brief look back at the past decade of New York Fashion Week to see how its current iteration came into being.
It seems, 2006 was a much simpler time for fashion. It's what early Project Runway lovers knew as Olympus Fashion Week, a name given as the result of the company's sponsorship of the shows that took place at New York's Bryant Park. The park is centrally located in midtown Manhattan and twice a year designers would show their collections at the beloved "tents." Want to know the craziest part of fashion week 10 years ago? The iPhone didn't even exist. Like, I genuinely can't imagine fashion week without iPhones now.
In 2007, it was out with cameras and in with cars. Mercedes-Benz took the Olympus's spot as the main sponsor of fashion week. But more importantly, people finally had iPhones and Twitter. Thank god. While they may have been optional accessories at the time, an iPhone and a Twitter handle are now must-haves when attending shows. 
The next two years revealed a drastic shift in the traditional fashion week model: Whereas in the past the front rows were reserved for seasoned fashion editors, showgoers started noticing some new faces occupying the coveted seats. Fashion bloggers, previously seen as mostly irrelevant, suddenly started showing up in photos next to editors like Anna Wintour. A few such as BryanBoy and Tommy Ton even brought computers to post of-the-moment updates to their sites. 
From left to right: Fashion bloggers Aimee Song, Danielle Bernstein, and Jacey Duprie. Photographed by Astrid Stawiarz / Getty Images
Come 2010, and it was time for another venue change. The shows moved from Bryant Park to cultural institution Lincoln Center, located on Manhattan's Upper West Side. The venue shift seemed to satisfy viewers in terms of size, but many found it hard to adjust to the location and vibe, with some designers opting to show independently downtown. Also, Instagram launched the same year; a definite turning point for all future fashion weeks. 
New York began to adopt a new practice that they had seen in London during the spring of 2011: the live stream. When designers began live streaming their shows, this allowed brands to reach a wider audience than ever before. It also gave people the chance to make comments, like "Did you see how the fabrics moved at Wang? They were so beautiful," and leave their friends wondering how they were able to witness such historically exclusive fashion moments. Snapchat also launched this year, but wasn't widely used in the context of fashion week at that point, primarily because we already had Instagram, and who are you to tell us we need another new app? 
In 2012, the pressing question of traditional runway show versus the presentation became commonplace. There have always been a few designers who have preferred the presentation format, but in the last few years, more and more designers seem to have come on board with presentations rather than runway shows, and we can sort of see why. First of all, the abandonment of Lincoln Center left the shows with no central location, meaning it would take longer for everyone to travel between venues. Presentations often have two hours of time blocked off so that press has more flexibility in terms of both arrival and departure. Not to mention, presentations are easier to photograph, letting viewers see clothing up close, and, best of all: no seating charts. (Somewhere, a PR rep breaths a sigh of relief.)
Tanya Taylor SS17 Presentation. Photographed by Astrid Stawiarz / Getty Images.
In the last three years, fashion week has been entirely social media centered. Brands reveal behind-the-scenes details on Snapchat and celebrities and influencers (what are thoooose?) share selfies from the shows. MADE Fashion Week, formed by smaller designers who opted to show downtown during the Lincoln Center-era, is now at the forefront of fashion week. These shows occur at Milk Studios in the Meatpacking District and have an extremely competitive application process. 
Now, we're all caught up to 2016 where live streaming has become the norm, designers are boldly revealing see-now-buy-now strategies where customers can shop the collections straight from the runway, and shows take place everywhere in the city from galleries to studios and sometimes even in the great outdoor. And while even we can't help pulling out our phones to capture the magic moments that occur across the city, we definitely try to take time in between the chaos to live in the moment—even if we are also thinking about the future. In other words, we can't wait to see what fashion week will look like in 2026.