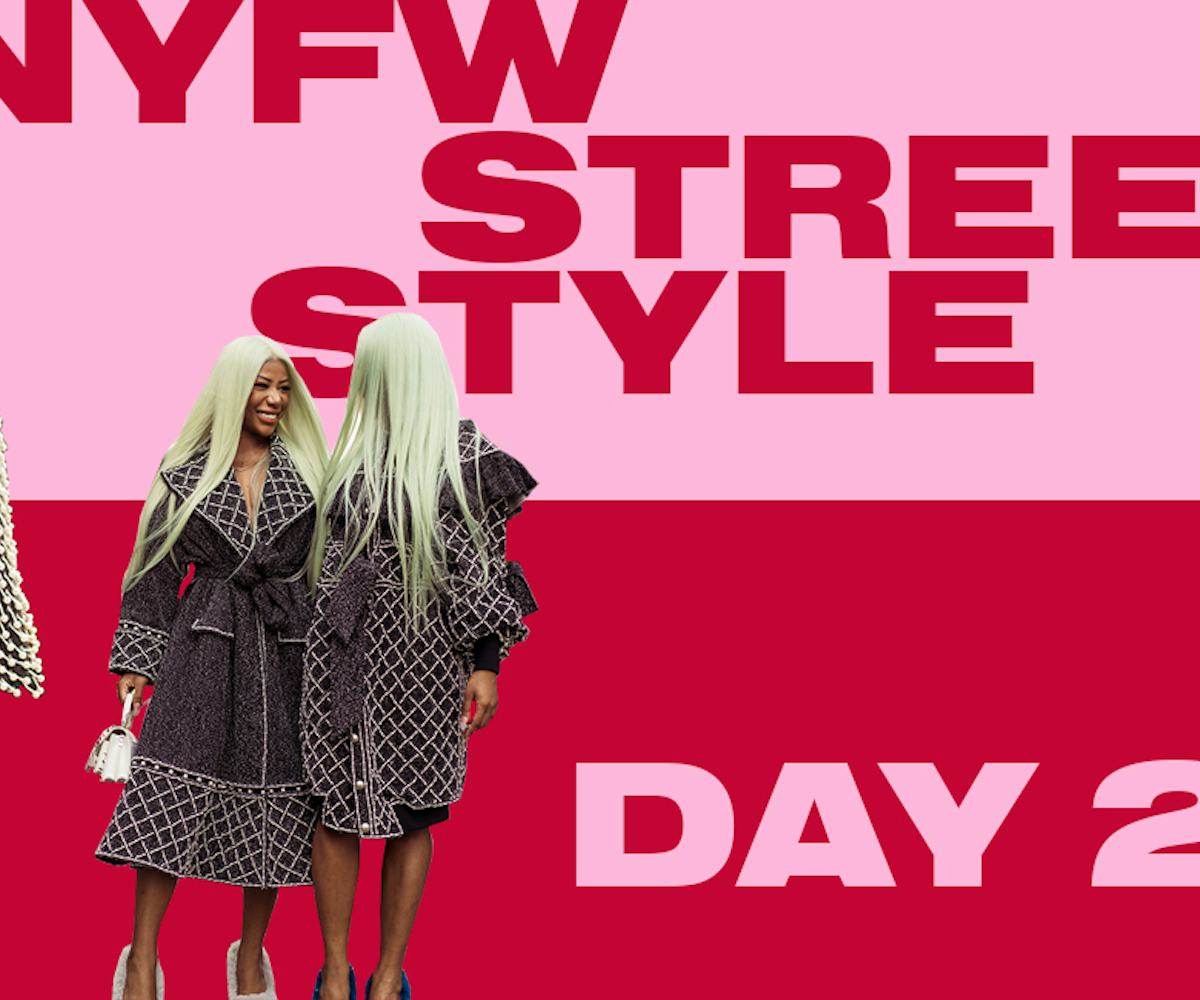 Photos by Matthew Sperzel
NYFW Street Style Day 2: Bury Me In Pearls
No sophomore slump on the second day of NYFW
Not even the rain could put a damper on day two of NYFW. We're still out here, we're still sweaty, and we're still serving looks. The verdict is in, and this year's embellishment of choice is pearls. As we said yesterday, all the rules are out the window and the rebels have made the game their own.
Check out the best of the second day of NYFW, below.
Who says fall can't be just as colorful as summer?
Devoted to the knits, even in this heat. Respect.
Monochrome done right.
These pants are a jet-setter's dream.
Asymmetrical and it's a set? Bless. 
Mall goth but make it high fashion.
Genuinely thought the fruit was part of this look because everything here was so well chosen.
It's hard to put together red and green without coming out looking like Mrs. Claus, but this woman got it spot-on.
Can I get a dozen? A baker's dozen? With sprinkles?
I really hope they hung this on the back of their seat at every runway show.
Not your grandma's pearls.
Don't listen to the hat. This is very good taste.
The sheer button-up layer is only the icing on the cake.
Pearls, tulle, and marabou? Sign me up.
At this point, just bury me in pearls.
Cyndi Lauper called to congratulate you on this serious #look.
This intricate pattern makes the seafoam green eyebrows really pop.
NYFW mood forever.
Just our editor-in-chief Gabrielle Korn and Fashion/Beauty Editor Jenna Igneri absolutely killing the street style game, NBD.
BRB, calling my mom to make sure she didn't put my chain belt in the box to donate to Goodwill.
Lavender for every season.
The subtle sheen on the ribbon from their headwear is just too good of a detail.
Barrette game so strong. 
So nice, they had to do it twice.
More barrettes! More pearls! And that blush?! Love.
Note to self: Cozy can be so chic.
I have no words.
Love a good intentional nip slip.
Who says you can't wear white after Labor Day?
I think I'm gonna need a minute to really let all of this soak in.
The red eyeshadow makes this floral tailored jumpsuit all the more edgy.
Matthew, that pattern is amazing.
It's like pajama couture, sleepwear that can go to the club.
Seatbelt belts for life.
I do care, but only about those boots.
From far away, polka dots. Up close? Iridescent sparkly perfection.
I can't stop thinking about these boots. Do they double as ice skates?