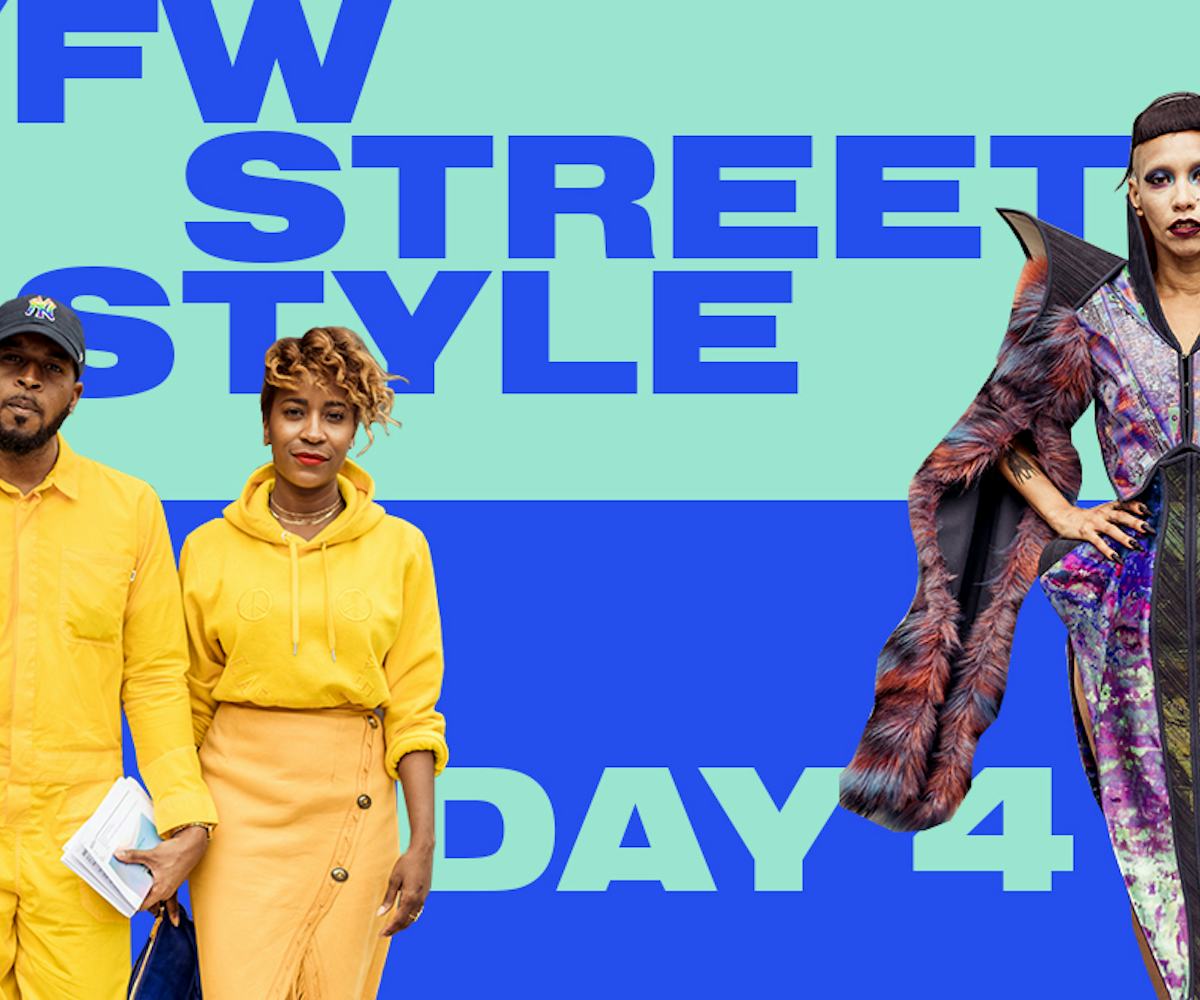 Photos by Matthew Sperzel
NYFW Street Style Day 4: Seeing Double
The best style came in pairs
Highlights of NYFW day four? Those who dressed in tandem were hard to beat, and photorealism got real on some seriously sick 'fits. The temps are slowly dropping, so it's less like a sauna and more like autumn—so, yes, you can justify breaking out your fave layering pieces for the sake of fashion.
Click through the gallery below to scope out all of the best looks we saw on the streets of NYC.
This bear is alarming AF but makes a seriously great hoodie.
Serene forest scene, yet punk as hell with platform boots and plaid jacket.
Couple goals.
This skirt belongs in the Louvre.
A pop of pink is always a good choice.
Literally texting this to my partner. Need to step up our couple NYFW street style game ASAP.
There are so many things happening here, and all of them are incredible. Sculpted skirting? Yes. Fur sleeves? Hell yes. Shadow that accents colors from the whole look? HELL yes.
When you want to match, but need to stand out, add blue sunnies. Done.
This girl is on fire.
A crisp white button-down with olive army-esque pants will never go out of style. The harness and belt bag are what make it a NYFW standout.
Peep that red boot poking out!
These subtle hints of coral and blush are enough to bring the sunshine back into this dreary day.
Coordinating your patterned suit with a matching cap? Love.
A full-on Monet, but not in the way Cher meant it in Clueless.
Note to self: No crystal is ever too big to use as an accessory.
Straight outta the '70s.
This sweater and bag are a match made in heaven.
Okay, maybe I'm going to have to break down and try out this small sunnies trend.
These pants have me confused, but I still love them.
Shades of brown have never looked less boring.
Are those earrings really little jars? Can you put stuff in them? I need to know. 
Paint-splattered, but way cooler than when you made at Girl Scout camp.
Groovy.
Shark Week X NYFW.
Need a sister so we can rock these iridescent, green looks together.
Subway grate wind-proof!
Not your typical tie-dye shirt.
Pleats on pleats.
For whenever you need to have a John Cusack Say Anything moment but also carry all your essentials. 
I'm sweating just looking at this, so how does she look so cool?
NYLON's own Gabrielle Korn and Jenna Igneri looking stylish as ever.
Cuddle couture.
Super into this angular beret.
I never knew I needed to see the Balenciaga Crocs IRL.
A little light green shadow done so, so right.
Victorian casual, unbuttoned to leave room for snacking opportunities while maintaining maximum comfort and style.