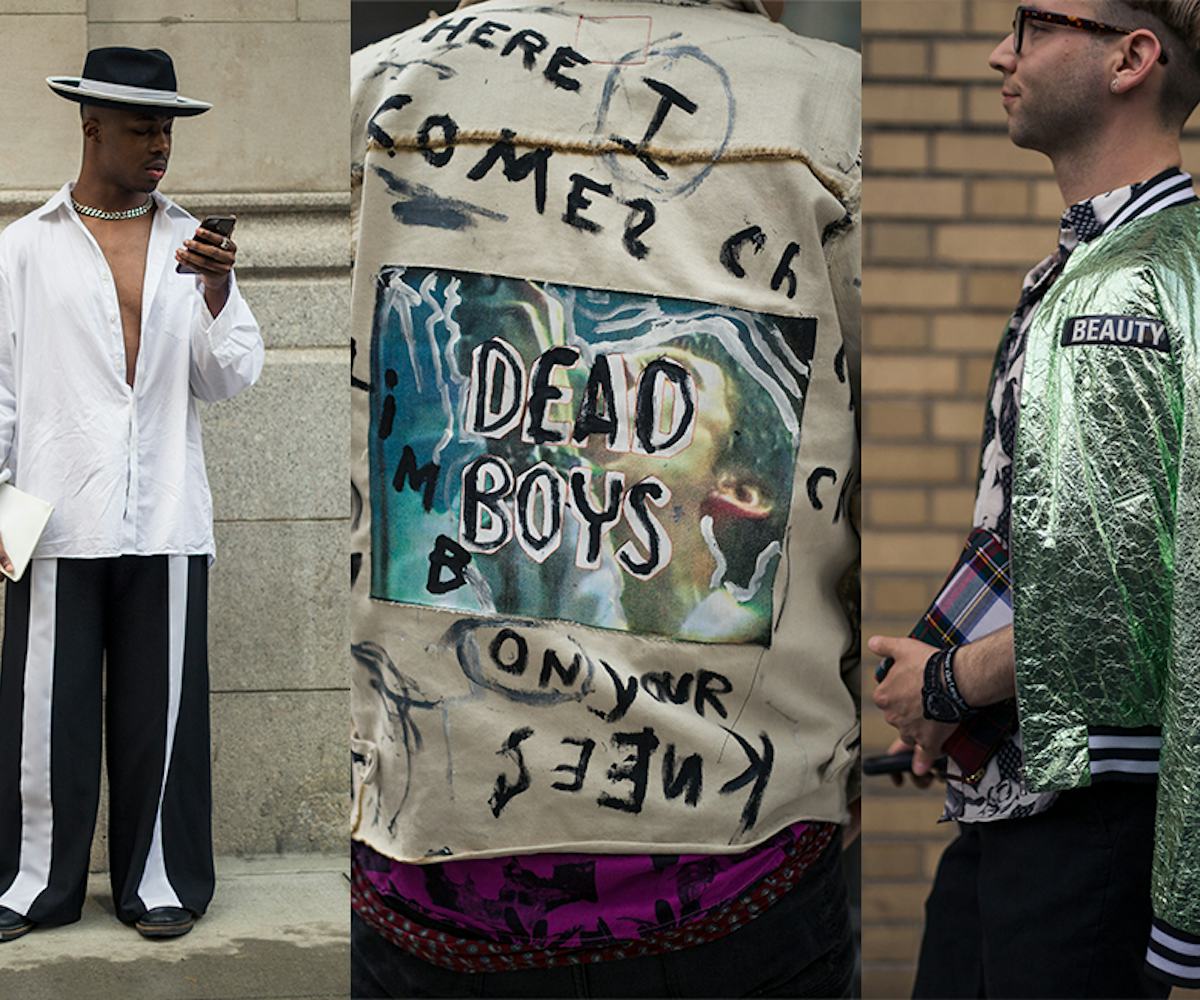 Photos by Matthew Sperzel
NYFW Men's Street Style Day 2: Paint It However You Want
Paint is the new destroyed which was the new sandblasted. The second day of New York Fashion Week: Men's saw more DIY and expensive DIY-looking pieces take to the streets of Manhattan. The mentality seems to be, if you can wear it, you can paint it and then wear it. From Basquiat denim jackets to brushed and splattered canvas bags, there truly is nothing that can't be made to look hip, grungy, and totally New York with a little (or a big!) touch of paint. That, or you can dress like an actual painter. You'll see what we mean in the street style gallery below.
Check out what New Yorkers wore to the first day of New York Fashion Week: Men's here.
The Dutch Boy painter may grow up, but his style stays classic.
Sweet dreams are definitely made of these.
Linen and paint: a lesson in aesthetic.
TFW the sidewalk becomes a catwalk.
There are so many things working here: the double-cuffs, the hanky, the Basquiat, the "[so-called] avant-garde."
Got that EVISU envy.
How deep. How prophetic.
This Fornasetti button-down is supremely appropriate.
You know how the saying goes: real lies.
Can waist trainers be fashion? Paired with heeled boots and that bag, definitely.
It's called flowy fashion. Look it up.
Did this bag complete me, or will I complete this bag when I find it (presumably not on TV)?
What's black, white, and sophisticatedly casual all over? Take a wild guess.
So is acrylic paint on everything the new thing, or what?
The vertical lines say "look up," the preoccupation with the phone says "I'm unbothered."
Beauty AND grace!