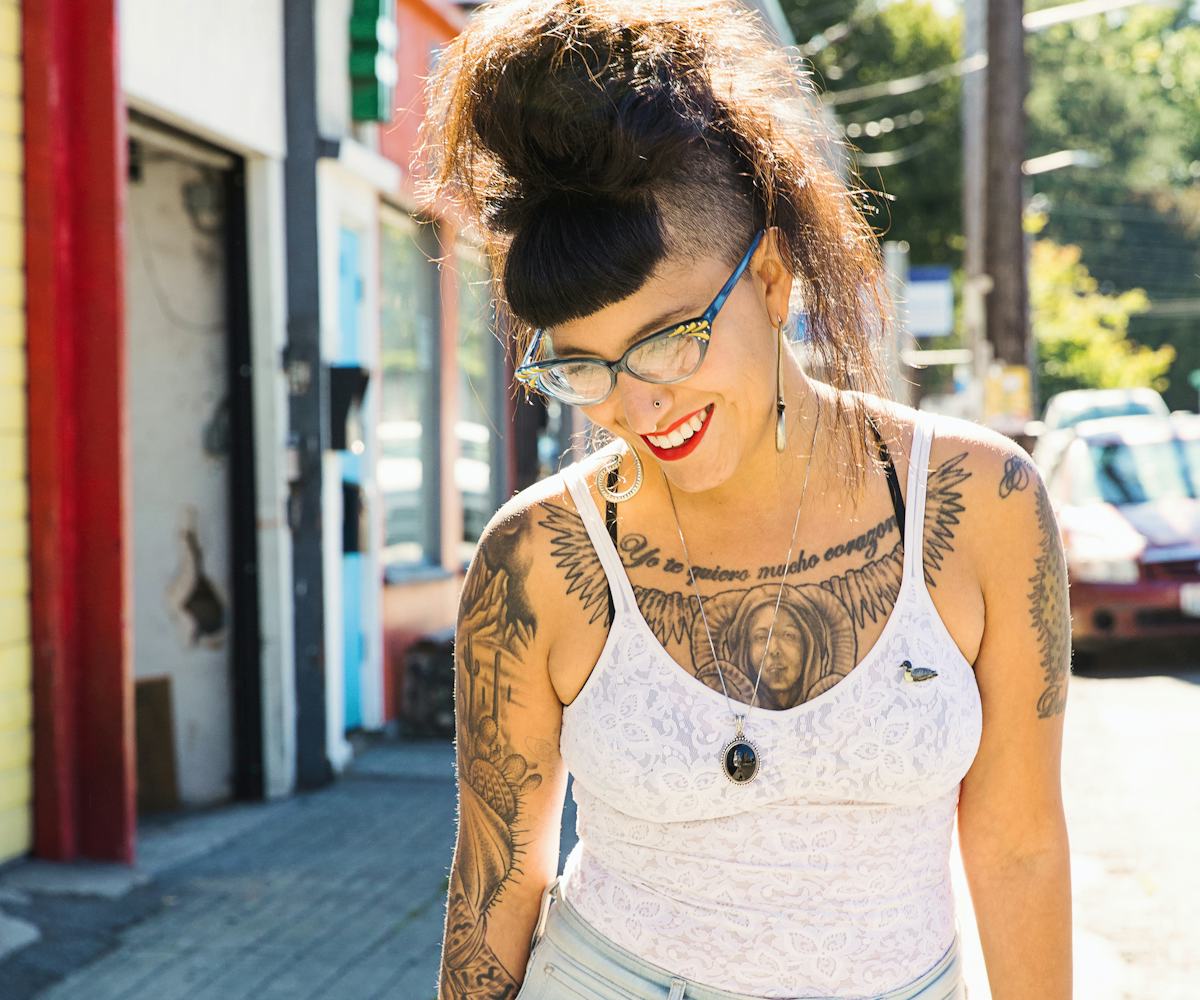 Photographed by Amber Fouts.
Zine Queen Nyky Gomez Is Turning A Page
And giving a voice to marginalized communities
The following feature appears in the November 2016 issue of NYLON.
Nyky Gomez was working in construction in Portland, Oregon, when she first picked up a zine called Moshtrogen at the now-defunct Back 2 Back café. "It really inspired something in me," she recalls. The self-described "Tex-Mex American, desert-hearted, lizard punk woman" soon found herself rummaging through the café's small collection of DIY publications during her breaks. Fast-forward some years and she went on to head one of the largest zine distribution sources by and for people of color in the United States: Brown Recluse Zine Distro.
Born in El Paso, Texas, and mostly raised in Phoenix, Gomez comes from a Mexican family of Apache and Comanche descent that has lived in West Texas for generations. ("As my grandma told me, we'd always been there, since before the line was drawn," she says.) She vividly remembers watching skate videos on VHS in her youth, and vibing to the anarcho-crust-punk bands that she came across. After a brief stint touring with a friend's band, she dreamed of moving to Seattle, but when the temptation for a new environment came, she up and moved to Portland instead, and found herself living at the Jupiter motel, doing under-the-table amateur construction there to get by. She returned to Arizona six months later, but within four years she and her friends had hashed out a plan that allowed her dreams of moving to the Emerald City to come true.
Once entrenched in the zine world, Gomez grew frustrated with the lack of representation that she saw. "The same four or five zine writers of color were being featured in every single distro," she recalls. In 2013, she came up with a solution: to have an open call for zines that represented a wider variety of identities, and to then distribute the submissions. It received an overwhelmingly positive response. "Brown and black people comprise more than half of the world population, so it wasn't hard to build the initial catalog of 20 or so titles," she recalls.She built the distro from the ground up, initially funding it through social work and sex work until Brown Recluse Zine Distro became self-sustaining. "A lot of projects and movements are built on the backs of sex workers," she says. "We're funding our own revolution." Running the distro soon became a full-time job: At its largest, BRZD housed about 110 titles (including Gomez's own Skinned Heart series), and it is arguably one of the largest online resources of its niche.
Despite the massive success of the distro, Gomez now has a new mission. "I wasn't finding community as much in zines, and stopped writing, which is why my focus shifted," she says, now channeling her efforts to help improve what she refers to as her city's humanitarian crisis. "We have a huge homeless population in Seattle, and it's really overwhelming," she says. "Homeless people are deeply criminalized here." Between 2015 and 2016, as its landscape continued to change with the tech boom, the city saw a 19 percent increase in the number of people sleeping in the streets. The staggering statistic hits close to home for Gomez. "I have a lot of friends who are drug users, friends who are sex workers, friends who are homeless, who I really want to support," she says. So, in September, Gomez made the decision to hand off the reins of BRZD to her partner in the project, Elena Corinne, and started the early planning stages of Safe Night Access Project Seattle (SNAPS). The developing outreach program hopes to connect current and former sex workers so they can provide resources and occupational support to each other, especially those living through the growing housing crisis.
But Gomez will forever remain a zine enthusiast. Recently, she has found herself putting pen to paper and cutting and pasting again. "Zines are still special to me," she says. "They were always my call to being productive, to serving my community. That's always been important to the work I do."
Gomez's musts:
Eating: I'm not a vegetarian, but I really love the veggie plate at Saba Ethiopian Cuisine.
Drinking: This local cider made by Seattle Cider Company—in particular, the dry one
Wearing: Most everything comes from the thrift store and the free box, unless I am buying new Levi's.
Beautifying: Humphrey's Witch Hazel Cleansing Pads, and the yarrow hydrosol my friend makes
Listening: FKA twigs, Future, King Woman, The Younger Lovers, Paranoid Time, Damad (I never stopped listening), Vastum, and Logical Nonsense
Browsing: For the past three years I have been obsessed with birding. Currently, I'm researching the marbled murrelet, a very mysterious and endangered sea bird threatened by deforestation. Also, I am really into following Nalgona Positivity Pride on Instagram and Facebook. 
Reading: Rare Bird by Maria Mudd Ruth. It's about pursuing marbled murrelets. 
Visiting: I am always trying to spend as much time as I can in the surrounding forests in the Pacific Northwest. I'm also researching tickets to visit my loved ones in New Orleans.
Coveting: A memory foam mattress
Believing: In the power of the #NoDAPL movement blocking the Dakota pipeline, and the #BlackLivesMatter movement