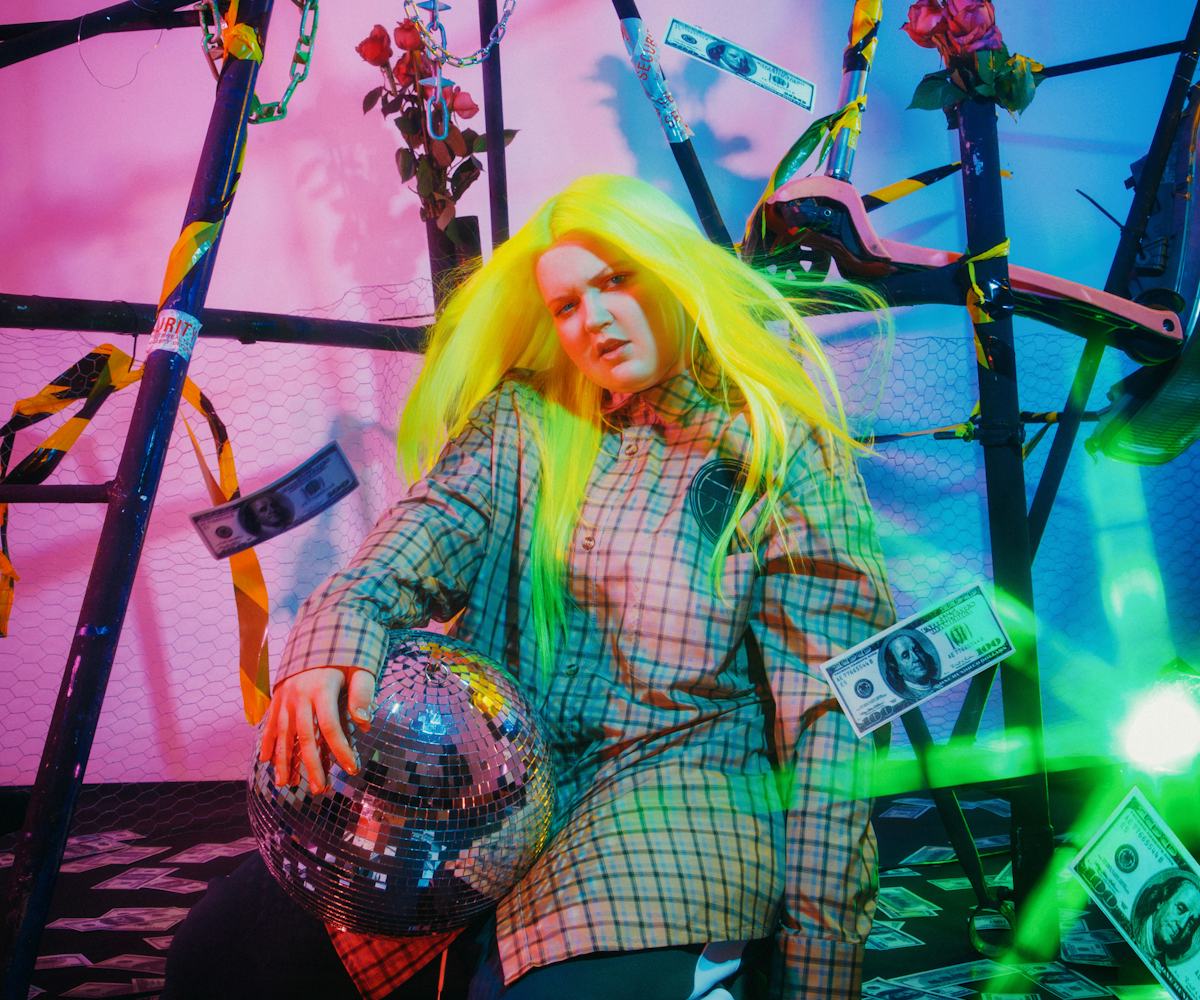 Top by Astrid Andersen, pants by Maharishi, boots by Dr. Martens. Photographed by Charlotte Rutherford. Styled by Toni-Blaze.
Singer-Songwriter Alma Talks Her Dream Collaborations And Weird Foods
MS MR's Max Hershenow chats with the Finnish artist
The following feature appears in the June/July issue of NYLON. Every year we scour the music scene to round up the best rising acts for our annual music issue. This time around, Charli XCX guest-edited the feature, hand-picking a crop of new musicians to be interviewed by veterans in the game who have been there and done that. To meet more up-and-coming artists on Charli's radar, click here.
If her highlighter-hued hair doesn't catch your attention, this Finnish singer-songwriter's earthshaking vocals surely will.
Max Hershenow: If you shaved your head and sold your hair on eBay, how much do you think it would go for?
Alma: [Laughs] Maybe €500 [about $550]? There are some crazy Finns out there!
I think your twin sister, Anna, is one of your secret pop-star powers. What was the last thing you argued about?
Yes, my sister is my pop-star power! She is everything. We are a team. The last time we argued was in Sweden. I was very grumpy in the morning and I was complaining to Anna that she only does tattoos on herself, and I was angry that she looks so cool with her tats and I look boring.
Fuck, marry, kill: Robyn, Rihanna, the Spice Girls.
Fuck Robyn, marry RiRi, kill the Spice Girls.
What's the weirdest Finnish food?
[Laughs] There are so many! There's one dessert called mämmi—it looks like shit and it's very gross.
I know you love Los Angeles. What's your favorite thing about my city, besides getting to hang out with me and Charli XCX?The sun, of course! The weather in L.A. is the opposite of Finland, so it's so good to get some sun. Also, there's good Mexican food and house parties.
If you could have any artist's career, whose would it be? I would be interested to see Kanye's career with my own eyes. And Sia's, 'cause she's not doing promo from what I've heard, just fun stuff like gigs and [working in the] studio. She must have good times.
What's the strangest or most unexpected song you've recently fallen in love with? Mine is "m'lover" by Kishi Bashi.Mine is the theme song for Skam, this Norwegian teen show. It's called "5 Fine Frøkner," by Gabrielle. I don't know the lyrics but it's just so good!
Who are your dream collaborators?I have too many dream collaborations—Sia, Tove Lo, MØ, Charli XCX, all the "bad gals" in the business, basically.