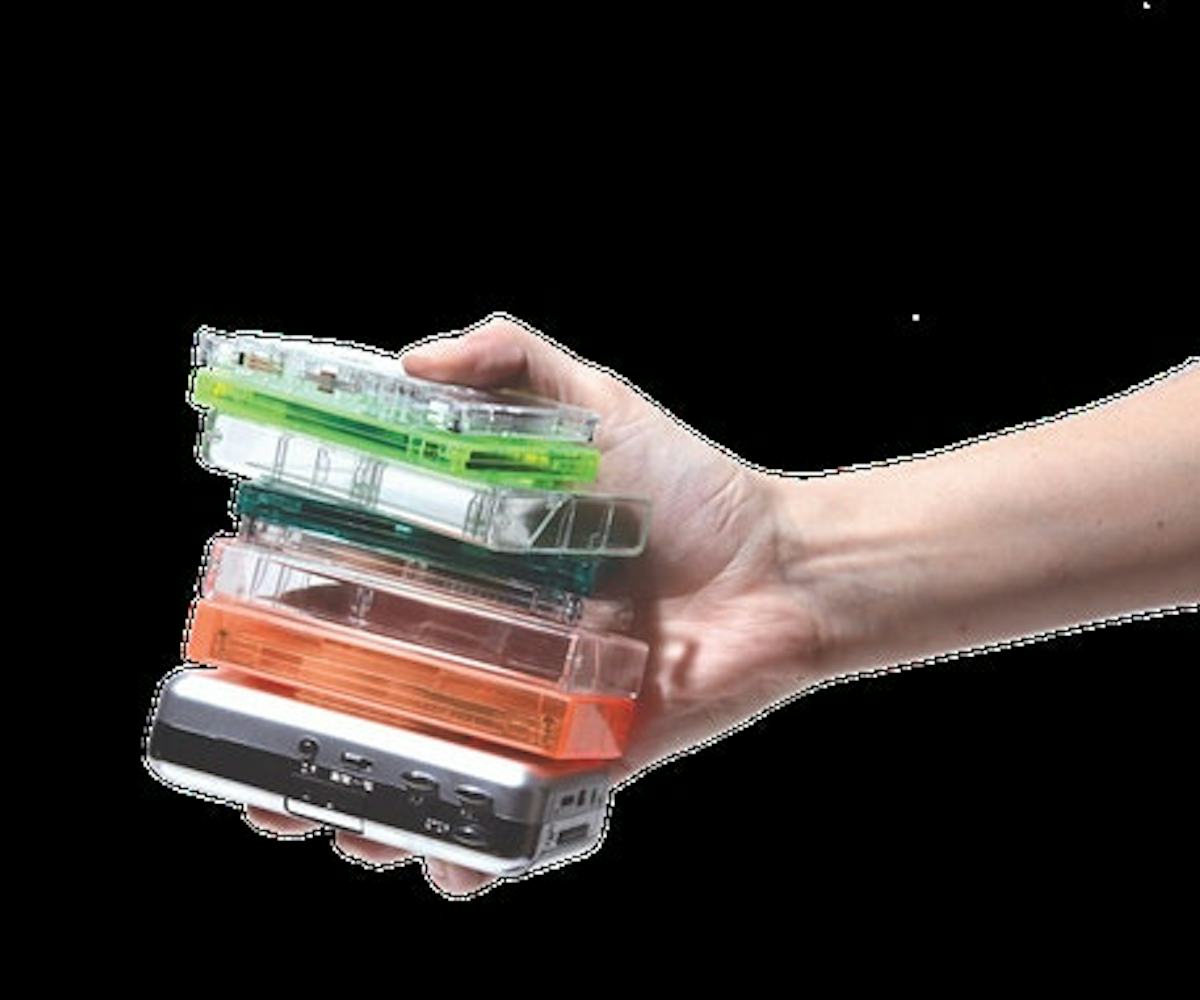 Photographed by Ricky Michiels.
Exploring The Cultural Institution Of The Cassette Tape
The following feature appears in the June/July 2016 issue of NYLON.
Some of us remember popping an Ace of Base tape into a Walkman, with its limited battery life and finicky rewind button. Or having our hand hovering at the ready as the radio DJ announced the new Gin Blossoms single, prepared to hit record at the exact right moment. These were the days when mixtapes were real, physical objects that were passed around from hand to hand instead of hard drive to hard drive, only to become lingering artifacts of relationships past, moments in time. But this isn't just about nostalgia.
Today's biggest music fans didn't all live through the '80s, yet plastic cassette tapes have once again become very much a part of pop culture, offering a fresh way to experience an album or an EP—even the beloved "cassingle" is seeing a comeback. And it's not a fringe trend, either: Artists such as Beck, Green Day, Weezer, Kanye West, Halsey, and The Weeknd all have their albums available on tape.
Cassettes may seem like an unlikely audio medium to resurface, especially when you consider their short-lived history. Invented in the 1960s and first introduced to the public in the late 1970s, cassettes were a more portable alternative to vinyl. There was, however, an ongoing debate about their sound quality and longevity (you should be so lucky to have never spent a frustrated hour respooling a broken cassette with a pencil). And although cassette sales far surpassed those of vinyl LPs by the early 1980s, thanks especially to the Walkman and the boom box, there continued to be concern among audiophiles that the tape failed to play a song at its best. Sales of cassettes hit its peak in the mid-'80s; by the early '90s CDs had taken over the marketplace, with cassette players and Walkmans quickly being replaced by Discmans and the oh-so-coveted multi-disc player. By 2001, cassettes accounted for only 4 percent of all music sold. It was the end of an era.
But even as the cassette tape medium fell out of favor among record labels, artists, and the public at large, the idea of the tape—and more specifically the mixtape—never quite died. The journey from the home-burned CDs of the '90s and early aughts all the way through to modern-day digital playlist sharing on services like Spotify can be understood as a quest for the mixtape's spiritual successor, an ongoing effort to re-create its magic in a higher-tech world. The mixtape's legacy also lived on in the hip-hop community, which has continued to use the term to describe work released outside of the music-industry establishment—a more democratic, more personal, more shareable type of project that has launched the careers of artists like Tinashe and Drake. And that's not even to mention the countless cameos the mixtape has made in film, from Rob Gordon's rules for the "subtle art" of the "compilation tape" in High Fidelity to Boyhood's Beatles-themed mix bequeathed to Mason Jr. on his 15th birthday to the compilation of "bummer songs" that James gives to Em in Adventureland. The cassette never completely left as far as our collective consciousness was concerned.
So perhaps it makes sense that around 2012, something interesting happened: Cassettes started to re-emerge as modern artists and consumers alike began to look for ways to diversify how we release and listen to music today, and found an existing answer in cassettes. Retailers picked up on the interest. Urban Outfitters, for instance, added cassettes to their stores as an extension of their UO Mixtape initiative, a free monthly curated tape that launched last January and has featured the likes of Father John Misty and Toro Y Moi.
"Urban Outfitters saw the resurgence of cassettes as a way to create exposure for up-and-coming and undiscovered artists and to give those artists and record labels engagement within our stores and social community," explains Dryw Scully, director of music curation at Urban Outfitters. "Cassette releases are generally available sooner than vinyl, giving our customers another opportunity to purchase their favorite releases. Cassettes—along with vinyl—were a natural fit to align with our wider music initiatives as another tangible music offering. Cassettes also allow UO to create something collectible for our music customers."
Burger Records has been making cassettes since 2007, when they released a cassette album from Thee Makeout Party!. The reasoning was simple: "We put it out so we could have all the formats available," says Sean Bohrman, co-owner of the label. "After we released our cassette we realized that none of our favorite new albums were being pressed on tape, so we started doing it for other bands, too."
For Bohrman, cassettes are not a trend. A cassette's value is in its ability to give a music fan another means of listening, never mind that it's currently in vogue. "If your main means of listening to music is through the tape deck in your car, then you shouldn't be labeled or looked down upon," he notes. "I've been listening to tapes all my life. That makes it not a fad."
L.A.-based sister duo Bleached's latest album, Welcome the Worms, is available as a cassette from Burger Records, and for singer-guitarist Jen Clavin, that was an inevitability. "I grew up listening to cassettes," she says. "My first car was a vintage 1973 Nova with only an AM radio so I had a boom box that I would play cassettes on that we would get at thrift stores. The fact that we have the opportunity to put the album on cassette—there was no question."
As a musician, Clavin isn't concerned about the sound condition of a cassette, and Bleached didn't change anything about the mixing or mastering of their album to put it on tape. "It's pretty low quality so it just makes the music sound older and lo-fi," she notes. "That's how it differs, because most music is recorded digitally or on really high-quality tape two to four inches wide. A cassette tape is about one-eighth inch so you are compacting all that sound in such a small space. But you end up with a sound you can only achieve that way, a little more classic-sounding."
In fact, Steve Stepp, president of the National Audio Company, the largest remaining manufacturer of cassettes in the United States, argues that a tape gives you something an MP3 can't. "The analog sound of a cassette tape is an actual recording of a musical performance with full harmonics and a 'warmth' or 'live sound' impossible to achieve in digital recordings," he explains. "The world is analog and so are our ears."
He doesn't think this is a passing fad, either, and has the numbers to back it up. From 2008 to 2014, NAC's cassette sales have increased by about 20 percent per year and sales for 2015 increased by 31 percent compared with 2014. He attributes much of those sales to listeners under 35, however, Stepp is quick to point out that it's not one type of person who is snatching up all the cassettes. "If cassettes are just a hipster fad, the whole world is made up of hipsters," he says. "We serve a worldwide market with all types of music and other recordings."
So, sure, cassettes have risen in popularity after several decades of unpopularity, but companies like Burger and Urban Outfitters plan to continue cultivating a base of music fans who want a more palpable—and fun—means of listening. This year marks the fourth annual Cassette Store Day, and even Eminem has plans to reissue his 1999 effort, The Slim Shady, on cassette later in 2016.
"Cassettes feel contemporary as we're seeing more and more indie bands release their latest EPs and albums [in this format]," says Scully. "The fact that they're produced in limited quantities makes the cassette release an attainable collector's item for the dedicated fan. Music consumption has become a very digital experience via streaming services, so we see the cassette format as unique in that respect. We feel that it follows the growth of vinyl as a tangible, personal music listening experience."
So go dig up an old Walkman, change its batteries, and pop in a tape. We won't judge you, even if it's by Ace of Base.