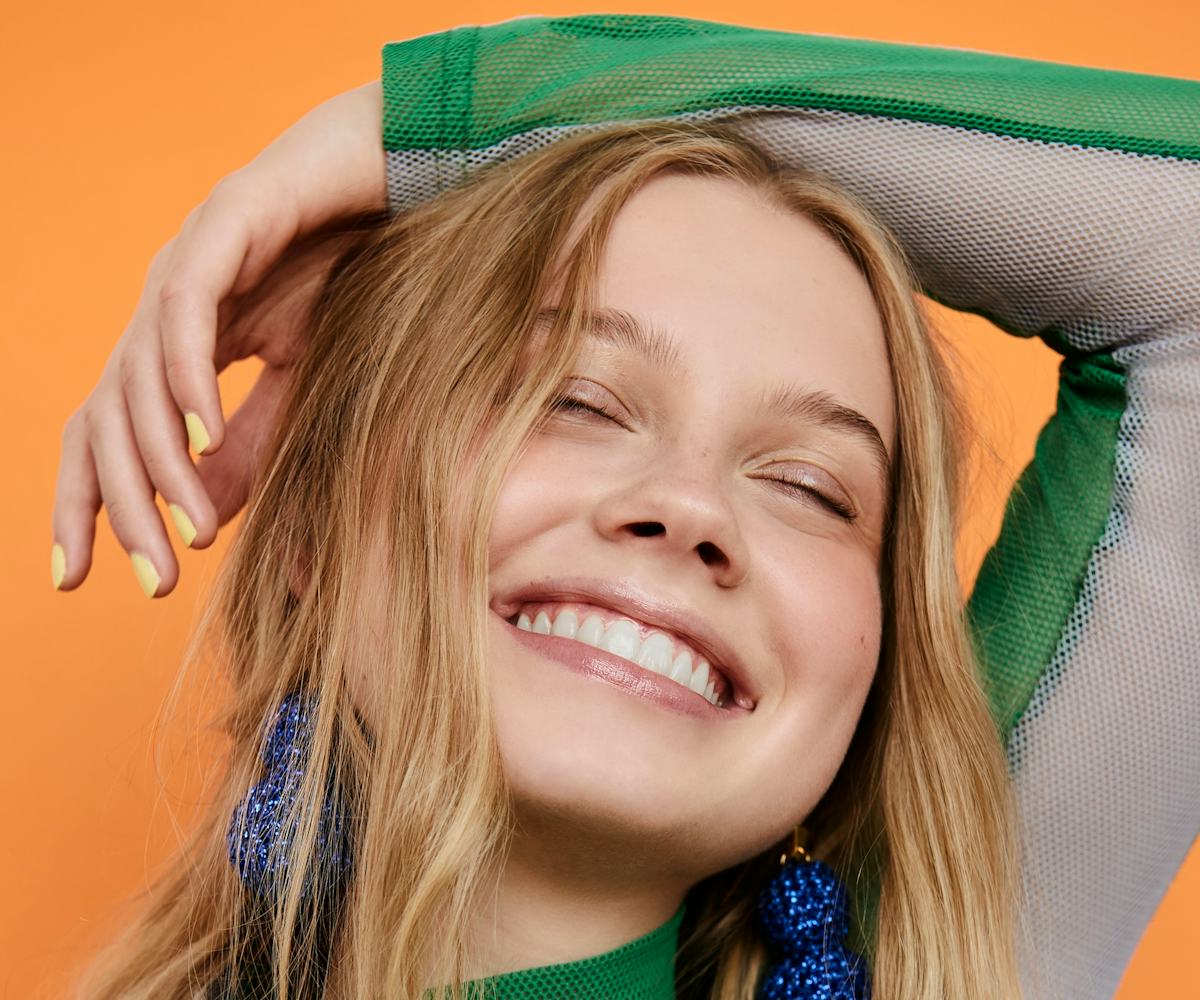 Photographed by Jo Duck. Styled by Abby Bennett. Top by Pageant, crop top by Girls x Permanent Vacation, earrings by Lucy Folk. Hair and makeup: Colette Miller at Work Agency using M.A.C Cosmetics and R+Co. Photo assistant: Bec Martin.
Angourie Rice Has Roles In Two Of Summer's Most Anticipated Films
Get to know the 16-year-old actress
The following feature appears in the June/July issue of NYLON.
If Angourie Rice is any indication, there may now exist a generation for whom Ryan Gosling is less of a total babe and more of a "cool uncle." The 16-year-old Australian actress, who memorably portrayed Gosling's sassy, kindhearted daughter in 2016's neo-noir comedy The Nice Guys, believes she landed her breakout role because she didn't see Gosling as a heartthrob. "I never had a pillowcase with his face on it, and that worked in my favor," she says. Rice is Skyping from her home in Melbourne, curled up on the sofa in her pajamas next to her dog, a whippet named Lola. It's tomorrow morning there, and she's only just woken up. "The future is pretty good so far," she assures me.
The rare rising star who attends a regular high school, Rice is zealous about her academic pursuits, even with two huge summer movies on the horizon—Spider-Man: Homecoming and Sofia Coppola's The Beguiled.She's currently busy preparing a speech for English class on the absence of career diversity for women in film. In fact, when Rice was offered the role of Betty Brant, who predates Mary Jane as Spidey's love interest, she needed a few weeks to consider what it would mean for her schoolwork. Also, she was nervous. "Once you're in the universe," she says, referring to Marvel's ever-expanding cinematic world, "you can't play another character. That's it. You are that person forever. So, you know, it's a bit of responsibility."
The hardest part was withholding the news from her friends. When she departed for the Atlanta, Georgia, set last spring, her casting had yet to be announced. "I had to stifle every bit of excitement and push it deep down," she says, wandering outside to her front yard. Marvel is famous for its "I'd tell you, but I'd have to kill you" policy—even now there's little she can share. "Atlanta was stinking hot," she offers. Nice try, Angourie (pronounced An-GOWER-y, after a surfer beach in New South Wales where her grandmother's ashes were scattered). Since Tobey Maguire stepped into the role in 2002, Spider-Man has appeared on the big screen enough times for us to know a little of what to expect from this latest version, starring newcomer Tom Holland (The Lost City of Z)—like, say, an iconic kiss? "No comment," says Rice, laughing, before relenting just a little: "They really wanted to bring youth to it, so this one is very much about high school life." 
Around Halloween last year, Rice also traveled to New Orleans to shoot The Beguiled, an adaptation of Thomas Cullinan's 1966 Civil War-era novel that follows a wounded Union soldier who takes refuge in a Southern girls' academy where sexual tensions slowly erupt. Though it's technically a remake of the 1971 film starring Clint Eastwood—an old trailer hilariously describes Eastwood falling prey to "these man-deprived women, these man-eager girls"—Rice hasn't seen the original. "Yeah, I don't think that's what Sofia wanted," she says, laughing again. Coppola flips the script to tell the story from the perspective of the female characters, played by Nicole Kidman, Kirsten Dunst, and Rice's role model, Elle Fanning. Rice plays Jane, one of the few girls unruffled by the intrusion of the soldier (Colin Farrell). "I'm like, he's making you all googly-eyed, snap out of it!" she says.
Rice spent much of the time on set enjoying one of her favorite American exports, Ben & Jerry's Half-Baked ice cream, with her younger castmates and trying not to disturb the spirit of a ghost dog rumored to haunt a nearby house. She recalls a beautiful, giggly revelry when everyone came together to shoot the film's climactic dinner scenes, although admits she was downright terrified during an onscreen confrontation with Farrell. "I thought he was going to kill me—that's how good he is," she says, reenacting her barely suppressed anxiety: "In the back of my head, I had to keep saying, 'It's fine, he's lovely, remember he was telling you that he keeps granola bars in his backpack in case he gets hungry.'"
It's hardly surprising that Rice, who prefers classic films like Gentlemen Prefer Blondes and Kiss Me Kate to Disney fare, continually gets cast in roles that demand an uncommon maturity. She comes by her profession authentically—mom is a playwright, dad is a theater director. In primary school, Rice would head across the street after class to where her parents were staging plays, and one time found herself reciting an entire monologue from a production called The Fiction Makers during the ride home. "That's probably where I fell in love with performing," she says.
At the moment, it's Easter break, and Rice is waiting for word on a few roles that she's keen on. She admires the careers of Saoirse Ronan and Rowan Blanchard, but she's also happy when she doesn't have to leave her life behind. "Every time I come back things have changed without me, and I have to find my way again," she says. Her closest friends occasionally tease her about hanging out with celebrities while they study for math tests, but their support has kept her feeling normal. "They have their own things that they do," she says. "This is my thing." Then she says goodbye, and gets back to finishing a science report.