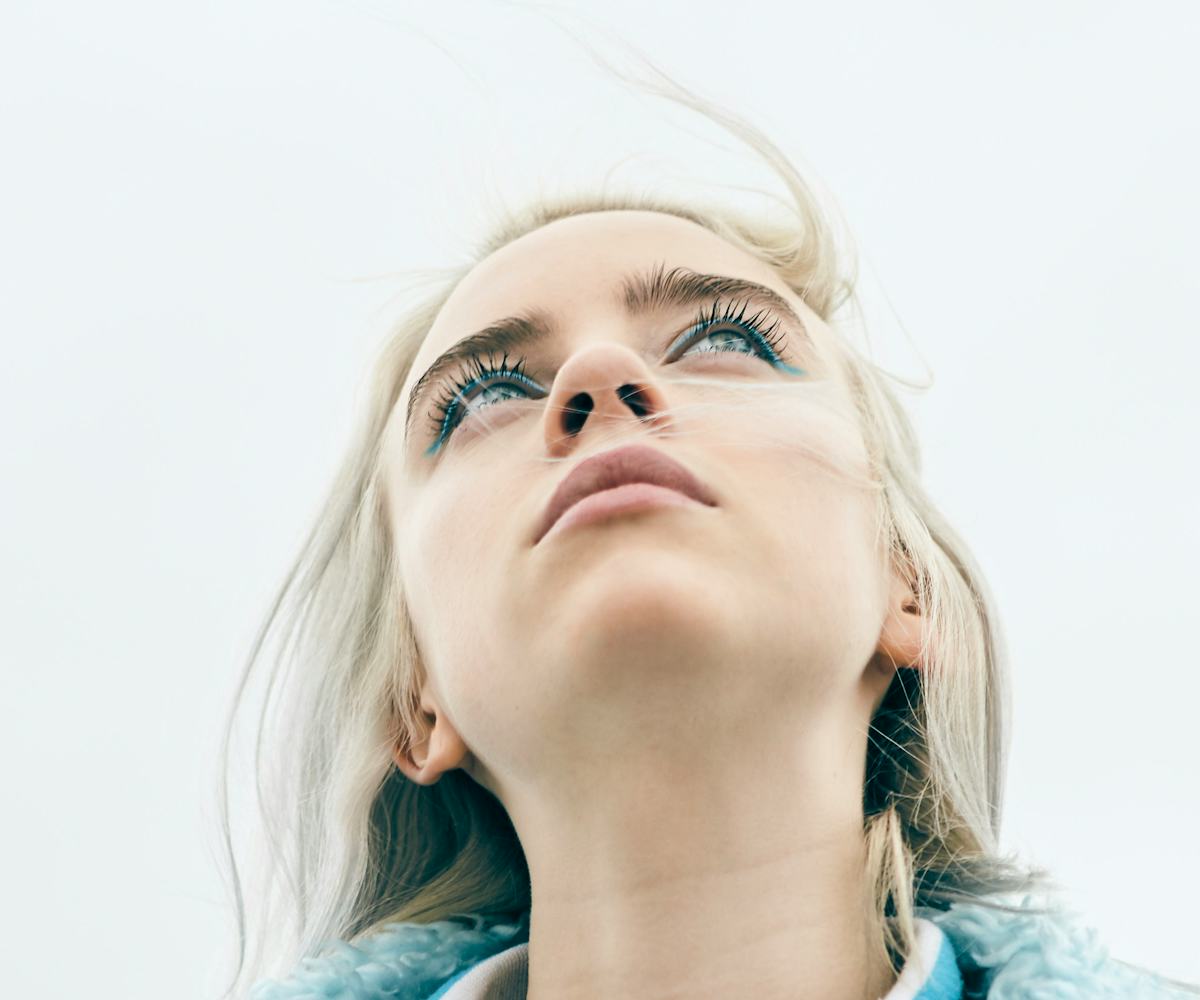 Photographed by Taylor Rainbolt. Hair and makeup: Amber Dreadon at Cloutier Remix using Chantecaille.
A Viral Track On SoundCloud Is Just The Beginning For Billie Eilish
The singer and dancer is ready to step into the spotlight
The following feature appears in the March 2017 issue of NYLON.
It's two days before Christmas on a dreary afternoon in downtown Los Angeles, and Billie Eilish and her mom are unpacking two very full suitcases of clothes.
"I pretty much only thrift," the singer tells me as we sort through the outfits that she's curated for her self-styled NYLON photo shoot. "I like things that are a step above everyone else's. Even if something is ugly, if it stands out I'll wear it."
Dressed in a fuzzy blue jacket that could have been pulled straight out of the Clueless wardrobe closet, Eilish is goofy and self-deprecating, but also strikingly beautiful, with a confidence that radiates off of her and the type of friendliness that feels both genuine and immediate. Though she's just 15 years old, there's a maturity to her that everyone around her seems to recognize. "I turned 15 on Sunday, but I don't feel 15, and I didn't feel 14 the entire time I was 14," she says. 
Perhaps that's because Eilish has already experienced more than most people twice her age. "My brother and I have both been homeschooled our whole lives," she continues. "But the way we did it, you focused on the stuff you were interested in. It was like, 'Hey Mom, I really want to learn how to do this. Can I go take a class on it?'"
When she was eight Eilish's parents enrolled her in dance and choir. She immediately fell in love with both. "If you're forced to do something it makes you not want to do it. Sometimes it makes you hate it," she explains. "But if you're not already doing it and it looks cool to you, you're going to want to pursue it and do your best at it." Eilish and her rich, emotive voice quickly climbed the ranks of the prestigious Los Angeles Children's Chorus. She performed in major operas like Carmen, toured the country, and performed in Japan with the group's concert choir, which she says introduced her to some of her "realest, truest friends." Between rehearsals and trips, she took classes in tap, jazz, and ballet and wrote songs, occasionally collaborating with her older brother Finneas.
"Dance and songwriting were always my ways of expressing myself," she says. "It was always a mixture of both." Those passions magically came together at the end of 2015, when "Ocean Eyes," a song written and produced by the siblings to accompany a piece of choreography by her dance teacher, was uploaded to SoundCloud. The track blew up overnight.
"We put that song up with no expectations at all," she recalls. "We literally posted it so we could send a link to my dance teacher. It got 1,000 plays after a day, and me and my brother were stoked. We thought, 'Oh my god, we're famous.'"
One thousand quickly turned into tens, then hundreds of thousands of listens. (It surpassed the one million mark earlier this year.) The overwhelmingly positive feedback helped soften the blow that came just a few months later, when a growth-plate injury forced Eilish to stop dancing. "I was in this class and my hip just gave out. I think I just twerked too hard," she says with a laugh, before noting that it proved to be serendipitous. "It was a terrible thing, but a great thing, because the song started to take off right when that happened. It gave me the time to really work on music, even though I felt like I was broken."
Since then, Eilish has dropped two follow-up singles—the haunting "Six Feet Under" and last month's loping acoustic ballad "Bellyache"—and her debut album is underway. In the meantime, she's slowly returning to dance: The striking performance video for "Ocean Eyes," which was released last March, sees Eilish taking the lead in an evocatively modernist push-and-pull routine, bringing the story of her unlikely hit song full circle. 
"I've always moved, and I've always needed to move to get my feelings out, which is why stopping dance, even for a while, was so hard," she says. "If I'm mad or depressed or whatever I'm feeling, I can go to dance and get it out of my system. That's why dance is great—because you can just move. And it doesn't look stupid! It looks cool! I think it's so interesting when people move, just because it's different for every single person."