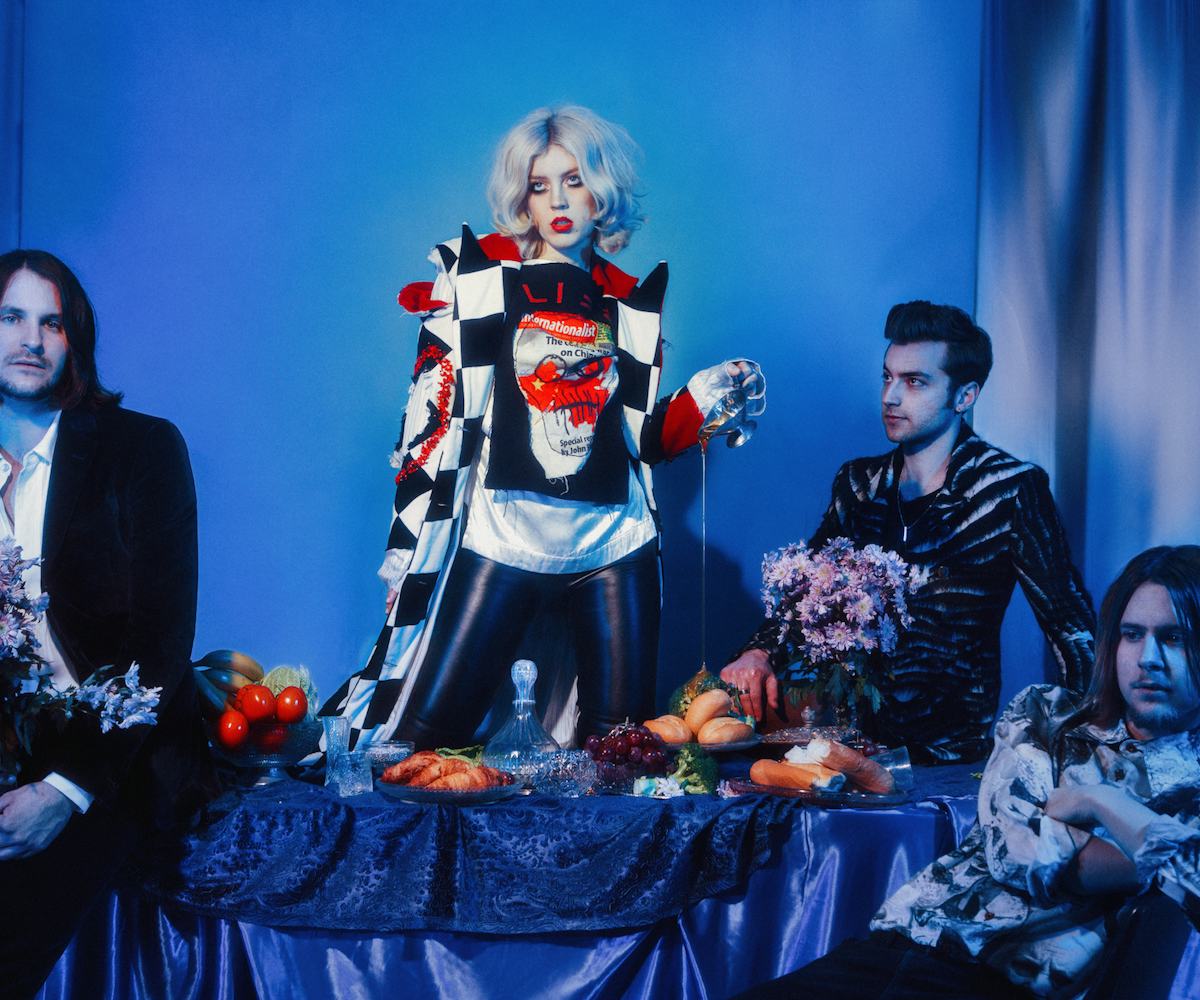 Photographed by Charlotte Rutherford. From left: on Ostler: suit by John Varvatos, shirt by Topman Design; on Phillips: coat by Dilara Findikoglu, shirt by Vivienne Westwood, pants from Rokit Vintage; on Taylor: jacket by John Varvatos, t-shirt by Topman;
U.K. Rock Band Black Honey Is Ready For World Domination
Charli XCX talks to lead singer and guitarist Izzy B. Phillips about the band's next moves
The following feature appears in the June/July issue of NYLON. Every year we scour the music scene to round up the best rising acts for our annual music issue. This time around, Charli XCX guest-edited the feature, hand-picking a crop of new musicians to be interviewed by veterans in the game who have been there and done that. To meet more up-and-coming artists on Charli's radar, click here. 
This four-piece once preferred to send cryptic texts to fans rather than reveal their identities, but the popularity of their shoegazey sound and melancholic lyrics left people begging to meet them IRL. Now the band—composed of lead singer and guitarist Izzy B. Phillips, guitarist Chris Ostler, bassist Tommy Taylor, and drummer Tom Dewhurst—is ready for full exposure.
Charli XCX: When did Black Honey form? Why are you the best rock band in the world?
Izzy B. Phillips: We each played in loads of different bands in Brighton [England]. I had been writing songs for a while but everything just clicked with [my Black Honey bandmates]. I think we are different because we are paving our own path, making music we love on our terms and our standards.
Do people often ask you what it's like to be a girl fronting a rock band? On a scale from one to 10, how annoying is that? 
Surprisingly, not that often. Though people do ask—and, yeah, it's a nine—I prefer it to the blinkered expressions I get daily from engineers, as they try to figure out why a band member's eccentric girlfriend is asking for guitar levels in the monitor mixes.
Out of all the members in the band, who parties the hardest? What's the stupidest thing they've done? 
I mean, there are a lot of stupid things that we get up to. We recently lost Tom in Newcastle, half-naked in a red magician's fez. Thankfully, he turned up in Slaves' tour bus at 5 a.m., singing. Our other great late-night ideas involve stick and pokes and naked swimming.
You definitely have an eye for fashion. What are some of your favorite pieces in your wardrobe?
I collect vintage clothes, and my all-time winners are my red berets, a dress, and black boots. Right now I'm digging my hand-painted leather jacket and my heart-shaped Lolita sunglasses.
How many berets do you own?
I own about five at the moment but they get stolen off the stage by fans at every show, so I have to keep my eBay searches on constant rotation.
Who's at Black Honey's ultimate rock 'n' roll dinner party? You can invite anyone, dead or alive.
I'd invite David Lynch to cook the dinner. It would be set in the Twin Peaks diner with some of his characters from other films there, too—like the Elephant Man and Eraserhead. Also I would invite Elvis, but only if he came bearing some donations from his stage wardrobe. Françoise Hardy, Charles Manson, and Ringo Starr, too.
You're on tour with Royal Blood—what's it like? 
Mike [Kerr] and Ben [Thatcher, of Royal Blood] are amazing. We always have a laugh just hanging out and going to gigs together, so touring is fun. They have always been super supportive of what we do, so we're stoked to finally hit the road with the guys.
Are you making a record? Can you sum it up in three words?
Lips are sealed.
What's next for Black Honey, aside from world domination?
After we're done touring with Royal Blood we start festival season—Reading and Leeds, Ibiza Rocks, to name a few. Expect to see us back on the tour circuit with loads of surprises, too. Watch this space.
Styled by Krissie Torgerson. Hair: Sami Knight at Starworks Artists. Makeup: Amber Dreadon. Photo assistant: Brooke Taffet.