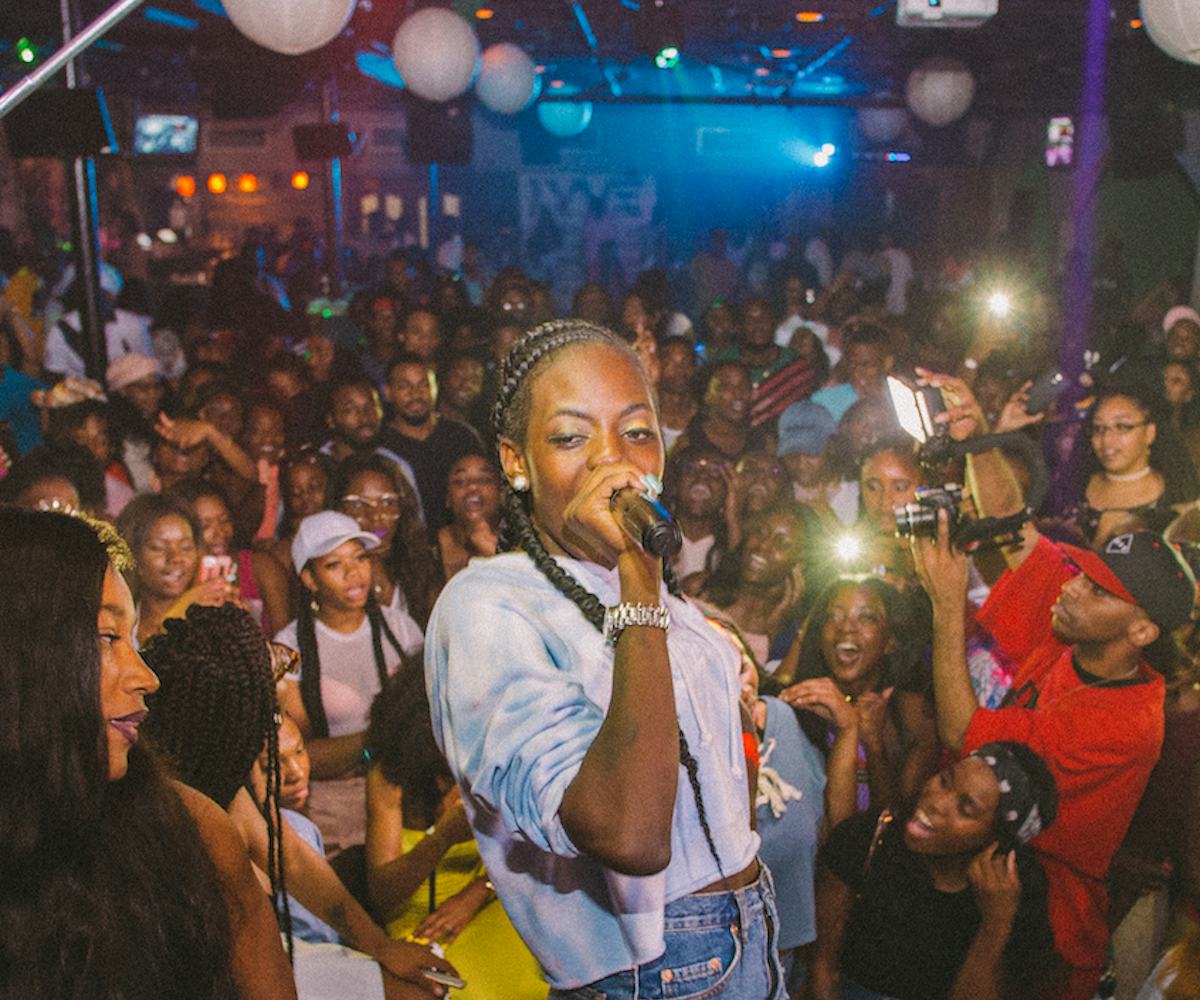 Photographed by Patrick Melon. Reedy performing at an Easter Shakedown
The Soundtrack To Life In New Orleans Is Bounce
We hit the Big Easy to hear from the genre's next generation of voices on where it stands today and which way it's headed
The following feature appears in the June/July issue of NYLON.
For the uninitiated, bounce is a regional music culture that emerged in early '90s New Orleans from a combination of local traditions (call-and-response, Mardi Gras Indian chants, hip-hop, and dance). Largely defined by 808-style backbeats like the Triggerman and the Brown beat, the sound is one of heavily patterned, upbeat rhythms that inspire you to do something with dat azz. Nowadays, when people outside of New Orleans hear "bounce," they often think of twerking, or Big Freedia, whose voice was featured—following the late Messy Mya's—on Beyoncé's "Formation," which was built on a bounce beat, with a video that notably/notoriously features footage from a mini-doc about bounce culture. But, as anyone from the 504 will tell you, it's way more than that.
"Bounce? Been around...forever." I'm talking to one of New Orleans's hottest artists, 25-year-old Reedy, outside of the women's restroom at Lyve Nite Club on Tulane Avenue—Uptown, near the center of the city. Muffled bass lines and the sounds of Southern rap seep through the walls that separate us from the club's main room, where, in about an hour, Reedy and other big names in the local bounce scene will be performing for a packed audience.
She's leaning against the wall, talking in a slightly raspy voice—even when she's not performing, she sounds like New Orleans—surrounded by friends that all look like they could be my own: Beautiful black girls in braids and bright colors. One's rocking bunny ears (it is an Easter shakedown, after all). The whole scene reminds me of the place where I grew up. I've known this to be a defining feature of bounce culture for a while now—for lots of people, it feels familiar, comfortable, like home.
The show hasn't really started yet—a DJ's still handling things—so Reedy has some time to tell me about how she started off as a dancer. "I done danced for Katey Red, Sissy Nobby, I done danced in Magnolia Rhome videos, Keedy Black…everybody," she says. Dance is a huge part of bounce culture; the twerking that's been mainstreamed doesn't really compare to the "shaking" Reedy's talking about: girls all up on the ground in skirts, knees getting bruised, hair sweating out, not stopping until the DJ's done. Dudes totally allowing their bodies to be free. There are specific shake moves (the titty bop, the wiggle, the swiggle, the list goes on), but shaking in general is more of an overall expression that's difficult to put into words. It comes from the heart. It's inspired by bounce music.
"It started off in school," Reedy explains. "In high school, I used to be on the wall like"—she demonstrates, shaking to a self-improvised Brown beat—"beatin' on a garbage can, and all dat." In New Orleans, schools have often served as informal, communal bounce spaces where desks become drums between classes and roll calls get practiced during recess. One of the genre's all-time greatest hits, "Get Ready, Ready," by bounce pioneer (and longtime schoolteacher/football coach) DJ Jubilee, features a "What's the name of your school?" call-and-response. The song's hyper-local references highlight the importance of New Orleans high school pride while showing just how ingrained into the community the whole culture is.
Reedy continues: "It's like, making music—making songs and rhyming—come so natural to me, so I said, 'One day, I'mma make me a song.'" And she did. Four years later, in 2016, Reedy won the NOLA Music Award for Best Bounce Artist.
As she's telling me all of this, I can't stop thinking about my shoes. Reedy looks hella fly in a baby blue cropped sweatshirt, denim short shorts, and Carolina blue-and-white Jordan 11s. I seriously regret not bringing my new sequoia green 8s on this trip. (I left them boxed up in my room at home because I was worried about messing them up.)
I'm at the shakedown to talk bounce, yes, but now, I also wanna show out. My fixation on the fashion, though, is part of the magic and wonder and beauty and value of the culture—what makes it so appealing. It's more than just ass shaking and a Triggerman beat. I'm not from New Orleans; I'm essentially investigating a culture that isn't mine, but one I've been invited into. The pieces of bounce that I can claim, though, are the ones that align with a black diaspora culture in the United States more generally. I come from a hood over 1,000 miles away from New Orleans, but we love Jordans—and drumming on desktops—there, too.
"Bounce is totally different than twerking, and 'Formation,'" Shardaysa, another local artist, is telling me over the phone a couple days later. "It's like, a soul-touching feeling. That's what people don't understand." The 22-year-old has been performing regionally for almost two years thanks to one song, "Gimme My Gots," which, like Reedy's breakout track "Post to Be," was released in 2015. One element of bounce music that hasn't changed since its inception is the hit track's shelf life. Bounce songs have longevity; one banger can be enough to keep a local artist booked in heavy rotation for years.
And while the popularity is an upside, the hustle that comes along with it can be taxing. "I'm my own boat," Shardaysa tells me, explaining the work that goes into making sure she's consistently booked. Combined with the drama of a small, independent scene—she tells me that beefing among producers, artists, managers, and DJs isn't uncommon—it can be hard to expand.
Still, Shardaysa's ultimate goal is for bounce to be worldwide. "We have stories behind this shit. I got a story to tell, and I'm not go'n stop until it's told."
"The beat. It has to be the beat." We're at a second line, and I'm asking New Orleanian (and excellent dancer) Bryant what elements of bounce get people moving nowadays. "We just need to hear the beat, and once it drops, all we have to do is just shake and bounce and move to it." Which, he points out, isn't just a hobby for New Orleanians—it's simultaneously a stress reliever and a way to engage in community. "[Dancing] is something we all do together."
"It's not so much about the beat, though," his boyfriend, Trindale, pushes back. "It's the originality in the music, it's the quality of the music, it's how [artists] freestyle and how they mix the music with the lyrics. Back in the day, it was mainly lyrics, everybody would give you lyrics. But now, [bounce has] become faster, it's progressing."
While most contemporary bounce still shares the same foundation, the sound is evolving, and some artists have been able to move beyond just a local scene. Keno is a bounce artist crossing over into more mainstream territory by combining elements typically heard in dance and electronic music, and Maroon 5 keyboardist PJ Morton followed up his solo debut with the mixtape Bounce & Soul, Vol. 1 in 2016.
"One good thing [about bounce becoming more mainstream] is that people are gonna have the opportunity to cross over, and collaborate, and educate more people on New Orleans culture," says Marissa "Moe Joe" Joseph, creator of Bounce Fitness With Moe Joe. Joseph thinks this is a net positive because of the way people outside of New Orleans currently conceive of bounce. "It doesn't really show any reverence to the people who created it or the culture," she says. "It doesn't show diversity. It doesn't show strength. It doesn't show empowerment. It doesn't show the storytelling about where different people are from"—something she's actively trying to combat by using wellness and self-care as vehicles to expand bounce's reach.
Brought up in dance-team culture in southwestern Louisiana—"more on the consumption side of bounce music"—she often thinks about how bounce is packaged and presented outside of New Orleans. "As a dancer, you're always just lookin' for, relatively, what songs are gonna make you move?" she says. When she was younger, bounce gave her that kinetic energy, but also gave her a voice, a sense of independence, an idea of her sexuality, and inspired her to have her own perspective.
Created in 2014, Bounce Fitness With Moe Joe allows her to share all that bounce has to offer in wellness spaces. "When I thought about what really unified Louisiana as a community and state and people, it was that [bounce] sound from New Orleans—a place where people naturally, from different backgrounds, come and commune in music, in movement, in art, in culture," Joseph says. With this new iteration of the culture, she is able to convey bounce's richness and multivocality to new audiences on new terms. But with new audiences and opportunities also come new risks.
It's kind of hard to talk about the current state of bounce without also talking about the current state of New Orleans in terms of gentrification and shifting demographics. Before heading to Lyve for the shakedown, someone told me that it was in the hood and that I should be careful. When I relayed this warning to my friend Terri Coleman (a black New Orleanian and public humanities hustler who researches New Orleans culture), she told me it's the black folks in and of that area who should be careful, because their "hood" won't exist for much longer.
Lyve, just down the street from Xavier University, one of three historically black colleges and universities in the city, is on Tulane Avenue. Tulane is attached to a corridor that leads to a new federal- and state-funded hospital complex, which uses a private insurance model. In order to build the new complex, the state closed Charity Hospital—one of the nation's oldest and continually operating public hospitals. Before Katrina, Charity, which largely served poor and uninsured people, was vital to the local population—the same local population who created and nurtured bounce.
"In actuality, the new hospital complex, just like a lot of the gentrification that's happening in the city, took away already overburdened infrastructure and replaced it with more and higher-quality stuff that's not available to poor people, black people, or the uninsured," Coleman says. Why? "Part of that was explicitly to draw in new people to our economy." So, condos are being built. Whiter, wealthier people are moving into historically black neighborhoods. And the new inhabitants are bringing new rules with them that infringe on established culture. "Now we have noise restrictions on places where shows used to be—that didn't used to fucking happen! Those noise restrictions came with people who claimed to love our noise, but then they lived in it, and they were like, 'This is really inconvenient!'" she says.
Block parties, second lines, shakedowns, school dances, cookouts—these are all traditional bounce spaces. When I'm in New Orleans, I expect to hear bounce music loudly and often: 2:04pm on Broadway and Fig. 4:18pm standing outside the library on Gentilly Boulevard. 4:23pm in the parking lot of Boost Mobile. 9:22pm leaving Melba's Old School Po' Boys.
But these patterns of post-Katrina gentrification could have lasting impacts on bounce culture, which explains why one black New Orleanian tells me that the state of bounce in 2017 is "bereft and unsafe for the black people who made it." When asked to explain, she simply says, "White folks move into the neighborhood and it disappears. It sucks!"
Bounce, by and large, has been able to thrive in a small, local economy and as an in-group thing. ("Everybody just know where [the bounce scene's] at. There are spots people been going to for years, everybody know that you just follow the beat," Shardaysa tells me.) But who knows how long spots like Lyve—or the culture supported by clubs like it—will last before they disappear in the name of redevelopment and the comfort of outsiders.
Thankfully, another one of New Orleans's biggest artists, singer-songwriter Denisia, who won two NOLA Music Awards in 2016, has plans to keep bounce precious.
The 26-year-old was brought up singing; she even sang in church with Big Freedia as a young girl. She's been in the music game for a minute—"doing R&B for years," she says—but there's no doubt that more people fuck with her now thanks to bounce. The remix of her covering Adele's "Hello" got the English crooner herself excited—and has been making New Orleans dip for almost two years.
"When did the song come out?" I ask, checking my timeline. "November 2015," she confirms. "And I've been booked literally every weekend since."
Aware that bounce, just like the city that birthed it, suffers from a lack of infrastructure working in the interest of the people who make it what it is, she hopes to set the tone for how industry folk engage with artists in the future by packaging herself differently and having the business side of things on lock. "That bounce-soul shit? That's Denisia and HaSizzle," she tells me, giving props to the New Orleans artist whose 2005 song "She Rode That Dick Like a Soldier" was recently sampled by Drake on Views. Together, the pair wake fans up every day with The Morning Beat. "We remix and cover popular songs—I sing, HaSizzle improvises the bounce piece by beatboxing and drumming on whatever's around. It showcases how raw bounce is, but also how familiar."
"I get, like, three hours of sleep every night, trying to Trojan-horse bounce into the mainstream culture, wrapping it up in sounds everybody can understand. And I have all my copyrights in order, I attend all my own meetings, I ask questions and stand up for myself. I'm tired of bounce—the sound, the artists, the culture—being taken advantage of. Being disrespected," Denisia continues. She believes that simultaneously familiarizing people with and legitimizing the genre is one way to protect it.
"[People] love bounce music whether they know it or not, because it's mixed in with half [their] favorite songs," Denisia tells me. "Like with Beyoncé—a majority of her fast records is bounce. Listen to this one right here—" she sings the chorus to "Check on It" while clapping along so I can distinctly hear the Brown beat in the track's structural foundation. "Oh! It's Beyoncé, it's magical!" she imitates a reaction. "No. It's New Orleans. And I want people to know."
Things might not be all good in Denisia's hood right now, but she's still out to shake for it.