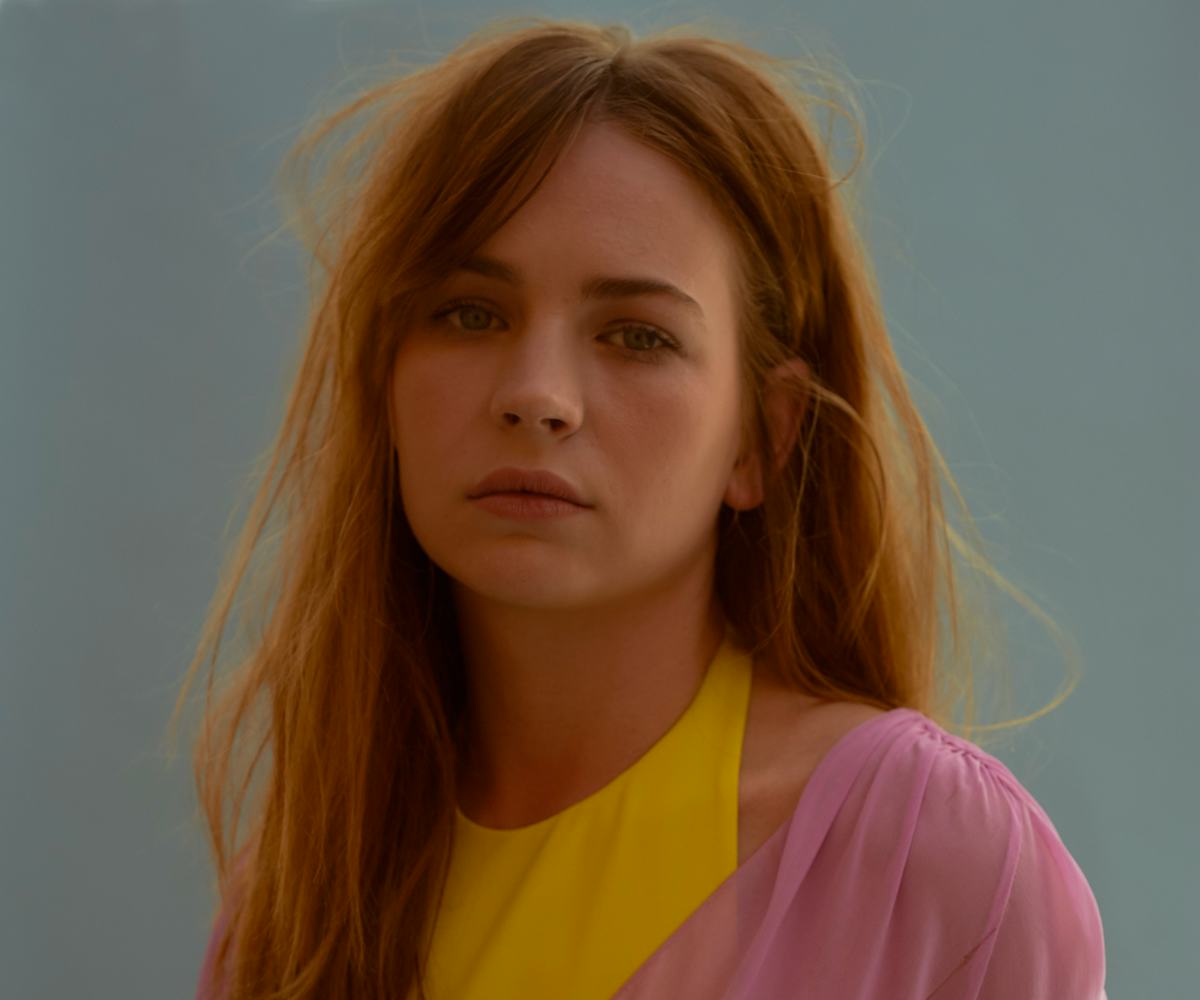 Photographed by David Joseph Perez. Styled by Katie Bofshever
Britt Robertson On Becoming A 'Girlboss'
She's ready for her biggest promotion yet with the new Netflix show
The following feature appears in the April 2017 issue of NYLON.
Britt Robertson doesn't believe in big breaks. "Every time I do something," says the 26-year-old actress, "someone says to me, 'Are you ready to be the biggest star ever?'" She rolls her eyes. "Yeah, I'm so ready." During her 14 years in the business, Robertson has appeared in countless projects—CBS's Under the Dome, Disney's Tomorrowland, a Nicholas Sparks joint—yet she would probably forgive you for not quite being able to place her. (She bears the faintest resemblance to a young Julia Roberts, whose daughter she played in the late Garry Marshall's 2016 film Mother's Day—a career high for the Pretty Woman fan.) "I'm just trying to work consistently," she says. "I'm privileged to be that girl who does a few films a year."
Modesty aside, though, "that girl" admits Girlboss, the new Netflix series in which she stars, is finally worth the hype. "I could talk all day about how much I love the show, which has never happened to me in my life," says Robertson. Based on the best-selling memoir/career guide by Nasty Gal founder and former CEO Sophia Amoruso, Girlboss might just allow Robertson to do something that co-starring roles in this year's The Space Between Us and A Dog's Purpose did not—stand out. Premiering later this month, the series re-creates Amoruso's journey from a broke, dumpster-diving anarchist to a retail-clothing entrepreneur whose wealth at one point reportedly outranked Beyoncé's.
Initially, Robertson was intimidated to portray a fashionista who ran a successful online business finding and repurposing vintage treasures. "I'm someone who loves to be cozy," she says. To wit: On this February day she walked into a Toluca Lake eatery in north L.A. bleary-eyed from a nap and swaddled in a plain gray cardigan, her blonde hair piled in a messy bun.
Nonetheless she was drawn to Amoruso, especially as Pitch Perfect screenwriter Kay Cannon adapted her book for the script. "She's all the things that make you human: wise and stupid and dramatic and super weird," says Robertson. While her résumé is dominated by family-friendly heroines, Robertson excels at playing complicated baddies in smaller films like Triple Dog (2010) and the risqué Ask Me Anything (2014). "Most of the time when I'm reading [scripts] I'm not like, 'The woman character sucks,'" she says. "I'm like, 'This whole thing sucks.' It's hard for anybody to find quality material."
On that count, her patience has been thoroughly tested. As a preteen in Greenville, South Carolina, Robertson grew unhappily accustomed to landing teensy parts at the local playhouse: a monkey in The Jungle Book, Tess in Annie. At 12, she relocated with her grandmother to Los Angeles's infamous Oakwood Apartments in the Valley, home to hundreds of current and former child actors. She recalls that Frankie Muniz and Hilary Duff "ruled the school" at the time—she once got to sit in the driver's seat of Muniz's sports car—but it did not make her particularly eager for the fast track to fame. "I never wanted to be the Disney star," she says. "That always terrified me, the disaster of what that could bring to your life." 
Robertson eventually entered the Disney orbit in 2015's Tomorrowland, starring opposite George Clooney. Directed by Brad Bird (Mission: Impossible—Ghost Protocol) with a production budget of $180 million, the sci-fi fantasy looked to be the role that would catapult her to household-name status; instead, it was a box-office bomb. "That's the thing about working for so long," says Robertson, unfazed by the topic. "You do a lot of cool things. Some of those things are successful, some are not. Sometimes people see them, sometimes people don't."
At last, though, she has the honor, and the burden, of carrying a project. (Girlboss requires her to appear in almost every scene.) Amoruso and her fictionalized counterpart broke the ice by going on a shopping spree at Nasty Gal's since-shuttered brick-and-mortar store. "[Sophia] has a real understanding of who she is and who other people are," says Robertson, who watched as Amoruso carefully selected outfits for her during their bonding experience. "I soaked up her essence, and then I threw it all away. I didn't want to copy her. I didn't want to be super conscious of that weird thing she always does with her lip." While the future of the series has yet to be decided, the first season wrapped before Nasty Gal filed for bankruptcy last November. "My initial reaction was that it's the rise and the fall of Nasty Gal," says Robertson, noting that Amoruso was no longer involved in the company's day-to-day operations, having stepped down as CEO in early 2015. "It's terrible, but it gives us a real place to go with the show."
Girlboss debuts at an uneasy moment, to put it mildly. Whereas similar shows about flawed and empowered characters thrived during the relatively progressive atmosphere of the Obama administration, the conversation has shifted since Trump's election. "I started to realize how important it was to make this show, which in large part is about taking ownership of your life, at this time," says Robertson, who suddenly finds herself compelled to attend marches and call representatives daily to defend freedoms previously taken for granted. "I was posted on my couch, loving [Obama's] speeches all day long. Now I'm on CNN trying to figure out how the world's falling apart." 
You will not see her wading into the muck on social media, though. Robertson has a very low-key online presence, which is a little funny considering she's portraying somebody who put a hashtag in her memoir's title precisely to encourage self-promotion. "I don't have anything that I'm willing to share with fans, besides photos of my stupid friends and my dogs," she says. She has been dating The Maze Runner's Dylan O'Brien ever since they met on the set of 2012's The First Time, but she's private about it and mum on the topic of the on-set injury he sustained last year. "Believe me, if there was cool stuff that I had to share I'd be more than willing, but it's my small, intimate life," she says. "It's nice to have some sense of privacy." Spoken like a true star.
Dress by Emilio Pucci. Hair: Christian Wood at The Wall Group. Makeup: Georgie Eisdell at The Wall Group using NARS.