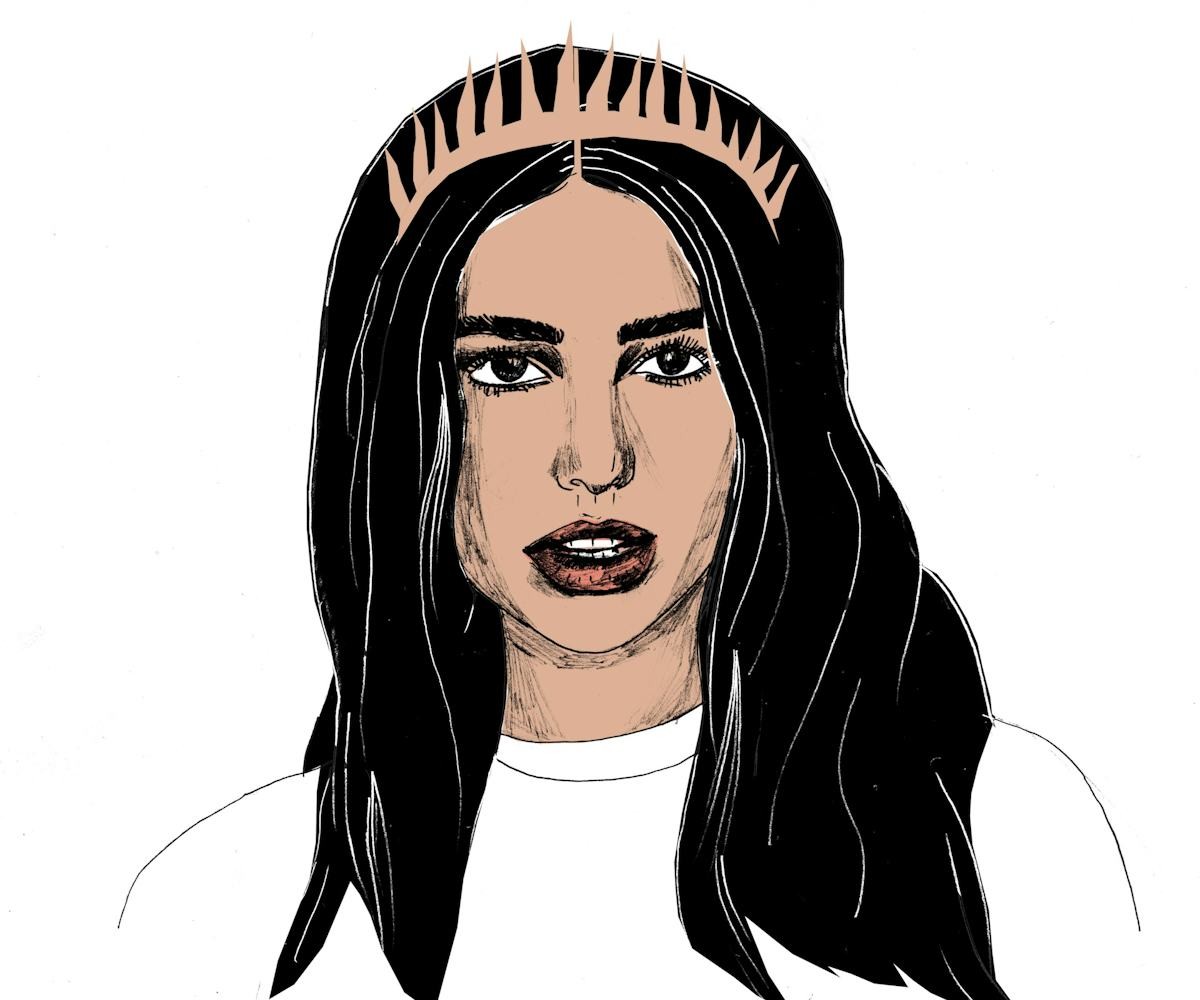 Illustrated by Liz Riccardi
Dua Lipa Created A Self-Love Playlist For Us, And It's Epic
Get ready to jam to these songs
The following feature appears in the February 2017 issue of NYLON.
Not too long ago, Dua Lipa was a starry-eyed teenager with a smoldering voice and a bright idea: Inspired by an insatiable craving to spread her wings like her idol Nelly Furtado, the London-born singer left home at age 15 in the hope of becoming a star. Since then, the 21-year-old has landed a deal with Warner Bros. Records, worked with revered industry vets including Andrew Wyatt and Emile Haynie, and released chart-topping singles that showcase the grayed storytelling and glittery sound that define her brand of dark pop. 
As a vital sign of the current state of pop music, Lipa is ready to unfurl her most intimate and unpretentious thoughts about her whirlwind life on her eponymous debut album, due out this spring. "I think once the album comes out people will understand me," she says. "I always wanted to be honest [with my music] and I've done just that." 
Inspired by the romantic undertones threaded throughout her songs, we asked Lipa to curate a self-love playlist. This soundtrack celebrates the fact that your special someone can be you.
"Raise Your Glass," Pink
"I'm a big fan of Pink's and have always loved the honesty in her music. There's something so empowering about her words. It's such a perfect song for misfits and people who are quite a bit different, and proud to be that way."
"Shake It Out," Florence + The Machine
"It's a feel-good song. It makes people get loose and forget about things, especially the negativity that might be affecting them."
"Feeling Myself," Nicki Minaj ft. Beyoncé 
"It's empowering as fuck! [Laughs] I always feel super badass just listening and singing along. These two female artists collaborating represents so much power, and I love the fact that they're flaunting the fact that they know they're hot."
"Beautiful," Christina Aguilera
"O-M-G, this song is amazing. It's the first one that came to mind [for this playlist], actually. When this came out I was very young, but I still connected with it. There was something that made me instantly feel good. While it seems like a sad song on the surface, it's actually very positive, in the sense that it tears down insecurities and builds self-acceptance."
"Where Is The Love?," Black Eyed Peas
"I love that there's a political statement [in this song] about all the different things going on in the world, instead of an isolated personal experience."
"Hollaback Girl," Gwen Stefani
"There's so much sassiness and confidence and attitude on this song, which is definitely warranted when it comes to taking a stand against being a side chick, because that kind of treatment is never okay." 
"Born This Way," Lady Gaga
"I wish I wrote this song. There's something so magical about it. It flows so well to the point that it feels like it was created in one of those sessions where something happens so naturally that a song literally writes itself. I love Gaga and the fact that her music is for everyone and makes us all feel like a part of something."