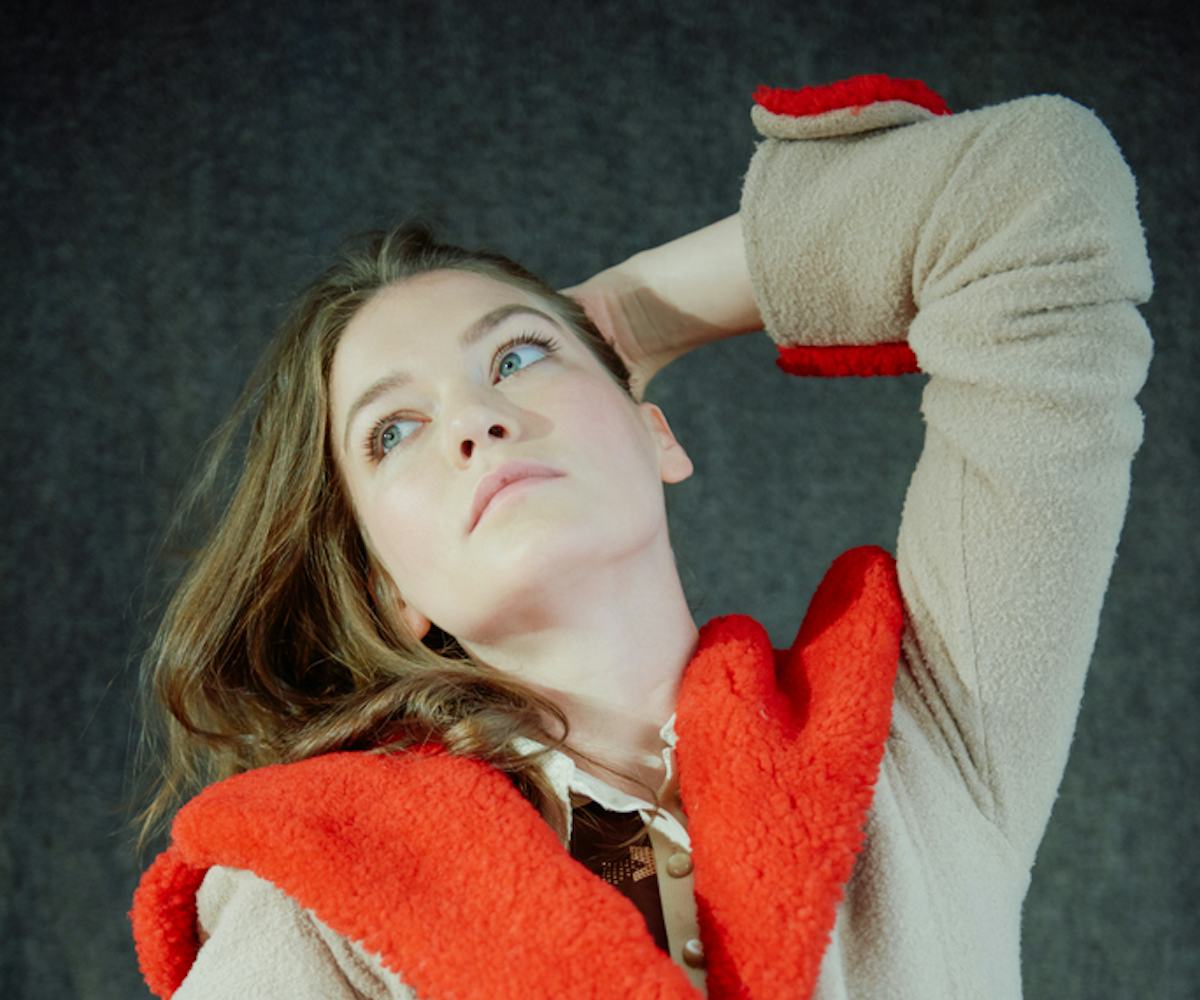 Photographed by Tiffany Nichlson. Styled by Wendy McNett.
Hannah Gross Reveals One Detail About Her Top-Secret Netflix Thriller
'Mindhunter' premieres tomorrow
The following feature appears in the October 2017 issue of NYLON.
Within a few minutes of meeting each other, Hannah Gross and I are trapped. We're stuck on the first floor of the SoHo building where her NYLON photo shoot took place, and try as we might, the door leading back onto the street just won't open. There's no knob, no buzzer, no lock for a key we wouldn't have, anyway. It's an experience that would be mildly terrifying—not unlike the prelude to a grisly murder on Mindhunter, the chilling Netflix crime drama in which Gross co-stars—if it weren't so funny. When all seems lost, Gross gives the door one last determined push and it swings open into the sunshine. We survive.
A few blocks away at the casual bistro Lucky Strike, Gross orders a Coke and a grilled chicken sandwich, which comes with a side of fries she's eager to share. The 26-year-old actress wears a black tee tucked into her jeans and a pair of sensible black sandals, the perfect uniform for mid-August in Manhattan. A graduate of the Experimental Theatre Wing of NYU's Tisch School of the Arts, Gross moved to New York City from her native Toronto nine years ago, but she still doesn't quite consider herself a full-on New Yorker. "I think you really have to be born here," she says with a sly grin.
On film, Gross is a watchful, spellbinding presence. She embodied a younger version of Lois Smith's title character in this summer's Marjorie Prime, opposite Jon Hamm, but Mindhunter represents her breakthrough. The thriller, which is executive-produced by David Fincher, centers on the FBI's Elite Serial Crime Unit and their meticulous study of imprisoned killers in the hopes of apprehending those still at large. Gross plays Debbie, the romantic partner of Holden Ford (Jonathan Groff), a special agent based on John E. Douglas, co-author of the 1997 book Mind Hunter: Inside the FBI's Elite Serial Crime Unit, from which the show draws its inspiration. Confirmation that her character and Groff's are in a relationship is the most Gross will reveal about the top-secret series, which premieres October 13. 
"I'm not allowed to divulge anything. Fincher put a bug in all of our phones, I think, to listen," she jokes. Working with the notorious perfectionist, who also directed several episodes, was "so wild, so surreal," Gross says, perhaps an even more transformative learning experience than four years of theater school. "[He] has a platonic ideal of what he wants a scene to look like, down to every line, every blink. I came from the indie world where it's like, 'Two takes, done!' This was an endurance test," she recalls.
Gross's parents are Paul Gross and Martha Burns, well-known Canadian actors who shared top billing in Slings & Arrows, an acclaimed TV dramedy about the backstage antics at a Shakespeare festival. Growing up in a dramatically renowned family got Gross excited about acting, "which is really not cool at all to say," according to her. But if she had to pinpoint the "come to Jesus" moment that led her to pursue performing full-time, it happened when she watched a different Bard- inspired work of fiction: Shakespeare in Love. That said, her favorite childhood movie—her favorite movie even now, she says—was The Matrix. "I was nine when it came out on VHS and I watched it every single day for a summer," she says. "I wanted to be Trinity."
Gross liked living in Pittsburgh for the Mindhunter shoot, but she's happy to be back in New York, where her apartment (which belongs to her parents, and is also inhabited by her 23-year-old brother) straddles the border of the Lower East Side and Chinatown. She doesn't have a driver's license, which made moving into her Pittsburgh apartment considerably more complicated. "I got the keys, got in, and then was like, 'Oh, I don't have any furniture.'" And so she did what any reasonable person would do: She ordered an Uber. "[The driver] was so sweet. He was like, 'Hold up, you just moved in today and now you're going to buy stuff for your house, but you don't have a car? I'll help you out.' It was amazing. We went to Target together so I could buy an air mattress."
From any angle, Hannah Gross seems poised for stardom, but she still calls herself a rookie, new to photo shoots and interviews and all the business of being a successful working actor. She's been lucky, she says, knocking on the tabletop between us, especially because she doesn't know what else she'd be doing if not the family business. If her dad had his way, they'd share a hobby, too: He's selling her hard on qigong, a meditative, tai chi-like practice that emphasizes both physical movement and spirituality. "He's really trying to get me into it," Gross says. "'Did you know the Shaolin temple is right there on Delancey?' My friend was with me and she was like, 'That's something you save for when you're 60. You need to get to that point.'"
All clothing by Marc Jacobs. Makeup: Min Ma at Art Department LA using Chanel Ombre Premiere. Hair: Felix Fisher using L'Anza at Factory Downtown. Stylist's Assistant: Monet Maxwell. Hair assistant: Jehnna Mahoney.