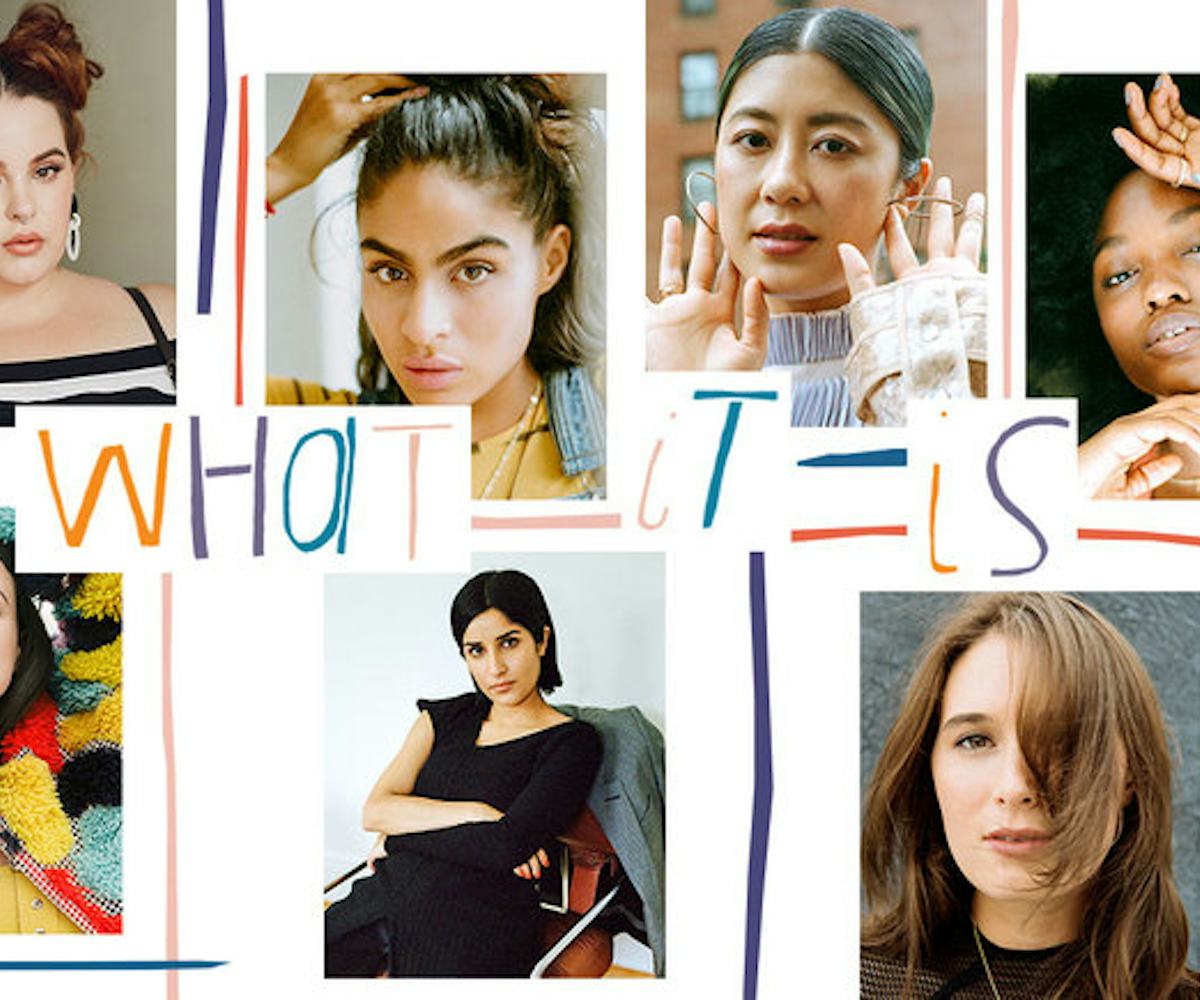 Photographed by Jacqueline Harriet and Tiffany Nicholson
Introducing NYLON's 2017 It Girls
Forget empty hype, fleeting buzz, and fame for fame's sake. These seven women are working hard to make it happen.
This feature first appeared in the October 2017 issue of NYLON.
"I call myself fat," says Tess Holliday matter-of-factly. "That word makes other people uncomfortable, but I'm proud of my body shape, and it's making other women proud, too." The proof? The 32-year-old is a famous pinup in Europe, and a model for major brands like Benefit Cosmetics and H&M, even sharing campaign billing with Iggy Pop. With over 1.5 million Instagram followers—plus another 363,000 for her beauty collective, @effyourbeautystandards—she's reached mega-influencer status, and has a book hitting shelves this season, The Not So Subtle Art of Being a Fat Girl. 
The bluntness extends beyond the title: In it, Holliday reveals a childhood survival story of domestic violence, emotional abuse, and the inner strength that pushed her forward. "Women come up to me everywhere—the supermarket, my son's school—and say, 'Are you Tess Holliday? You've changed my life. You made me realize I can wear clothes I actually love.' It means a lot, and it solidifies why I do what I do," she says. "But my job being a model? I'll never get used to it."
Six Degrees Of J.Lo: "The first time I ever felt 'famous'—ha—was when I [was the face of A&E's] Heavy, in 2010. It was a weight loss documentary; it wasn't exactly glamorous. But there was a billboard for it on Sunset Boulevard, and Jennifer Lopez tweeted a photo of herself at the Chateau Marmont. My billboard was behind her, so my face was in a photo with J.Lo. I was like, 'I've made it. That's J.Lo next to my face.' [Laughs] I still have the photo somewhere on my phone. It felt like the biggest deal to me."
The Bad Vibe Beatdown: "My book launched today in the U.K. and Australia. You'd think I'd be over the moon about it, but I'm just exhausted. No matter who you are, sometimes you're having a bad day. And sometimes it's hard to feel good about your successes, and take a few minutes of pleasure, and not let other stuff get you down. But when I'm having a bad time, I just remind myself that I'm part of something bigger. It's not just me pushing everything forward and changing the fashion industry. There's a bunch of us doing it."
Make Up For Never: "Because I used to be a makeup artist, I do have certain beauty peeves. One thing that bugs me is eyebrows. I'm all about keeping your own shape—overly plucked brows are awkward, and overly filled-in brows just look messy. I think it's worth it to go to a professional and have someone shape them for your face—because brows really do frame the face. They can change your entire look. The other thing I don't love is contouring. Most of you don't even need it—trust me, most people already have incredible bone structure. Even when I'm on-set getting my makeup done for major photo shoots, I say, 'Please don't contour me. I like my face the way it is.'"
M-I-C-K-E-Y: "Disneyland is my happy place. I really love the Storybook cruise, which is the last thing Walt Disney did before he passed away. It was his favorite thing, and it's like his dream. You get into a boat and you're taken to see tiny castles. They have everyone's castle—Cinderella, Princess Jasmine, and they have Prince Eric's ship from The Little Mermaid. It's a little ship! And they have tiny trees and tiny waterfalls. I love miniature things, and I think the whole thing is so magical—except the Frozen castle. I hate Frozen."
Photographed by Jacqueline Harriet. Styled by Amelian Kashiro Hamilton. Top by Premme, denim dress by City Chic, vintage earrings by Kashiro.tv, Shoes by Chiara Ferragni. Makeup: Ivan Núñez. Hair: Yuichi Ishida using R+Co. Stylist's Assistant: Jamee Jones.
"Nobody's ever addressed breaking up in the real world, in 2017," says Cazzie David of the impetus behind her web series, Eighty-Sixed, which follows the 23-year-old through a fictional—and gleefully awkward—romantic split. "There's no rom-com about what happens when you accidentally like your ex's Instagram photo. That kind of stuff creates a lot of anxiety. And anxiety can be really funny, at least to other people."
The Los Angeles resident would know—her dad, Larry David, basically invented the "stress comedy" genre. "I wanted to give my friends and other girls a guide of what not to do when you're breaking up with someone," she continues, "and hopefully it helps, because the character will literally do all the overthinking for you." That means you can tune into Eighty-Sixed, then skip straight to the best phase of your breakup—the one with unlimited Ben & Jerry's and sketchy Tinder rebounds.
The Secret (Comic) Life: "As a kid, I had really bad anxiety about being alive. I had a lot of fears and neuroses. I was a mixture of unhappy and guilty, because even as a little kid, I understood how lucky I was. But my dad figured out the key to dealing with his anxiety. If you make other people relate to what you find scary or unbearable, that makes other people laugh. It's kind of like a math equation. So I was taught at a young age that trying to make other people feel better would make me feel better. And that's shaped my whole life."
DIY Is Alive And Well: "Before Eighty-Sixed, my writing partner [Elisa Kalani] and I wrote a similar story as a feature screenplay. We wanted to have a super-low-budget indie film, but we didn't have the funds. We shopped it around to studios, and uh, that didn't go well. So we figured, if you want to get something done, you have to make it yourself. And that's what we did. We wrote something easy to film, and we made our goal to have other people relate to our stories. We took money out of the equation. We just wanted to make something people loved."
Teamwork Is A Bitch: "I absolutely hate being alone, and I don't want to do anything alone. So when I met Elisa in college, I was relieved, because we found the same things funny and ridiculous. We made fun of the same people. We were both wannabe writers. And we work well together as writing partners because we treat each other like sisters, not even like friends. We're actually really mean to each other! Like, if one of us has an idea for a story and the other one isn't into it, we'll just say, 'No, I hate that,' and move on. But if you want to get anything done and have it be good, you've got to say what you're thinking."
Bughead Forever: "I'm obsessed with Riverdale. It is so goddamn good. I'm also obsessed with matcha lattes and rescuing bees from people's pools. It's actually pretty easy; you can give them honey afterwards, and they eat it. But Riverdale is better than everything. I will talk to anyone about the characters and the story and every single thing about that show. It might be the most perfect thing on TV."
Photographed by Jacqueline Harriet. Styled by Amelian Kashiro Hamilton. All clothing by Polite. Makeup: Lauren Gott using Giorgio Armani Beauty. Hair: Dallin James using Oribe at The Wall Group. Stylist's Assistant: Jamee Jones.
When you can name-check Calvin Harris and Romeo Santos as collaborators, you know you've made it, right? "There's no such thing," says Jessie Reyez, the singer-songwriter whose rap sheet reads like an MTV VMA nominee list. "All you can do is keep pushing yourself, and hope your music reaches more people." So far, so good.
This year the 27-year-old has made her debut on The Tonight Show Starring Jimmy Fallon, earned an iHeartRadio best new artist nomination in her native Canada, and released a short film, Gatekeeper, about a real-life encounter with a lecherous music producer. "He gave me the worst piece of trash advice I've ever gotten in my life," she says. "You don't have to sleep with people to move up. You have to be true to yourself and never stop working hard on your craft." As her EP Kiddo racks up thousands of downloads, Reyez is living, breathing, singing, jumping, giggling proof that her work philosophy is 100 percent correct.
B-E Aggressive: "I wanted to make money to pay for college, so my cousin told me about auditions for a professional cheerleading team in Toronto. I thought, 'Maybe if I become a cheerleader, I can meet managers or agents. Maybe I can sing the national anthem at a game and someone in the industry will hear me.' I saw everything as an opportunity to further my music. I was literally the cheerleader who had a mixtape in between her pom-poms at events. 'Hi! Go team! Here's my music! Listen to my shit!' It never worked, but it gave me a chance to get a thicker skin, and to realize that even if people said no to my music, they respected my hustle."
Press Pause Onstage: "Something I learned on tour this year is to stay as present as possible, because shit flies by so quick. I blinked and 2017 was almost over, even though it's one of the best years I've ever had. When I'm performing, I have to tell myself, 'Wait a minute. You need to be here right now. You need to hold these memories and remember time is golden.' I'll always kneel down just before my first song. I take five seconds of meditation and prayer. Paying attention to my breath makes me happy to be alive. And that really grounds me during a performance."
Bring A Book: "Right now, I'm reading The Handmaid's Tale. I'm not too interested in the TV version, because written words are much more powerful in my head than on-screen. In a book, you can create a world in your imagination that's as intricate as you want. Even something like Angels & Demons. I was reading it thinking, 'This is incredible! This is so scary!' Then I watched the movie and I was like, 'Eh.' [Laughs] I mean, it was cool, but your imagination is cooler."
Pay It Forward: "When I was 19, I worked at a bar doing bottle service. The DJ there was a dope guy named Lil' Pete, and he ended up giving me a chance. I gave him one of my songs—it was called 'Send a Bottle,' ironically—and he played it in the club. Then he said he was gonna play it on his radio show. So me and my family were at a friend's cottage north of Toronto, and my dad grabbed everybody and got all seven of their cars to park right beside each other and blasted the sound. When my song came on, my mom got tears in her eyes. That moment meant so much to me. It taught me that if you see someone struggling and you like what someone's doing, a little positivity can mean the fucking world to them."
Photographed by Tiffany Nicholson. Hair and makeup: Lisa Caprio using Benefit Cosmetics.
"I wasn't very interesting in high school," says Gabrielle Richardson. We're pretty sure she's lying. The curator, artist, and model grew up in Philadelphia, spent summers in New York City, edited her school's art magazine, captained their poetry team, and created a pop-up gallery entirely from crowdsourced funds. "It was definitely hard," she admits, "but when you're a teenager, you decide you're going to do something and you don't stop until it gets done." But it turns out the high school art show was just a teaser: Now Richardson champions new voices on the gallery circuit as a founding member of the Art Hoe Collective, a group that spotlights emerging artists of color. She's also a model—signed last year by Muse—for brands like Adidas and Urban Outfitters.
"That's Tumblr's fault," she insists. "I have a page, my friends and I like to do photo shoots, and suddenly I'm getting DMs about doing a Gucci shoot." Even Richardson can admit that's pretty interesting.
Help Isn't A Dirty Word: "When you're doing a creative project, don't be afraid to ask for help from someone older than you. Exhaust every resource. It's like a two- way street—you want to get your work out there, but other people want to boost new voices and stay connected to young people, so let them. Asking for help isn't admitting you can't do something; it's basically just using love and connection to propel you forward."
Modeling, The Feminist Way: "Feminism is having the freedom to do whatever you want with your body—as long as it's not destructive or hateful toward others. In terms of being a model, I think body autonomy is super important. Even though it's hard and requires a lot, you have to commit to yourself and everyone around you that you have complete ownership. People try to change your image, but you are the ideal image, because everybody's different. Models should look like real people, not an unattainable standard. Once you realize that being in the fashion industry doesn't mean you have to fit some archaic ideal, that you can become the ideal, that incorporates feminism and owning yourself."
For Maximum Results, Get Out There: "Go outside and meet people. That's a hard task sometimes, I get it. But you'll never learn new things or meet new people if you stay at home. I know I've become a smarter, better person because of the Art Hoe Collective, because we all have different views and different ways of trying to create change in the world. Conversations about race and art are really hard, but we have to have them. How else are we going to learn more about ourselves and each other if we don't ask people about their narratives?"
Make A Gallery Visit: "I get how visiting a gallery for the first time can be intimidating, but people love to talk about themselves and their artwork. They're just waiting for you to come in, I swear. You can go online and find an events calendar of new art shows really easily, and usually they have bios of the artists and their previous works, so you can read up on them. Or you can just walk into any gallery when it's open and talk to the person in there. They'll give you an in-depth explanation of what's up right now. Don't worry about being a burden. [Curators and artists] want to talk to you. They're waiting to spring it all on you. It's their job." 
Photographed by Tiffany Nicholson. Hair and makeup: Lisa Caprio using Benefit Cosmetics.
When Jenny Zhang was six years old, she wrote a story for a class assignment. "It was about the time when I was two-and-a-half, and my family went on a picnic near a train station in Shanghai. Suddenly my dad was getting on the train to go to America. It's my first memory, really, and to me, memories were just stories, and stories were just entertainment. Why wouldn't I try to tell a good one?" Zhang's words won a prize, and got read over the loudspeaker to her entire elementary school. "It was my first taste of fame," she says, laughing. "I loved it. I was drunk with power." Hundreds of pages later, Zhang continues to win the writing game.
Her first short-story collection, Sour Heart, is the debut release from Lena Dunham's new publishing imprint, Lenny Books, and her work has appeared in The New York Times Magazine and n+1. "Writing is an easy way for someone who slipped under the radar to express themselves," she says. "I had a hard time in middle school. I felt invisible, or worse, really picked on. Writing doesn't care what other people say about you. Writing is you saying things for yourself.
The Art Of Getting Shit Done: "Procrastination is a way to escape feelings of failure. If you do something last minute and it's not good, you can tell yourself, 'Well, I did this in a night. It was a rush job.' And I think sometimes getting over procrastination and writer's block is to be OK with making something not perfect, or even not great. Complete something that's, like, two-and-a-half stars! Two-and-a-half stars is a good start. Commit to finish things, whether they're good or not. That can go a long way toward changing your mindset. You're never going to run out of ideas, as long as you're living. So don't 'save' the good ones. Just go for it." 
Unicorn Hair AF: "I was in Moscow and my friend, who lived there, had very vividly colored hair. I was obsessed with it. She said, 'This cool Russian woman comes over to my house and does it.' I was going through a life change. I was trying to sell my first book. I needed to usher myself into a new life of being a professional writer. So I thought, 'Why not? Let's do this.' What's interesting about having crazy-colored hair is that little kids really like it, and people want to have conversations with me. Even people who might normally harass me on the street, they just want to talk about having green and aqua hair! So I get to talk to strangers in a friendly, consensual way." 
Guided By Voices: "When people ask, 'How did you develop your writing voice?' I'm like, 'You kind of have to suffer a little bit!' I felt really ostracized and bullied as a kid, but looking back, so many of the insults were racial. Kids would say they couldn't tell me apart from the other Asian at school. My last name became an insult itself. I can't feel bad about being an outcast because I refuse to feel bad about being an immigrant, an Asian-American, and a woman of color. And I was into freaky art and punk rock. I cared a lot about reading, and didn't always like what was on the radio. That was enough to be an outcast in my grade. As an adult, I realize that's a point of excitement rather than a point of shame. Having a core and an interest in things that aren't swayed by a mob mentality, that will always serve a person well." 
The Tavi Effect: "When Tavi Gevinson announced she was starting a magazine, I wrote her right away and said, 'Let me be a part of it.' She wrote me back a year later—seriously—and said, 'We're finally doing Rookie; will you come on staff?' Everyone was like, 'Why are you trying to write for a preteen instead of a serious literary magazine?' But it was something I really believed in. Young women needed a magazine like Rookie. Her age was irrelevant—it still is. And because I said yes, I learned how to pitch articles. I learned how to write on a deadline. I learned how to write things that are meant to be read by people—lots of people—and that made me realize that I had to be responsible with my words."
Photographed by Tiffany Nicholson. Hair and makeup: Lisa Caprio using Benefit Cosmetics.
Call any other girl fake and you'll get your ass kicked. Say it to Ava Nirui and she'll probably give you a hug. The Sydney native got Insta-famous (@avanope) for designing tiny "Balenciaga" hoodies for Barbie dolls, then charmed the fickle fashion world by stamping her asthma inhaler with pink Louis Vuitton logos. After bringing her tongue-in-chic bootleg aesthetic to marketing gigs at Opening Ceremony and Assembly New York, Nirui scored a job at Helmut Lang, the '90s uber-brand aggressively staging a comeback this season. 
"I'm their digital editor," she says, "but since there are only four of us on the creative team, I get to do some of everything." Being a multi-threat comes naturally to Nirui, and she's found another outlet in analog photography, which she's practiced for six years. "I gave it a rest when I first started working in fashion," she says, "but when I finally picked up my camera again, I felt really inspired and kind of powerful. Even though I work online, I don't want to define my work as just one thing. How boring, right?"
Look Beyond Likes: "When I look back at my career so far, I feel like the most obvious 'big break' I could say I've had is through Instagram, because I've gotten so many followers [174,000 and climbing]. And it has been an amazing platform to have my work on, and connect with people. But a lot of people assume I got my job at Helmut Lang through Instagram, and that's absolutely not the case. I worked at Opening Ceremony. I worked for big magazines. And to me, living and working online is the most important thing. Before I start any project, I ask, 'What's happening in the real world? How can this work and this message connect to that?' Because I couldn't do what I do without my real-life experiences. No artist can."
Bargain Binge FTW: "Dollar stores don't exist in Australia, and if you really dig through them, you can find insane things. Right now, I'm wearing these diamanté Chanel earrings that I found in a dollar store. They're obviously fake, but they're so amazing. I found these jewel-encrusted Gucci hair clips the other day as well. They're so tacky. I'm in love with them."
Love Thy Neighbors: "I live in Bushwick [Brooklyn]. The sense of community there is so incredible. I haven't seen it exist anywhere else. People are so tight and kind, and it's such a welcoming kind of creative culture. People have great style, consciously or not, because they're in this space where everyone is doing some kind of art. And that makes it easier to be braver as an artist, because you know you're not on your own."
The Magic Of Film: "When I was 15 or 16, my dad bought me a DSLR camera and tripod and a flash and all the accessories. He was like, 'Do what you will with this, it's yours.' I just went for it. But with film, there's something that feels like magic to an artist. There's such feeling and emotion, and everything is a surprise, because you don't see the images right away. It's trial and error, and it makes you more patient, but it also makes you trust yourself more."
Photographed by Tiffany Nicholson.
"Nature brings out a certain kind of freedom," says Alexandra Climent from her Brooklyn studio. "When you're in a forest, you're not thinking, 'Can I do this?' You're thinking, 'This is beautiful. How can I be a part of it?' And that makes everything more possible." For Climent, the possibility of turning sustainable rainforest wood into furniture, tableware, and more has become a reality—though working with exotic lumber can be, well, hard.
"It's basically the wooden version of steel," she concedes. "It can break your saw if you're not careful." If shattered blades aren't scary enough, consider this: Climent often braves the elements in Central and South America to source her materials personally. "My last trip was to Panama," she says, "and to get to the forests, I had to basically swim across some lakes and streams. I could feel the bugs biting me, but I figured as long as they weren't snakes, I would be fine."
Work/Study: "I'm from Long Island, and I went to the Fashion Institute of Technology in New York. I didn't know what I wanted to do; I just knew I wanted to travel. I was like, 'I should go to Morocco. I should go to Africa. Maybe I'll import fabrics and find weird prints.' But I was working for a construction company to pay for school, and that's how I learned about wood. I got obsessed with it—finding it, figuring out how to use it, figuring out how lumber affected the environment. It's really why I am who I am today."
What Doesn't Kill You...: "I travel to find all the wood myself. It's usually fine, but one time I went to Guyana and some insane shit happened—like, it should have been a movie. I got held up at gunpoint by a gangster. He put a gun to my head, and five of his henchmen had machine guns pointed at me. He kept asking, 'Why are you in my country? What are you doing here?' For two hours, I tried to explain to him that I was finding wood for my art. Eventually he let me go. I got cholera on that same trip. [Laughs] And I still didn't die."
Never Say Never: "When I first brought wood back from the rainforest, I got my mom to drive me to saw mills in Long Island and upstate New York. I'd show them my wood and they'd say, 'We can't cut this. Nobody can. It's too hard.' But I finally found someone who let me borrow their saw. I got a new blade. I made the first cut myself. I made a tabletop. And that was the beginning of my work—a bunch of people saying no until one person said yes."
Don't Read The Comments: "I love being part of the woodworking community on social media, but because I'm a woman in the field, I get some really weird messages. I've gotten notes from men calling me 'disrespectful' because there's a photo of me in my bathing suit or a dress, as if being curvy somehow inherently means I can't also be skilled or respectful. What those men really mean is, I can't be female and be a good woodworker. It's so backward. But for all those messages, I get amazing ones from people who want to know more about the wood, more about the communities we're working with in Panama, more about the creative process. Those are the important ones."
Photographed by Tiffany Nicholson.