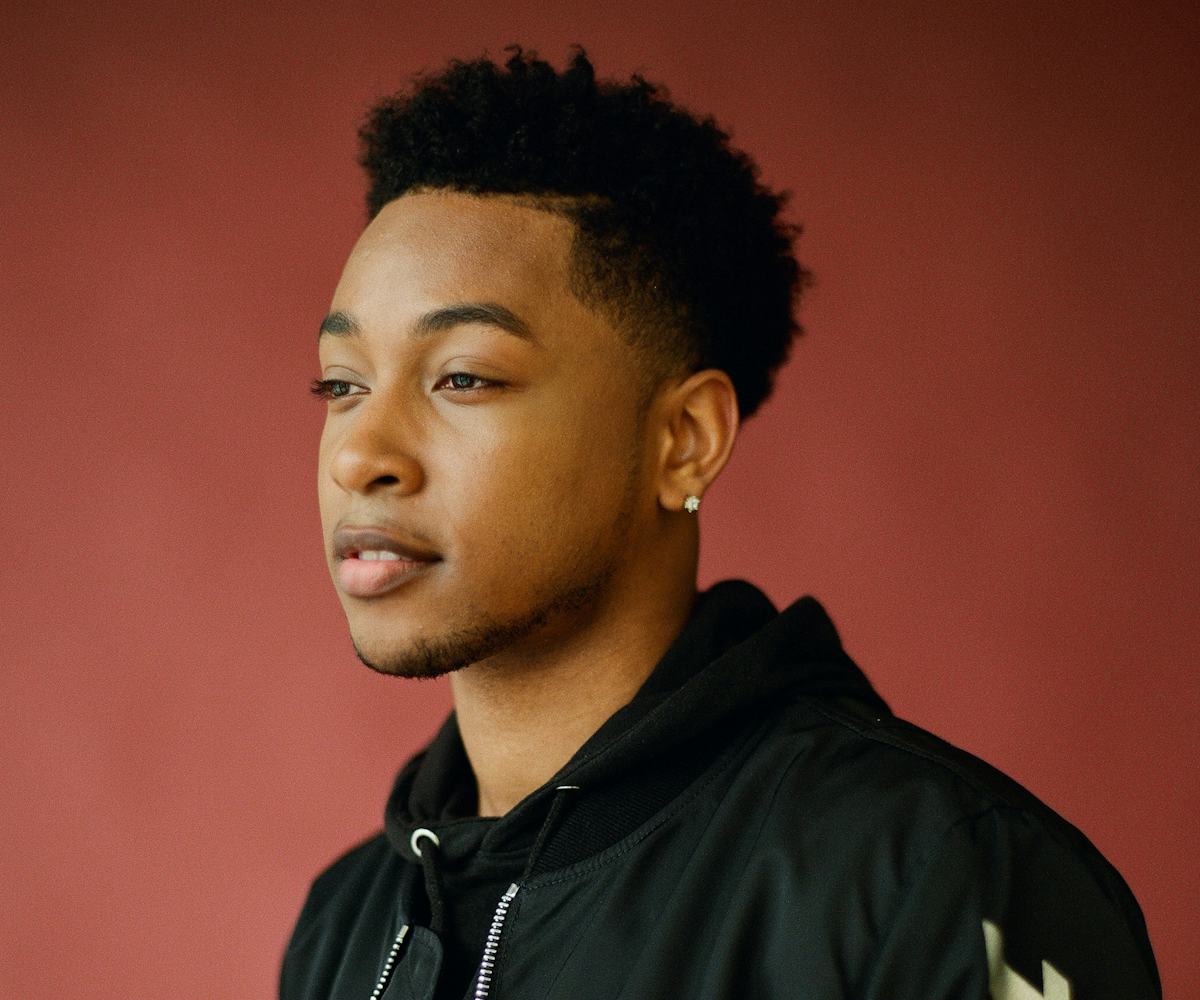 Photographed by Carissa Gallo. Styled by Jenny Ricker.
Actor And Singer Jacob Latimore Is Here To Entertain You
The 20-year-old discusses his latest projects
The following feature appears in the April 2017 issue of NYLON.
Tucked away on a corner couch at the bar atop the Ace Hotel in downtown Los Angeles, Jacob Latimore is trying to answer one of those big life questions: Should he or should he not purchase an $8 bag of Flamin' Hot Cheetos? It's an important decision, one of many Latimore has to make these days as his burgeoning career as a multihyphenate entertainer is just beginning to reach orbit. A few minutes later, after that crucial choice is made, the Cheetos arrive in a silver cylinder, unopened, and Latimore laughs uncontrollably. Keenly aware of his current reality—sometimes absurd, always awesome—Latimore's first words on the record feel like an announcement: "I'm so loving life right now," he says. "I'm doing exactly what I want to do, and that's not an easy thing in life." He pauses for a split second, overlooking an uncommonly overcast cityscape. "It's dope."
What Latimore wants to do is entertain, and by any standard, he's achieving his dreams. His latest role comes in Sleight, a slick but substantive sci-fi thriller set around Bo, a young street magician who's forced to be his sister's caretaker after their parents pass. "I loved the balance of fiction and nonfiction," says Latimore. He believes "every actor wants to play some sort of hero." 
Bo's superhero origin story differs a bit from Latimore's. Although the 20-year-old actor and singer was born in Milwaukee, Wisconsin, Latimore and his mother moved to Atlanta when he turned six. His father, who was one-fourth of a gospel quartet called The Latimore Brothers, stayed behind. Irrespective of geography or circumstance, Latimore was always performing. "I put out my first project in elementary school," he says proudly. Latimore recalls singing for his classmates during recess—some of whom would "chase me around the playground" while his friends "handled security." Before understanding basic math, Latimore was counting his followers and amassing an audience.
By middle school, his mother, who he insists is "the key to a lot of this stuff," began homeschooling him. There was also a tutor and some online courses thrown into the homespun curriculum. The priorities were made clear by his parents, though: "They always taught me to do what I love and nothing else," he says. With familial support ever-present, the financial backing soon followed. By 2010, Latimore was signed by Jive Records and quickly shuttled out on tour. Performing pop songs in school auditoriums across the country, he was a working teenager. "I didn't even realize how much money I was making," he says. "Checks started rolling in" around age 14. "I had a business manager," he remembers, "and would see the receipts and emails. I was like, 'Whoa, I made that much?'"
There's nothing normal about a teenager having a business manager, or being mobbed at a concert in a mall by fans for that matter, as Latimore says he was. And yet, while he has some regret about missing out on the high school experience—"I kinda wish I walked down the hallway and opened my locker," he says—the objective was always to build a career. Latimore possesses a machine-like focus, and is determined to make a name for himself. That hard work has been paying off over the last few years, as he's booked notable roles in everything from Black Nativity to Ride Along to The Maze Runner. Each project showcases a different side of him—serious, charming, showstopping.
This all culminated last winter when he appeared in Collateral Beauty, the Will Smith vehicle about a man who writes to Love, Time, and Death in order to reconcile with a recent tragedy. The reviews, which, as Latimore recalls, described the film as "weird" and "backwards," were unfavorable. That said, Latimore—who personified Time—emerged unscathed. In fact, he received praise for his performance. "The general public felt the film was incredible. It made them feel something," he says.
Latimore—who recently dropped his debut album, Connection, a collection of sultry R&B-tinged love songs—is currently in a monogamous relationship. By around 28, he says he'd like to be married with kids. But until then he has much more to accomplish. "I don't want to just be the guy in front of the camera, I want to be the guy behind the camera, too," he says. "The big play is going on behind the scenes, and that's what I like about Will Smith or Kevin Hart," he says of his role models. 
Before we go our separate ways, I ask him what will ultimately make him happy. He takes his time before responding. Nightfall has descended upon L.A. The $8 Flamin' Hot Cheetos are gone. "I think love is the foundation to happiness," he says in earnest. "We see a bunch of people who are moguls—rich as ever—doing drugs and cocaine, and they kill themselves." He's envisioning the potential darkness of a future he wants no part of—lives lived by many in his position, but not by him. "Money can't buy the love or happiness in life," he says. The words pour out as if he's reciting Beatles lyrics, his smile widening. "At the end of the day it's about family. God and family. That's it."
Bomber jacket by Moschino, hoodie by Boohooman. Grooming: Ricardo Ferrise at Opus Beauty using Chanel Les Beiges and Oribe.