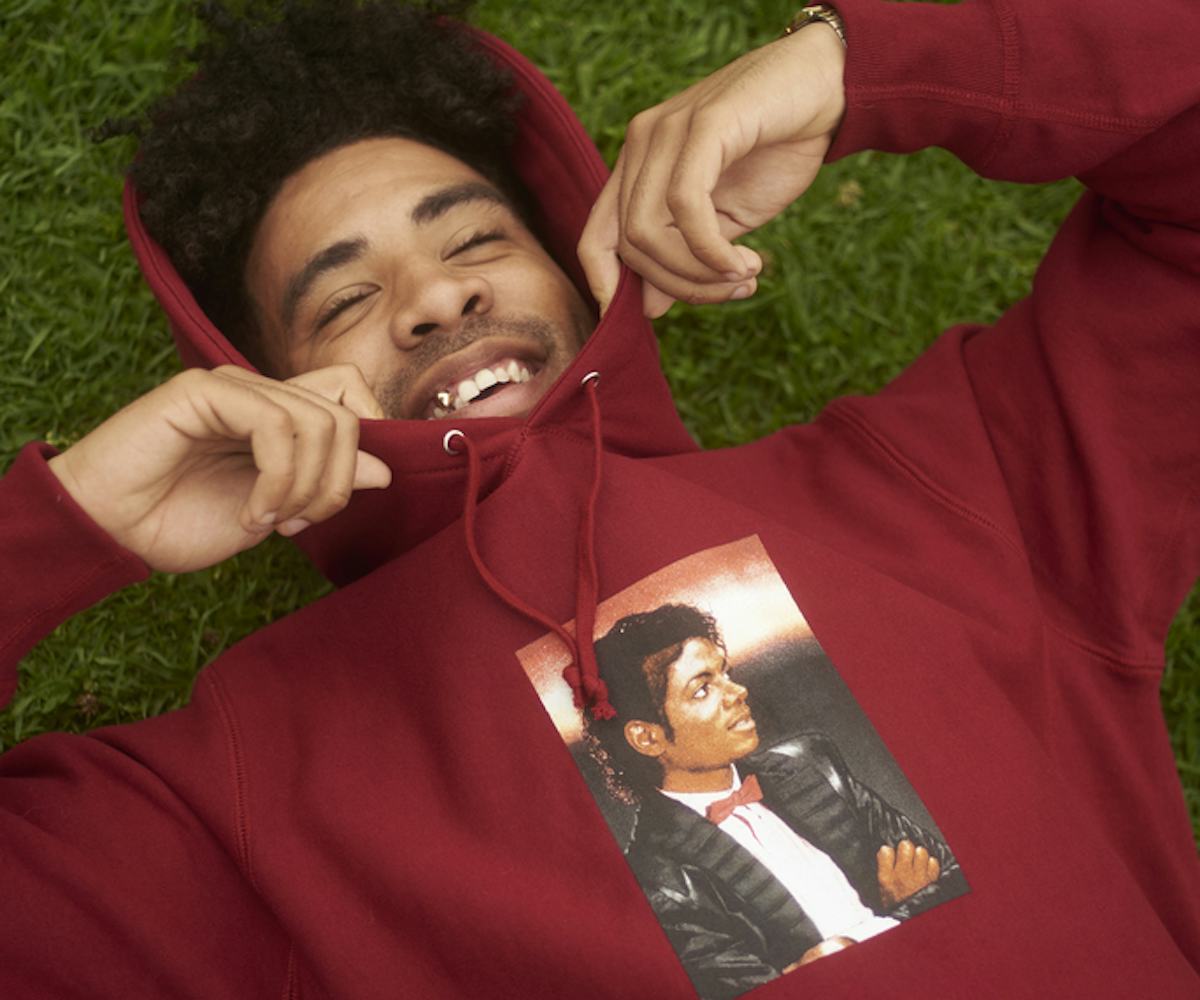 Photographed by David Joseph Perez. Styled by Zini. Hoodie by Supreme.
How Kyle's Chart-Topping Single Thrust Him Into The Spotlight
Now the singer is ready for the next level
The following feature appears in the September 2017 issue of NYLON.
Technically speaking, Kyle is a human being. He's a flesh-and-bone mortal, draped in a blue Nike sweat suit as he careens out of the elevator at the offices of his label, Atlantic Records. His smile is crooked, his high-top fade is ready for a House Party reboot. But he seems to be the real-life analogue of a Saiyan from Dragon Ball Z as he zips past posters of Biggie and Led Zeppelin. His voice betrays a nasal exuberance and slight lisp. He's an Animaniac, a Technicolor Disney cartoon come to life, ready to burst out into song and jazz hands. As if on cue, he breezes into a conference room, spots a shabby, slightly out-of-tune wood-grain piano, and starts plinking the familiar riff to his breakout anthem, the chart-topping hit "iSpy."
"I did everything wrong with the promotion of that song," Kyle says with a blinding smile. "I didn't put the link to the song when I tweeted it. I didn't put it on SoundCloud for days. And it just went viral. I can't explain it. Yachty is a genius." He's alluding to his "iSpy" collaborator, Atlanta's Lil Yachty, the cherry-Kool-Aid-haired king of the teens. Kyle then slips into a pitch-perfect impression of Yachty's prediction of how massive the ode to Instagram flirting would turn out: "Bro. We got a smash, bro." 
That's another thing about Kyle: His impersonations are startlingly accurate. It's only a matter of time before Kyle fulfills his true destiny, a guest spot on The Simpsons as the new transfer student who wins the lead in the Springfield Elementary version of Hamilton, and teaches Lisa the power of positivity. After all, it wouldn't be far from his real life. 
After his parents divorced, the rapper born Kyle Thomas Harvey spent his pre-adolescence in Reseda, California. He was the middle child of a white mother and African-American father, and grew up in a Hispanic neighborhood with mostly black friends. "Everybody on my street was broke, running around with no shoes on. We didn't have money, but we played tag, we talked. It was great," Kyle says. "I grew up really kind of mixed up. I lived with my white grandparents and mom and got made fun of a lot because I talked like her." 
Everything changed at age 13, when his grandfather inherited and promptly sold a motel, and moved the clan up the coast to Ventura, recently named by the Washington Post as the "absolute most desirable place to live in America." Transplanted into an affluent and almost entirely white school, the administrators attempted to push the young Incubus superfan into football, but he found his niche in drama class—starring in Hairspray and The Rimers of Eldritch. 
Those years also marked the darkest stretch of Kyle's life. During his junior year, his grandfather died. In the months afterward, Kyle plunged into a debilitating bout of depression. Around that time he discovered Kid Cudi, who became a musical and emotional North Star for him. "I became some weird-ass Tony Robbins type," Kyle says, laughing. "My only option was that or self-destruct. So I found the saddest kids in school and motivated them. I ran around giving everybody high fives and it made me feel good to make other people smile and laugh. I turned into this battery that charged myself up because nobody else could."
Rap success slowly started to materialize. He'd rapped since puberty under the monikers K.I.D. ("Kyle Is Determined") and Super Duper Kyle, initially penning fables about moving kilos of coke and assassinating his enemies. But his music soon mirrored this newfound optimism, reflecting a more honest persona—think Drake, if he cared about uplifting people as much as money and the city where he's from; or Chance the Rapper, if he grew up watching anime by the beach. 
The internet-savvy teen figured out how to use social media to boost his notoriety, friending every high school student in Ventura on Facebook and spamming their walls with his videos. His first viral hit came after he recorded a freestyle over Drake's "Headlines," which he released the same day as the original so people searching for the 6 God would inadvertently discover him.
Shortly after high school graduation, Kyle moved to Los Angeles, where his true ascent began. His first two projects, 2013's Beautiful Loser and 2015's Smyle, expanded his cult. Kids could relate to the topics, which ranged from fruit snacks to his trying relationship with his father. Collaborations with Chance the Rapper and G-Eazy helped, too. But the massive popularity of "iSpy" turned him into a national star whose forthcoming major label debut is one of the fall's most anticipated releases. His follow-up single, "Nothing 2 Lose," brands Kyle as the rap game's Norman Peale, converting the power of positive thinking into coloring-book-bright bars that taunt haters and relentlessly affirm his own happiness.
"I'm rapping about a lot of sad shit with a happy tone to let you know that life isn't perfect and you don't have to be happy every day," Kyle says, explaining a major theme of the album, and temporarily letting his wattage dim before reflexively perking back up. "What's important is that people never give up that fight to be happy, because when you do that, that's when things really start to go wrong."