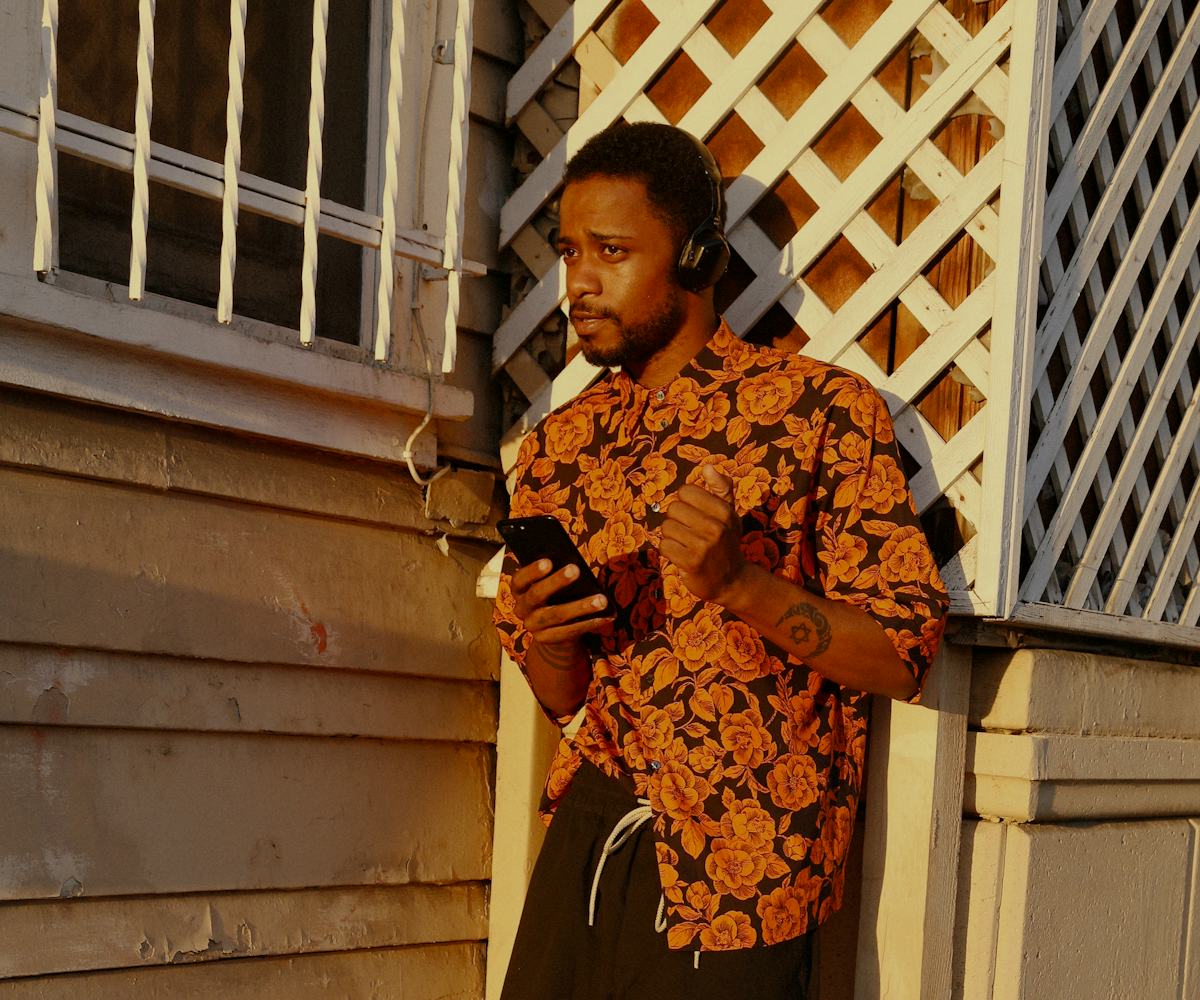 Photographed by Ellie McLean. Styled by Laura Mazza. Top by MSGM, shorts by Bassike, sneakers by Adidas Originals.
Lakeith Stanfield Is One Of Hollywood's Most Thrilling Young Actors
Get to know the 25-year-old
The following feature appears in the May 2017 issue of NYLON. Every year, we round up the brightest rising stars in film for our Young Hollywood Issue. Get to know the actors and actresses who are set to take over the industry. To read more, click here.
Lakeith Stanfield knows how to hustle. Before he became one of Hollywood's most thrilling young actors, he was a master salesman, peddling AT&T packages door-to-door in Sacramento, California. "It was basically a form of acting, so I did pretty well at it," he says. And had it not been for a couple of weed-related warrants that cut short his career, who knows, Stanfield might still be in Sacramento, living life in AT&T's executive branch.
Instead, the 25-year-old has been stockpiling credits in some of the buzziest projects of the past few years, from his Independent Spirit Award-nominated breakout performance in Short Term 12 to his scene-stealing cameo in the horror sensation Get Out, along with roles in Selma, Straight Outta Compton (as a young Snoop Dogg), and FX's zeitgeisty comedy Atlanta.
And to think, it almost didn't happen. "He couldn't find me," Stanfield says of his Short Term 12 director Destin Daniel Cretton, who had to seek out Stanfield to tell him that a feature-length version of the short film they had shot together was in the works. "I didn't have a phone, I didn't have an internet presence. I was broke as hell."
Stanfield logged into the Sacramento film board website, to see if anything had "come through." There, he found multiple comments from Cretton, who had hopes of Stanfield reprising his role as the troubled teenager Marcus. "I said, 'What the fuck?' So I go down to L.A., I audition in his living room, I look up, and he's got tears in his eyes." At first, Stanfield, who can next been seen in the Netflix movies Death Note and War Machine, thought he had blown the audition. "I'm like, 'Yo, I didn't know I was that goddamn bad.' And he was like, 'No, that's fucking great, you got the role.'" And he's been getting roles ever since.
Blowing Up: Stanfield remembers agents hounding him after his breakout performance in Short Term 12. "They would hang out around screenings. We were doing Q&As and I would see them there, always waiting. I tried to pick the least sleazebag motherfucker I saw, and the one that appeared to be the most human—because a lot of them were looking, but they weren't really looking at you, they were looking through you, trying to see dollar signs. But this one I met, she was cool. She was grounded, so I signed with her, and from there I just started booking shit."
Almost Famous: "Fame is a double-edged sword, isn't it?" he muses. "It could be really bad for you, or it could be really good for you. You learn how to train, you learn how to talk, you learn how to not do interviews drunk, which is the only way I used to do them. You just learn how to keep things sacred in order to survive in this landscape. It's important to sometimes be strategic and careful in what you say. There was this festival that didn't accept Short Term 12, so in an early interview I said, 'Fuck that festival.' That's when I realized you've got to watch what you say."
The Brangelina Effect: Stanfield recalls a brush with the formermega-couple at the Independent Spirit Awards. "I was sitting probably a table over from Brad Pitt and Angelina Jolie. That blew my mind because it went from me watching their movies and being a really big fan to me sitting literally right next to them. But very quickly you begin to understand that there really is no difference between you and the next person, and you begin to see that this sort of façade that gets put on is simply that. You begin to respect real people that you meet, you begin real interactions. It just becomes all about, 'Hey man, let me get your card.'"
Hollyweird: "When you come into the sphere of Hollywood, it's a drug- addict trash bin. It's also a beautiful place for imagination and possibility, so it's like a shiny beautiful trash can. But you have to be careful about things that pop out from the alley trying to push on you, like alcohol. All these parties can be boring, so you have an incentive to get drunk rather quickly, and you have to learn to temper yourself."
Words of Wisdom: "Some people are happy for your success, and then you're obviously going to have people who view it as unfair that you were able to achieve something they couldn't. Everyone asks me all the time, 'How do you do it, man?' I say, 'You've just got to shoot your fucking shot.' It's a long shot, it's hard, it's a tough game, and just because you get into it doesn't mean you'll stay in it, because it's fickle. A lot of people come here and they just want to do it because everyone wants to be an actor, everyone wants to be a model, but doing it for egotistical reasons is only going to get you so far."