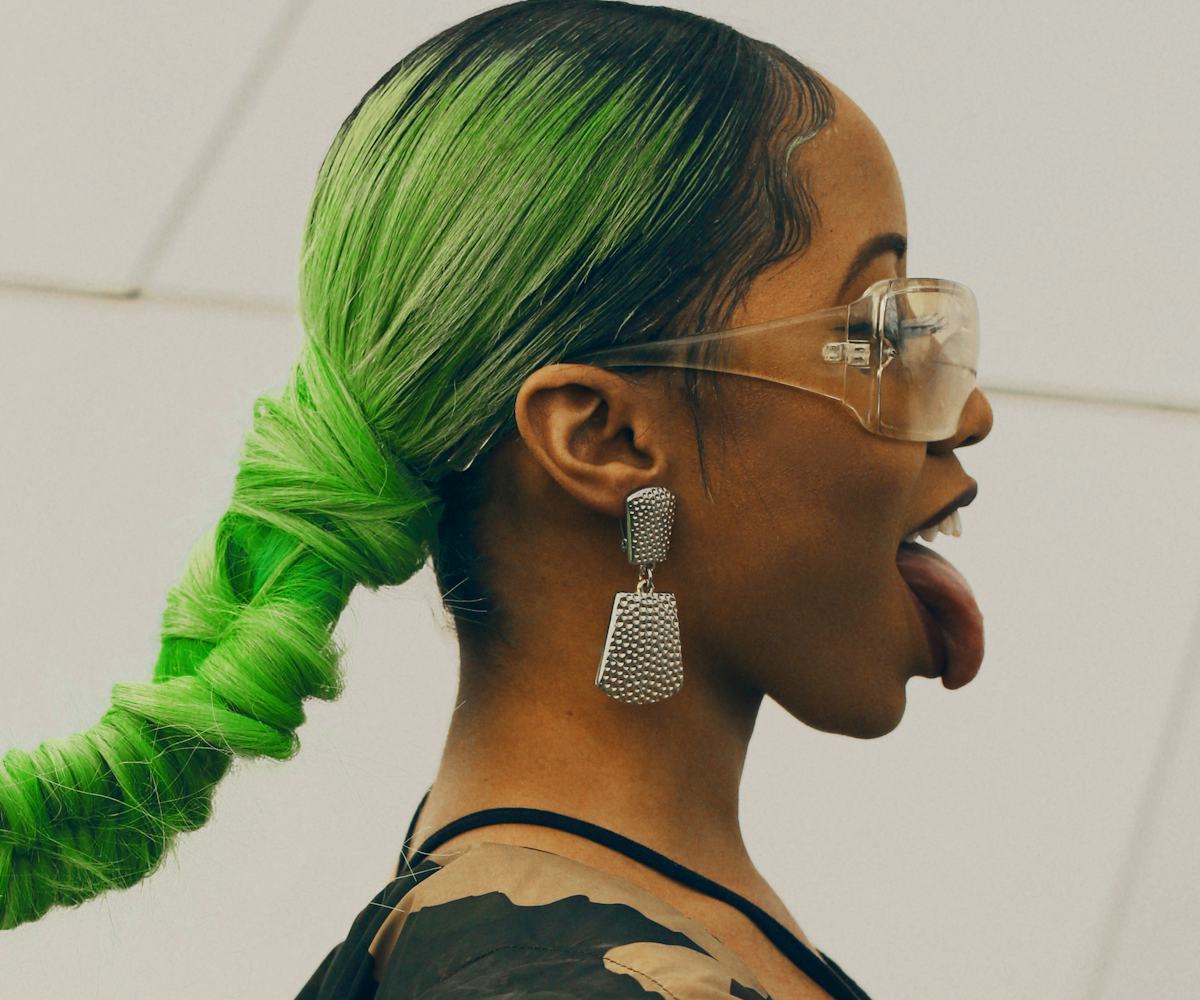 Photographed by Gabriela Celeste. Hair: Shamara Greene.
Liana Bank$ On 'Apt. 210,' Her Unapologetic Forthcoming EP
Get to know the 26-year-old singer-songwriter
The following feature appears in the June/July issue of NYLON.
"I'm fearless, I don't give a fuck, and I'm self-aware," proclaims Liana Bank$ while perched on a bench overlooking New York City's Battery Park. "This is who I am and whatever comes out, comes out." It's the kind of confidence that usually develops with age, but the 26-year-old singer-songwriter has already had enough experience with the fickle music industry to feel completely assured that her time has finally arrived.
Born in Queens to a family of musicians (her grandmother sings on Broadway, her mother was in a jazz band, and her sisters sang in a gospel choir), conceiving melodies and composing lyrics have always come naturally to Bank$. At just eight years old, she wrote her first song and began to realize her knack for unloading her everyday thoughts and frustrations onto the page. People took notice, but her breakout moment wouldn't arrive for at least another decade.
When she came of age, Bank$ began studying business management at LaGuardia Community College (mostly to please her mother) and juggling two jobs—one as a waitress at Johnny Rockets and another as a personal assistant. But she found herself constantly distracted by musical daydreams. "I'd be in class during a lecture writing a song," she recalls. This preoccupation eventually led her to quit both gigs and drop out of school to pursue a career in the music industry—a decision that didn't sit well with her family. "They didn't want me to go through the struggle. They didn't want me to starve," she says. "Let me tell you, the starving artist is a real thing."
As her savings began to dwindle, rather than insist on an immediate solo career, she chose to sell her songs and write for others. Her strong pen game soon saw her working with veteran producers like Scott Storch, Jerry Wonda, and J.R. Rotem. Before long, the labels came knocking—just not quite in the way she had imagined.
"The breaking point for me was the labels," she reflects. "I would continuously get song placements and they'd tell me they loved the records, but then would come back and say, 'So-and-so cut it, and it doesn't sound as good as yours so we're not going to use it.'" As prosperous as songwriting eventually proved to be, it also turned out to be limiting. "[The labels] kept using that same line that it didn't sound as good as they thought it would," she says. "I was like, 'Fuck it, you don't like that, but you love how mine sounds? Why don't you just sign me?'"
Tenacious by nature, Bank$ let the rejection fuel her work ethic; she changed course and delved deep into making her own music independently. Finally able to create at her truest and purest, she released her long-awaited debut EP, Insubordinate, last fall. "There were no restrictions. It was really just raw venting and talking about everything that was happening in my life," she explains of the 12-track project, an infectious mix of pop, R&B, hip-hop, electronic, and reggae.
Readying her sophomore EP, APT. 210, due out this summer, Bank$'s mission is simple: to let people know that they're not alone. "Sometimes people feel like they don't have a purpose and they'll listen to a song and see that somebody feels the same things they do and can relate to them. It builds a connection," she says. "To me, that's what's most magical about what I do as an artist."
Bank$' musts:
Eating: There's this lobster mango salad at Crustacean in Beverly Hills. It's truly one of the best things in the world.Drinking: I love coconut water. I don't even remember why I started drinking it, but it's become an everyday thing. I'm officially addicted.Wearing: Oversize jackets. For some weird reason they make me feel safe.Beautifying: My skin is crazy and extremely sensitive. Most products break me out, but Neutrogena's Ultra Gentle Daily Cleanser is amazing. It doesn't dry my skin out either.Listening: I've had Frank Ocean's "Chanel" on repeat.Browsing: I love going on Instagram and searching for inspiration. Sometimes I type in hashtags of different colors I'm feeling at the moment or look at different fashions. There's this art account called @love.watts that I'm always on.Reading: The last book I read was probably The Secret [by Rhonda Byrne]. I've read it a thousand times so it's definitely time for a new book.Visiting: I want to go to Jamaica with my team and create some bomb-ass music and eat jerk lobster on the beach and all that good stuff.Coveting: Peace for the people I loveBelieving: In myself because I'm putting everything I've got into my careerRejuvenating: I like to have a glass of wine and twirl around on my hoverboard.