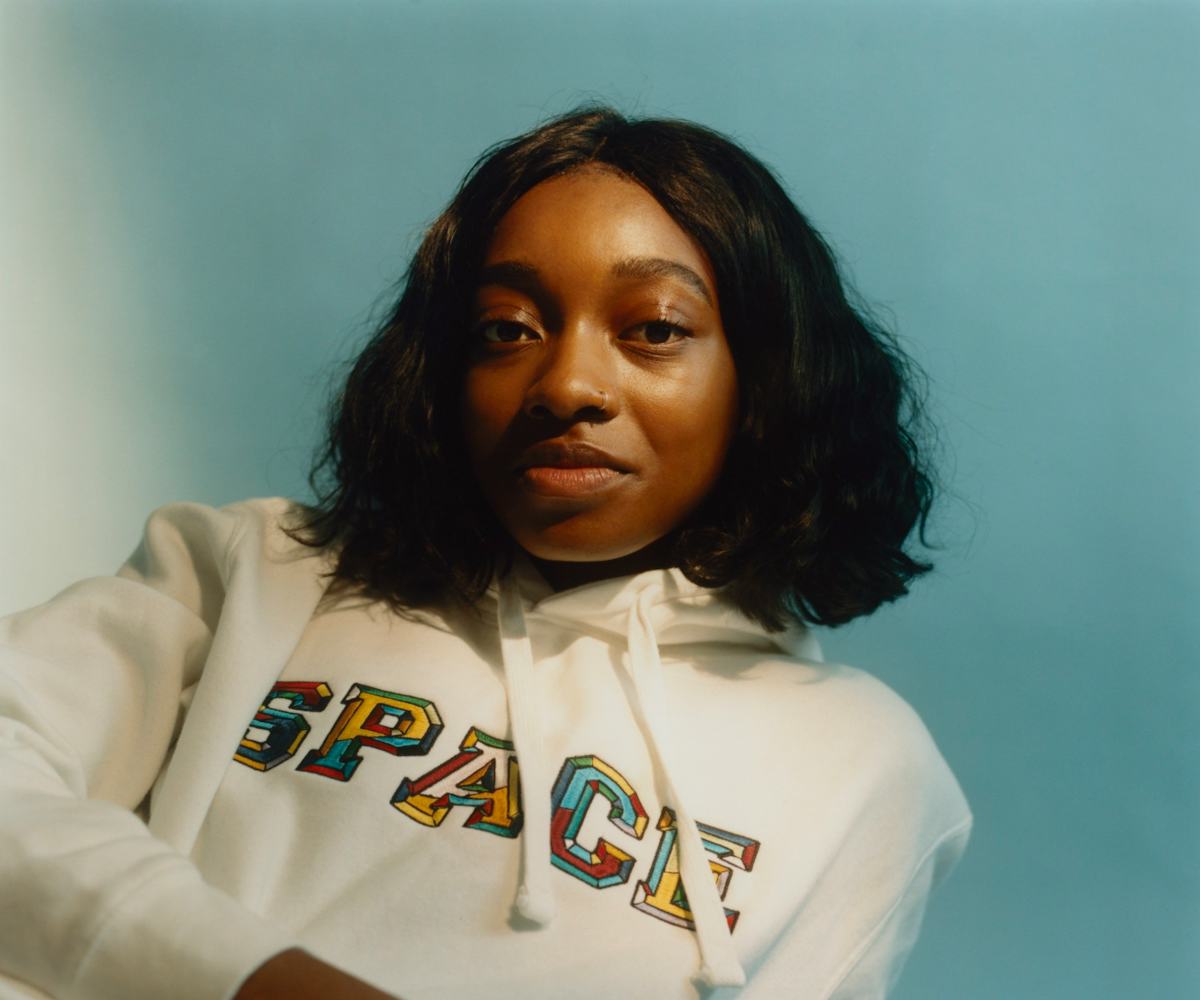 Photographed by Maxime Imbert. Hair and makeup: Lindsey Poole at Untitled Artists using Marc Jacobs Beauty.
On Sophomore Album, Little Simz Welcomes Us To Her 'Wonderland'
The rapper-singer fills us in on the new record
The following feature appears in the April 2017 issue of NYLON.
Little Simz is riding high. The day before we meet at The Canonbury Tavern in Islington, her North London neighborhood, the 23-year-old rapper pulled off a massive one-day festival that united both new and established artists, and also featured a pop-up shop for Space Age Wear, the clothing line by her creative crew, Space Age. The occasion was the release of her latest album, Stillness in Wonderland, but it's in her nature to promote her friends. "I expected it to be good," she says of the event, stirring honey into her mint tea, "but the love that was in the room was just mad overwhelming."
Simz—born Simbi Ajikawo—is building her own industry. Stillness in Wonderland isn't just an album released on her Age 101 label, it's also a short film, and has inspired her Welcome to Wonderland tour and four-part comic book series of the same name. While her 2015 debut, A Curious Tale of Trials + Persons, was dark and dystopian, Wonderland is more lush, showing off her cross-genre prowess and recalling projects such as Malibu by Anderson .Paak, with whom Simz toured last year. "I wanted to make a record that was sonically more visual," she says. "And I went into this one knowing what I felt people want to hear more of from me."
Her confidence is arresting. Growing up, her mom fostered a number of children, and Simz was determined to show them that she didn't take any opportunity for granted. Rapping since age 9, she saved cash from her Saturday job at an art gallery when she was a bit older to buy equipment to teach herself music and video production, and watched YouTube interviews to see how other artists carried themselves. One musician who proved to be particularly influential was Lauryn Hill, who fits Simz's push for what she calls "real models," rather than unrealistic role models. When Simz opened for her idol in 2015 and again earlier this year, she paid attention to every soundcheck and show, observing how the revered singer, rapper, and actress handled her business.
A Curious Tale of Trials + Persons followed some hyped EPs, and found Simz sizing up fame, which she swore wouldn't change her—on the vicious "Tainted," she mocks a jaded rapper bragging about money. But on Wonderland's "Doorways + Trust Issues," she raps, "Riding with the windows down/ Ooh, just so you can see me in it/ I don't mean to brag, it's the shit I never had." Her subconscious confronts her: "Whoa, hold up Simbi/ What has gotten into you these days?" Staying true to herself has been harder than she imagined. "There's temptation everywhere," she admits. "There was a point where I felt like I lost my hunger and I got too comfortable. I didn't like the fact that I felt I'd done enough, because I haven't done anything in the grand scheme of things." A period spent working at home restored her ambition. At first she didn't know what to write, but she soon realized that uncertainty was her subject. "I like to look at Wonderland almost like a human experiment," she says. "I consider myself a very still and introverted person, so it's what happens when you put someone like that in the music industry."
She knows herself better now, which partly required her to shed the psychological weight of being categorized as a "female rapper." "I've had to spread my wings to show that I actually know how to play instruments, I can produce, I can sing," she says. "I'm doing things that are uncomfortable now, but will make me a better artist." That includes writing about love, and even going so far as to open up about a toxic relationship on "Poison Ivy." "Being in a situation like that is one that I never imagined myself in before. I needed to get to a place where I'd overcome the situation before I was ready to talk about it. Sometimes it's difficult to perform, like opening up a wound."
Reflecting on her tour, which wraps its U.S. leg this month, she's noticed that fans often come to shows alone, "but leave feeling a part of something." She's creating a movement—one the U.K. has been slow to appreciate. Much like Chance the Rapper, who notably won three Grammys earlier this year without ever actually selling any albums, Simz hasn't penetrated the traditional industry, but rather built a space for herself. "My attention isn't focused on breaking those structures," she says.
But even if the industry isn't recognizing her achievements with major awards just yet, plenty of notable people in the music biz hold her in high esteem. "It's nice to align yourself with young women in the industry that are on the same wave as you," she says. But most important of all is her Space Age crew, named after their wandering minds. "I've never liked the saying 'The sky's the limit,'" says Simz. "I have always felt like there's more than just this."
Little Simz's tour essentials:
Polaroid camera
"I keep this journal of my life journey for my future kids. It contains loads of Polaroids, and my thoughts. I don't like the idea of everything just being on the internet. What if there's a big malfunction, then what's backing up the good times?"
Sage and incense
"For years my mom has burned incense in the house, so wherever I am I'll burn incense. It makes me feel relaxed, calm, and collected."
Notepads
"I overthink things and I don't really understand my thoughts sometimes, so when I write them down and read it back to myself, it's a lot easier for me to digest."
Guitar
"I play live, so I always have my guitar. But even if I'm not necessarily using it during the show, it's cool to just pick it up and jam with myself in my hotel room."
Hot water bottle
"I'm a cold-blooded individual—I am always cold. I have to keep myself insulated at all times."
Fanny pack
"Sometimes carrying everything is a bit of a pain, and if I have it here, strapped around me, I've got everything on me."