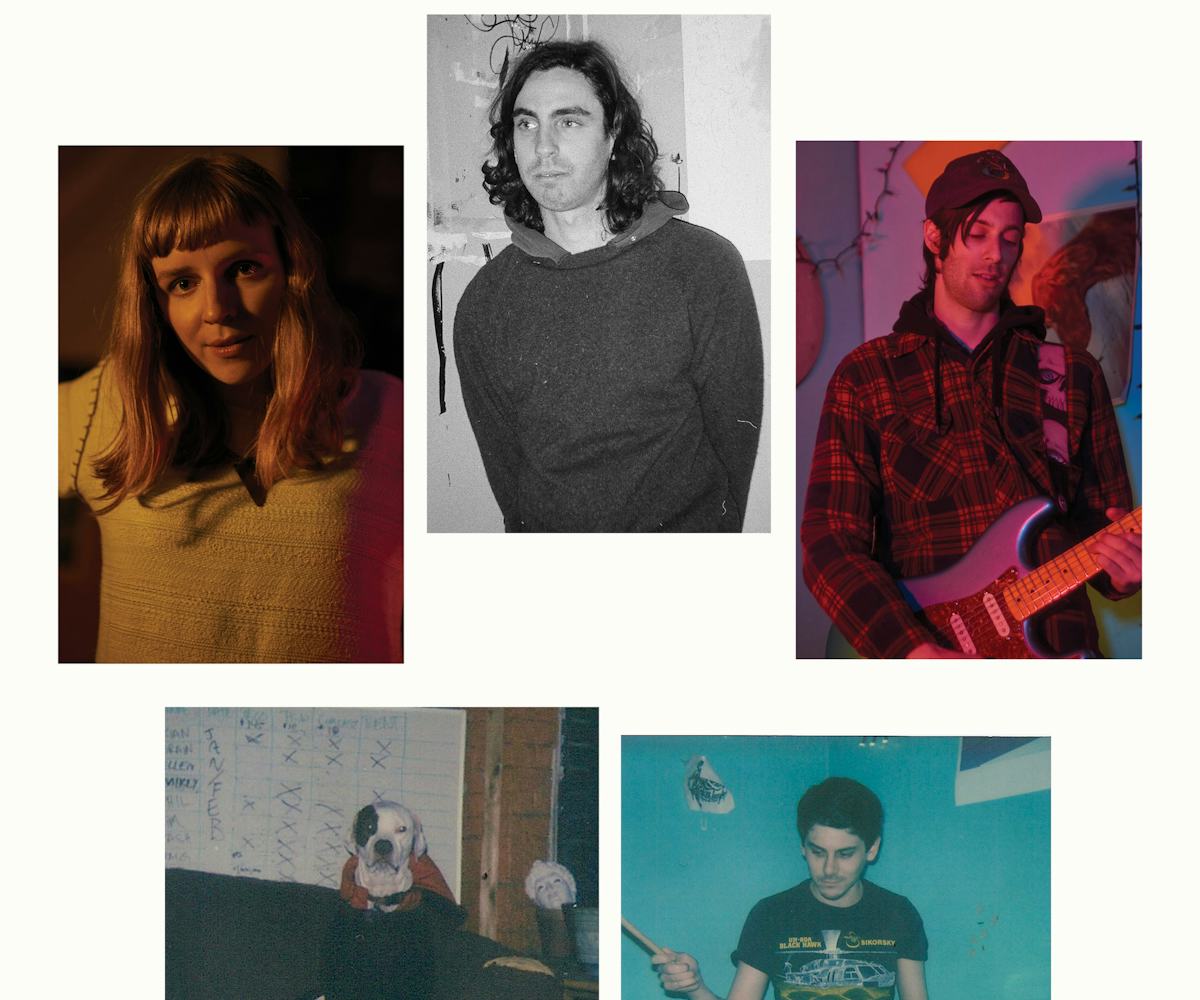 Photographed by FionayEduardo. Clockwise, from left: Larissa Sapko, Kian Sorouri, Kyle Laganella, and Christian Bach.
The 'Big Day' Has Arrived For Philly Rockers Loose Tooth
Get to know the group and their laid-back dispositions
The following feature appears in the April 2017 issue of NYLON.
Loose Tooth are just weeks from releasing their sophomore record, Big Day, on Father/Daughter and Lame-O Records. Though one would expect the forthcoming accomplishment to be met with at least some trepidation, for the easygoing quartet, seated in Johnny Brenda's restaurant in the Fishtown neighborhood of Philadelphia, it's just another day. Spotting a friend near the bar, they flag him down, squeeze him into the booth, and start planning their record release show, handling it with the routine casualness of scheduling their next band practice. 
"In 2013, I wanted to start a band that sounded like Yo La Tengo," explains bassist Larissa Sapko of Loose Tooth's origins. She recruited vocalist and guitarist Kian Sorouri, who brought in drummer Jim Dobrowolski to help achieve her goal, and they released their debut EP, What It Is, that year. But after Dobrowolski followed his soulmate to Mexico, he was replaced by Christian Bach, and a second guitarist, Kyle Laganella, was added to the lineup for a fuller sound. Four years and a new label later, the Loose Tooth of 2017 are a hybrid of witty punk and garage-y grunge. They echo early '90s favorites like Dinosaur Jr. and Pavement, but with a harsher, more complex sound, as demonstrated on their 2015 LP, Easy Easy East, and now Big Day. 
Despite an April 7 release date, the album was recorded last year, back when it was much easier to corral the group. Now, the four-piece sprawls across three neighborhoods, and while Sapko works full-time as a web developer, Sorouri, Bach, and Laganella all moonlight with other Philly-based bands. Still, Loose Tooth's chemistry never falters. In conversation, the four move seamlessly through an array of topics—podcasts, Vanderpump Rules, and Guy Fieri among them. But as soon as the talk turns too mushy, the riffs emerge: "We didn't want to say anything when the 'warm friendship conversation' came up," says Sorouri, his voice dropping to a stage whisper, "but we actually hate Kyle." Laganella, mouth full of fries, solemnly nods. "Good art is full of tension," Sorouri offers as he watches Bach snag a fry from Laganella's basket. "And so are good friendships." 
Considering Loose Tooth's laconic vibe, the frenzied style of Big Day comes as somewhat of a surprise. The breakdowns are intense, with dueling guitars and grimy bass lines. Shifting time signatures and obscure lyrics abound. The song titles—"Roach Motel" and "Garlic Soup," for example—are perfectly in line with their scuzzy sound. Sorouri, the lead vocalist, possesses an insistent, emotive cadence that is perfectly suited to the band's niche of alt rock, but when featured singer Abi Reimold takes the lead on "Day Old Glory," her voice is unexpectedly deep, even haunting. It's like they've channeled their collective energy into the roaring LP, and are content to kick back and goof around about everything else as a result. That's why signing to Father/Daughter and Lame-O Records in 2016 was particularly beneficial for them. ("We're not great at promoting ourselves," Sapko says with a laugh.) Since then, Loose Tooth have been transformed from a ragtag underground band to a low-key enterprise. But they haven't abandoned their DIY roots—they're simply readying themselves for more success. No longer responsible for overseeing both the creative and business aspects of the band, they now have the time and mental energy to devote to their music, and have even started work on their next LP.
Just when it seems as though it's impossible to ruffle the band's feathers, they reveal one topic that does get them a bit rattled: In recent years, they've battled over the use of the name "Loose Tooth" with other groups, including a production company for kids' tunes and a guitar-pop trio from Melbourne. Sapko even confides that she thought the request to be featured in NYLON was intended for the band from Down Under. But with increasing recognition and an upcoming tour, the Philly outfit hopes to become, at the very least, a top Google result for "Loose Tooth band." (Not the top, of course—a goal that lofty would betray their laid-back nature.) And Sapko's got the perfect idea for how they can get there: "Dude, if we can get NYLON to say that we're not from Australia, that'll stop those fuckers in their tracks."