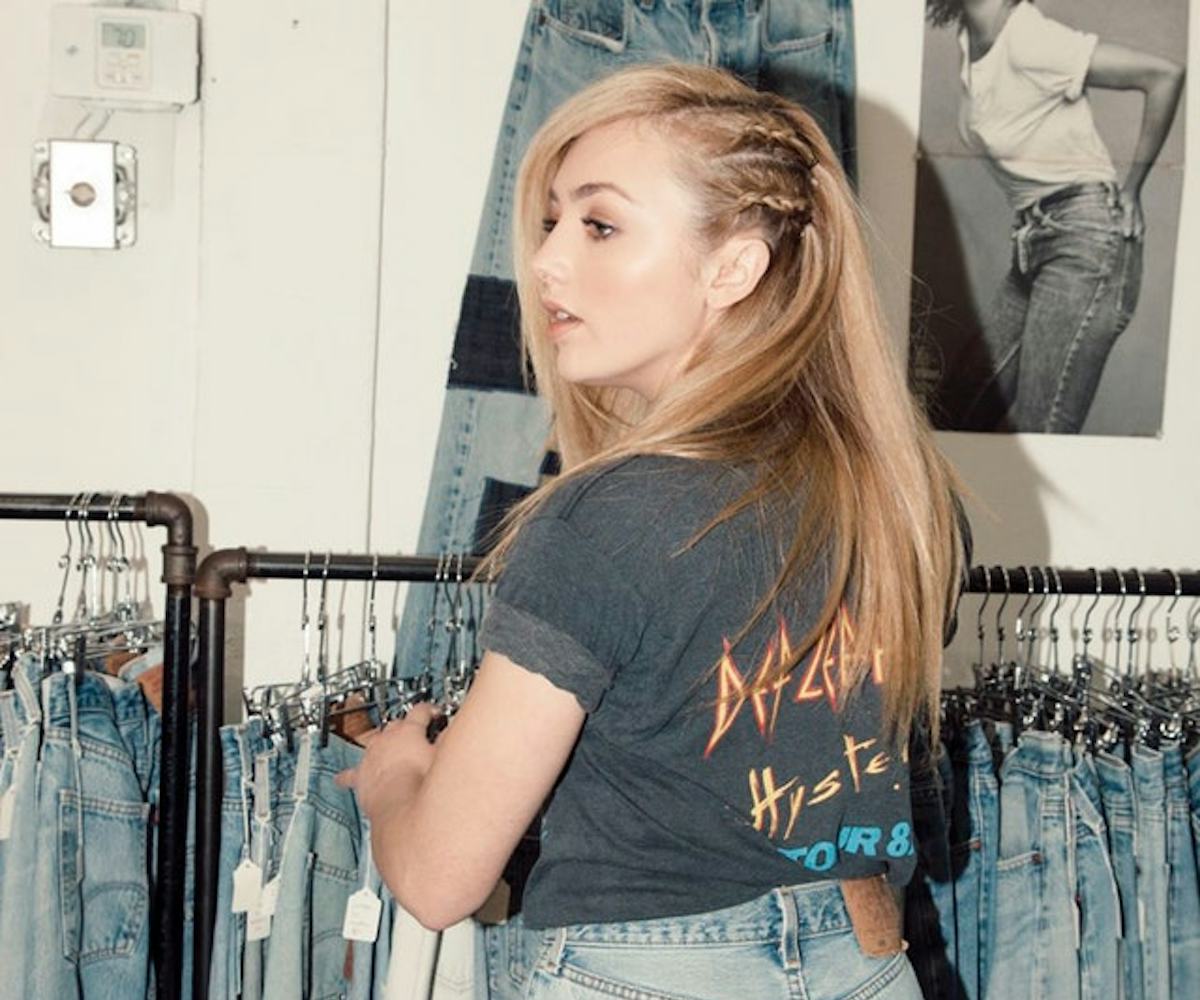 Photographed by Scott León.
We Tagged Along With Actress Peyton List To Shop For Vintage Jeans
And got some throwback denim tips
The following feature appears in the August 2016 issue of NYLON.
Our Denim Issue has always been one of my favorites. I look forward to seeing the inventive ways that brands incorporate indigo into their collections and, of course, to getting down and dirty for some DIY. This time around, I decided to do something different: I recruited my friend, actress Peyton List, to take a break from working on her upcoming film The Thinning to go on a vintage denim shopping trip with me at downtown Los Angeles shop Virgo. 
Click through the gallery to read the rest of the feature.
As much as we both love to incorporate old-school jeans and shorts into our wardrobes, we know the challenge of finding the perfect fit, considering that the silhouettes available in vintage stores tend to be limited to the mom jean and boyfriend fit. Also, sizes that were used in past decades are different from the ones that exist now: "We always tell customers to go up three sizes from their stretchy jeans," says Virgo owner Rana Shoar. "It's a good starting point to find a pair that actually fits. So if you're a size 25, you'd be a 28 or 29 in vintage jeans." Here are some other tips that List and I learned when we delved into the racks and racks of throwback denim.
Pick out a wash that you like best, along with your ideal fit: "I normally go for a skinny jean, but I also wear a lot of flares," says List. She decided to switch things up with a boyfriend jean, to wear with a loose T-shirt and sneakers. I always end up looking for a light-wash mom jean. That, plus a vintage tee, is my go-to everyday look—I'm all vintage, all of the time.
Two quick will-these-fit tricks: To determine if a high-waisted mom jean is a potential fit, wrap the waist of the jeans around your neck. If the sides touch, that means you're good to go! You can also gauge the fit by measuring the waist against your arm. It should be the same length as the distance between your elbow and your hand, made into a fist.
Look at the inside of the denim: If there is a red seam on the inside of the leg, that means the denim is made with a more premium quality (this is especially true for Levi's), and this typically indicates a better fit.
Enjoy the experience! "Know that you're going to go in and try on a bunch of different pairs, so bring a friend with you to make it as fun as possible," says List. After our little adventure, I agree 100 percent.