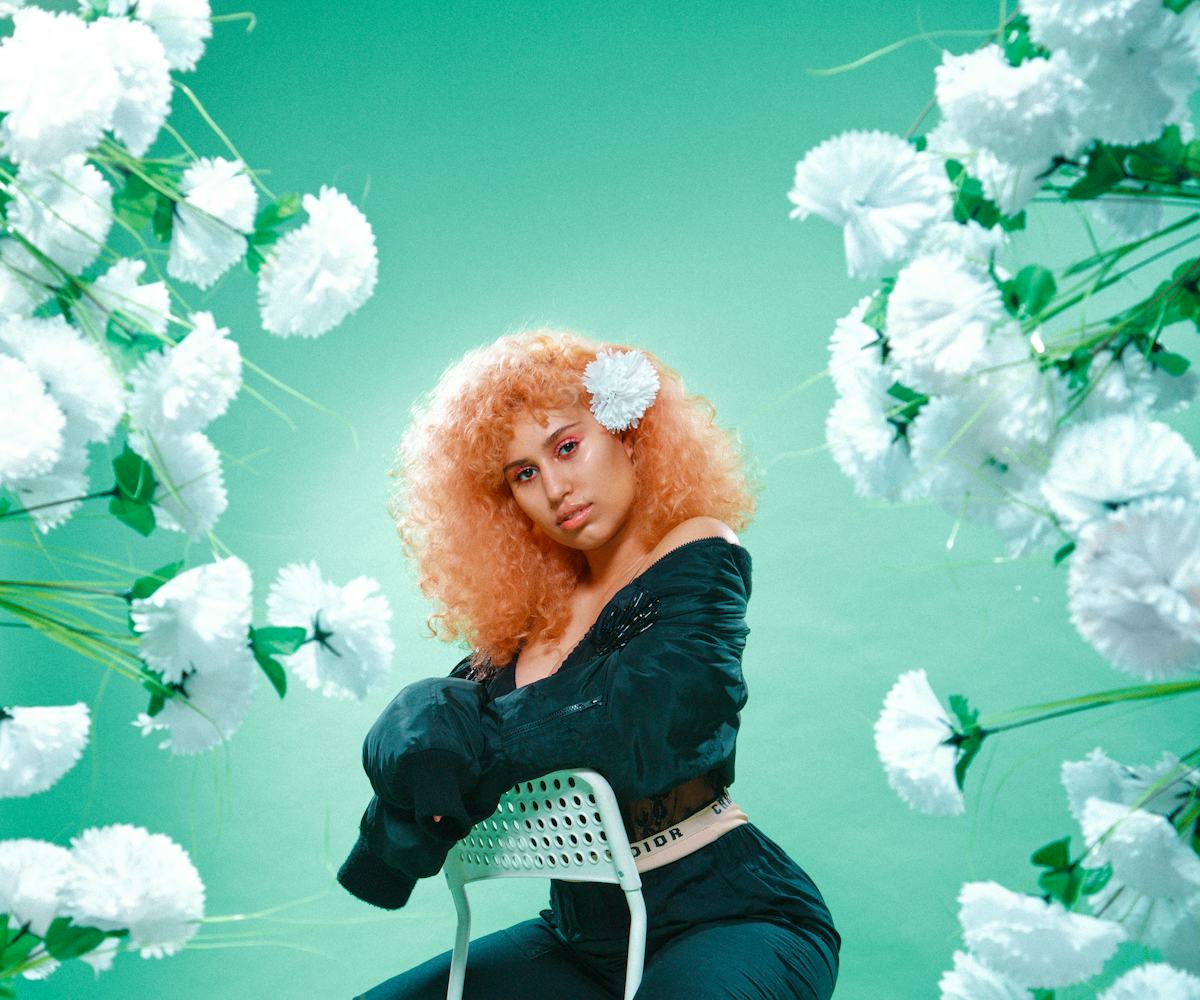 Jacket by Ashley Williams, pants by Phoebe English, shorts by Dior, boots by Moschino. Photographed by Charlotte Rutherford. Styled by Toni-Blaze. Hair: Nick Peters at Eighteen Management. Makeup: Abbie May.
Raye Is Conquering Her Goal To Become A Verified Singer-Songwriter
Rita Ora talks to the 19-year-old rising star
The following feature appears in the June/July issue of NYLON. Every year we scour the music scene to round up the best rising acts for our annual music issue. This time around, Charli XCX guest-edited the feature, hand-picking a crop of new musicians to be interviewed by veterans in the game who have been there and done that. To meet more up-and-coming artists on Charli's radar, click here.
Even more impressive than this singer's unique blend of soul, dance, and pop is her quest to be a verified songwriter above all else. Considering that she scored a publishing deal before a record contract, and has writing credits on songs with the likes of Nas, Stormzy, Snakehips, and MØ, this 19-year-old may just have achieved her goal.
Rita Ora: You're one of the hottest new artists on the scene in the U.K. and your songs are literally all over the radio. Did you freak out when you heard yourself for the first time?
Raye: It was mental! The first time I ever heard my song on the radio I was having a driving lesson. I freaked out and nearly crashed my car. I was screaming out the window and begged my driving instructor to let me call my mum and dad and my best friend Ben.  [Laughs]
You've written a lot with Charli XCX, and you and I did that VIP mix of her song "After the Afterparty" with Stefflon Don (which was so major!). How important is songwriting to you? And do you love collaborating with other artists?
Songwriting is so important to me. I love it so much, and I think it's important to work hard at the things you love, so that's what I've been doing. Collaborating with other artists makes songwriting so much more fun—combining visions, being experimental. 
Tell me your thoughts on girl power. I love doing stuff with other girls. It's so cool to be surrounded by badass women, right? 
Amen! Listen, I know people think it's overplayed to say it, but this is a man's industry. I'm so bored and fed up of this recurring thing of women fighting and battling each other for the attention of men. I came into this industry really experiencing that myself, and I realize how important it is that girls don't get caught in the trap of seeing each other as rivals—which I was encouraged and nearly fell into doing—and instead do the opposite. Being surrounded by beautiful, strong, positive women and female artists has helped me so, so much as a person. It's amazing to know your girls got your back.
We met for the first time at the Adidas dinner party I threw in London. That night was wild. Are you a party girl? What's the perfect cocktail to sum up your personality?
I go in and out of phases. I'm almost too up for a big night out when I don't have to work the next day. And my cocktail is deffo a Porn Star Martini, 'cause it's fruity and sweet but gets you completely mash-up. [Laughs]