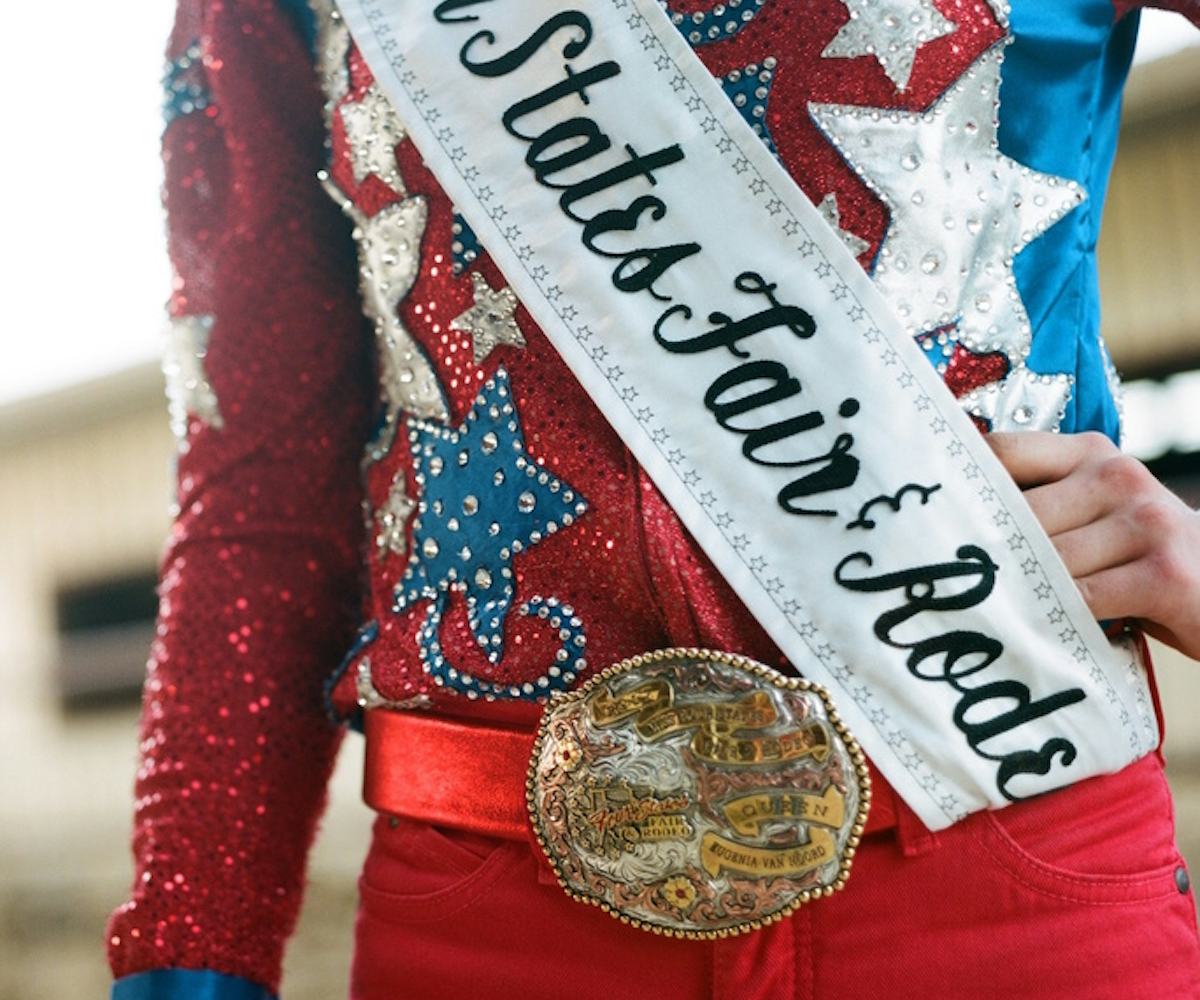 Photographed by Beth Garrabrant. Eugenia Van Noord of Blossom, Texas, is the reigning Miss Four States Fair & Rodeo Queen and a contestant in this year's Miss Rodeo Teen Competition. Her mom made her "patriotic shirt" by sewing the patches on by hand.
Miss Rodeo Texas Is Not Your Average Pageant
A peek inside The Lone Star state's annual cowgirls-only event
The following feature appears in the August 2017 issue of NYLON.
It's 87 degrees on a Monday evening at the Tejas Rodeo Arena, about 40 minutes outside of San Antonio in rural Texas Hill Country. Eight young women sit patiently in the bleachers, clad in brightly hued jeans, Stetson hats, and bedazzled Western button-downs, waiting to be paired with horses for the evening's equine competition, the inaugural event in this year's Miss Rodeo Texas pageant. The girls chat among themselves, not a cell phone in sight—policy prohibits them for the duration of the pageant to ensure that there will be no unfair Googling or meddling from coaches or parents.
"I actually don't mind it, really," admits 22-year-old competitor Christy Petry, who currently holds the Miss Rodeo title for ABC Pro Rodeo. "But I am really sad to be ending all my Snapchat Streaks." The other contestants nod in agreement before lapsing into a musical round of laughter, all perfectly set curls, glittering smiles, and long, fluttering eyelashes. "I actually gave my friend my password so ours wouldn't go away!" says 17-year-old Miciaya Milani, the reigning Miss Rodeo Comal County. "But not having a phone is kind of nice—that way when we come here, we're ready."
The Miss Rodeo Texas pageant, a state tradition for the better part of five decades, is a weeklong competition that takes place annually in San Antonio. The best of the Lone Star state's rodeo women compete for scholarships and the honor of becoming Texas's goodwill ambassador of rodeo—the official state sport and a wellspring of regional pride.
Miss Rodeo Texas Queens are chosen by a panel of six judges after they participate in a series of horsemanship competitions, extemporaneous speaking challenges, personality events, and fashion shows throughout the week. Having competed at various local and regional competitions to get to this point, the contestants at the Miss Rodeo Texas pageant are truly the crème de la crème of rodeo women.
"You're on a 1,000-pound animal and you have to tell it what to do, but you don't know how it knows to be told," explains 21-year-old Miss Rodeo Austin Tianti Carter of the critical horsemanship portion, the pageant's most weighty category, which assesses the competitors' skill and knowledge of the sport. "We're given a pattern to practice, and we're judged on our ability to perform those maneuvers on horses that we don't get to ride around beforehand." Learning how to master horses quickly is a huge part of the Miss Rodeo lifestyle. 2016's Miss Rodeo Texas, 25-year-old Lisa Lageschaar, has already ridden 70 different quarter horses since being crowned Miss Rodeo America 2017 in December—the eighth Texas woman to hold the title. "If you win a state title," adds 18-year-old Miss Four States Fair & Rodeo Eugenia Van Noord, "you're usually asked to go places where you're not able to bring your horse, so it's so important for us to nail this part."
On this muggy evening at the arena, the girls take their assigned horses through several rounds of figure-eights and an impressive series of loping, walking, and running around the rodeo ring. "I got on my first horse when I was six months old," 18-year-old Miss West Texas Fair & Rodeo, Brighlon Kilpatrick tells me rather matter-of-factly before she enters the arena. Days later, at the coronation ceremony, she is announced the category winner of her division.
"And turn!" the pageant photographer shouts, cuing a perfectly synchronized mass 180-degree about-face, voluminous hairdos bouncing in unison like some kind of Southern Pantene commercial. It's a highly choreographed motion that is oddly satisfying to watch. "I told you!" gushes the woman sitting next to me. "The turns are the best part!"
We're back at the Hilton San Antonio Airport hotel the following day for the Informal Style Show. Western fashion has become something of a widespread cultural fascination in recent years, with brands like Coach, Anna Sui, and Rodarte sending John Wayne-inspired button-downs and saloon-girl ruffles down the runway, and cowgirl-esque magazine editorials riffing on Western regional style. But this is undeniably the real deal. Here, contestants sport mohair jackets made by Dolores Unique Designs, a locally renowned company run by designer Dolores Vernor in Camp Wood, Texas. Vernor has made pieces for many U.S. dignitaries, including Hillary Clinton and former Texas senator Kay Bailey Hutchison. At this year's show, Lageschaar wears a jacket similar to the one Clinton once wore at a Texas rally for her husband, Bill. With its red, white, and blue color blocks emblazoned with a single star, it draws gasps of endearment from the crowd.
The following night at the Oak Hills Country Club, the girls walk the runway for the Style Show wearing leather jackets by Kippys—an elegant Western outfitter little-known by the mainstream but whose gorgeously tailored designs fetch, on average, over $3,000 retail. Fringed bomber jackets and studded leather dusters parade down the runway as contestants flaunt them with coquettish smiles and dainty twirls. To the tune of a soundtrack that knows no bounds—*NSYNC's "Bye Bye Bye" transitions to Marvin Gaye and Tammi Terrell's "Ain't No Mountain High Enough"—the Style Show is far removed from the austere and seemingly inaccessible runways of New York and Paris. Parents and grandmotherly types stand up to shout, "You GO girl!" whenever an outfit strikes their fancy. Tianti Carter's fitted cerulean trench draws several enthusiastic howls, as does a fringed red-leather clutch that dangles from a bangle on Kilpatrick's wrist. By the time Lageschaar struts out in a sleek black dress with a long fringed belt, the audience members are practically on their feet. "Yass, girl! YAAASSS!" hoots a woman holding two thumbs up. In this moment Lageschaar, who won the "appearance" category at Miss Rodeo America 2017, knows exactly what to do. With her Dolly Parton charm and winning smile, she struts down the runway and pops a cheeky little hip shake at the end. The applause is deafening.
Indeed, the room's energy is so emphatically supportive that you almost forget this is a competition, with a crown (or rather, Stetson) at stake. And while many might bristle at the notion of an "appearance" category at any pageant, this doesn't have the feel of a strictly superficial beauty contest. There is a sense of artistry and agency in this: The girls all style their own looks and do their own hair and makeup. The fashions are flattering but still utilitarian; with the exception of heels and the occasional dress, the outfits are made to be functional for the sport, and most importantly, fun.
Miss Rodeo Texas Queens travel extensively across the state to represent rodeo while "promoting Western heritage and agriculture across the country," as the mission statement goes; in addition to celebrating the sport and culture of rodeo, queens are tasked with keeping it alive and relevant at a time when reports suggest that fewer people are participating.
"Not as many people are riding because it's hard to maintain a horse—it takes a lot of time and effort and money," explains a former rodeo pageant participant when asked why fewer people seem to be competing at rodeos in 2017. "But once you get into it, you're hooked." And like many traditional pastimes in the modern era, rodeo is also surely taking a hit from more contemporary recreational activities du jour. So it's pageants like these, and their millennial competitors, that stand at the forefront of ensuring this time-honored sport never falls to the wayside.
And so, they tour. "You could be on the road 331 days of the year," says a parent of one contestant at this year's pageant. "It's a full-time job." Nikki Woodward, 24, the 2015 Miss Rodeo Texas, once said that the travel schedule of being a rodeo queen was like the George Strait song lyric "Amarillo by mornin'/ Up from San Antone..." (note that the two cities are almost eight hours away from each other by car). In a blog post for Miss Rodeo Texas, she offers a slice-of-life glimpse at her appearances at the Miss Rodeo Sandhills Pageant, Boot Barn's grand opening in the Fort Worth area, the third-annual Professional Bull Riders event in Goliad, the National Cowgirl Hall of Fame induction ceremony, the Fort Bend County Fair and Rodeo in Rosenberg, and, of course, the iconic PRCA rodeo—an event held by the Professional Rodeo Cowboys Association, which is the highest-paying American rodeo organization in the world. PRCA sanctions rodeos in 37 U.S. states, leading up to the Wrangler National Finals Rodeo, a world-class championship that Miss Rodeo America has the privilege of representing.
As a result, several of the pageant questions at Miss Rodeo Texas have to do with how to promote and preserve the rich heritage of rodeo. "Name three Pro Rodeo Hall of Famers being inducted for the class of 2017," 21-year-old Samantha Kauk, Miss Rodeo Sul Ross, is asked. "Who would you bring on as a sponsor for the PRCA?" a judge asks 23-year-old Madison Ward, Miss Rodeo Austin Princess. Many of the judges at these pageants are ranchers with impressive rodeo and horsemanship credentials in their own rights. So when Ward answers this question with "Nike," citing the brand's potential to make a more athletic cowboy boot that could be advantageous in barrel racing, several members of the audience yip in approval.
Throughout the week there are also questions about the importance of being a role model for young girls, the foundation upon which the Miss Rodeo Texas Pageant was built. Most rodeo families are lifers—they all know each other from past competitions, and the girls enjoy the camaraderie of the pageants. With the advent of the digital age, the pageant has also developed an online presence in the form of a Facebook page and Instagram account—"because that's where the kids are," says one administrator—which has simultaneously boosted outreach and allowed fans of the sport to stay in touch with pageant updates and each other.
"We are trying to make rodeo queening more mainstream. We want Miss Rodeo Texas to be the It Girl of Texas," explains Miss Rodeo Texas 2012, 28-year-old Rosanna Roberson via text (she apologizes for the delayed reply, she was feeding cows and service was bad). "To do this we are working on reaching out to young women on a personal level. Trying to connect with them and show them the life lessons and skills being a rodeo queen teaches young women. We are also using social media to reach out to a larger audience."
And engagement seems to be high: The Facebook page now has almost 20,000 followers in the state of Texas alone, and the queens are very active on it. Before announcing the winners of this year's competition, the account posted on its timeline: "The bravery it takes to compete in any pageant is tremendous…the pure character of all of the girls is clear. Thank you to all of the contestants this week for a refreshing reminder of the incredible young women promoting our industry."
At the end of the week, when Tianti Carter and Snow Lopez are announced as Miss Rodeo Texas Queen and Miss Rodeo Texas Teen, respectively, the excitement seems to be shared by the entire community. "This is such a great event for young women to get involved in their communities," Lageschaar says at one of the final luncheons. "Especially in today's society." She pauses, surveying the room with a proud smile, and then states: "Once a queen always a queen."
-
Special thanks to the Hilton San Antonio Airport Hotel for the lodging.