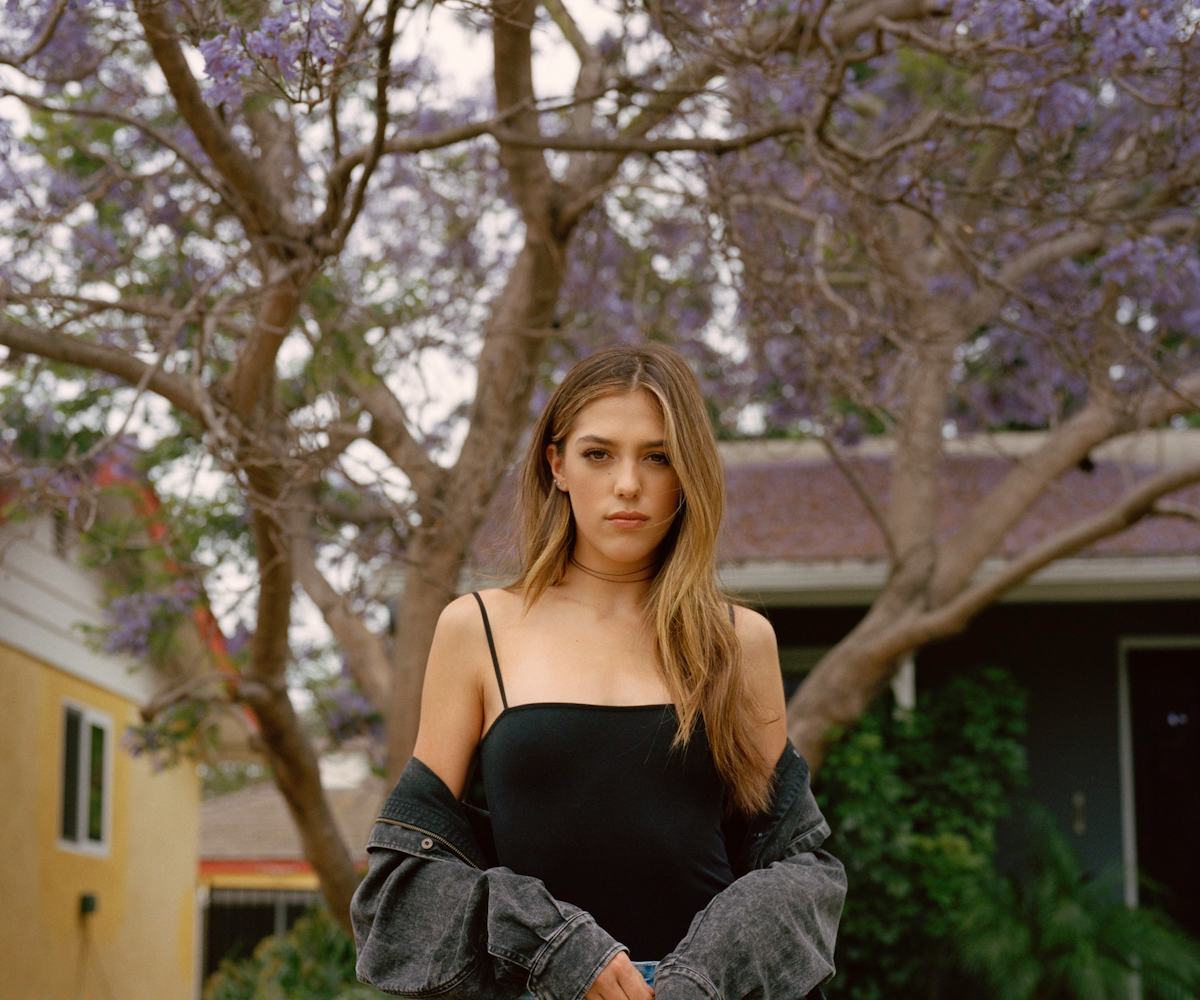 Photographed by Daria Kobayashi Ritch
Sistine Stallone On Modeling, Push-Ups, And, Of Course, Family
This teenage Hollywood progeny and fashion-scene newcomer is a total knockout
The following feature appears in the August 2017 issue of NYLON.
Growing up Stallone had its Rocky moments—just ask 19-year-old Sistine. "[My dad] was very adamant that [my sisters and I] always be stronger and faster than the boys in our class, so we'd wake up at 6 a.m. every day before school and throw a shot put and swing a golf club and throw a baseball and do push-ups. We'd do dead lifts with dumbbells, and were, like, the buffest fourth, fifth, and sixth graders ever," she says of being raised by movie legend Sylvester Stallone. "And then the time finally came when we were like, 'Dad, we need to do our makeup in the morning, we're not doing this anymore!'"
Workouts aside, Sistine says that her dad and mom, model Jennifer Flavin, made sure that she and her sisters, Sophia and Scarlet, had normal childhoods. "I think with a lot of kids in Hollywood, it can either go really right or really wrong," she reflects, posted up in a West Los Angeles photo studio before her NYLON shoot. "I mean, we would stay home and do puzzles rather than [go out]. We watch movies together; we have dinner together every night. People assume that because you have celebrity parents it's different, but it's really not in our case. We do everything the same."
Well, not quite everything. Stallone, who looks very much the quintessential California girl, signed to IMG Models when she was 17. Since then she's been the face of major campaigns for Express and Smashbox Cosmetics, was a Miss Golden Globe at this year's awards ceremony (where she admits to majorly fangirling over the Stranger Things kids), made her runway debut at Paris Fashion Week, and earlier this year accepted fashion's most coveted invite to the Met Gala. The very same week that she marched across the stage to the tune of "Pomp and Circumstance" for her high school commencement, she walked the runway for Chanel in Tokyo.
It all sounds like a lot, but she's cut out for it. Inspired by her mom's modeling days in the '90s, the teen has dreamed of this career for years. "I've always really loved fashion. Even when I was little I loved pairing really cute outfits and I'd always dress my sisters," she recalls. "I'd study my mom's old photos when she was a model and she would tell me her stories. I was like, 'Oh god, I want to do that so badly.'" Her mother helped shape her work ethic—"She told me, 'Always work your hardest and don't be late,'" Stallone notes—but she also did her own research. "We all had iPads at our school and I would watch tons of runway shows during class. I'd study the really good walks, like Joan Smalls's. Then I'd practice in my room and practice my face in the mirror," she confesses with a chuckle.
It seems all of that prep paid off. When the camera's trained on her, Stallone delivers a smoldering look that belies her slightly cherubic face. But when the shutter's not clicking she's cracking jokes and doing awkward dance moves, something she says is inherited: "We're just a bunch of goofballs in my family."
Potential suitors, however, didn't get that memo. "Boys were terrified to come over or ask us out," explains the soon-to-be USC freshman. "I'm dating someone now and [my dad's] actually such a sweetheart to him, he surprised everyone. Even though in the beginning he's like, 'I'll open the door with a bazooka in hand!'" she says and pauses with a smirk. "Which he might do if they're bad, but so far so good."
Hair: Gregory Russell at The Wall Group using Iles Formula. Makeup: Kelsey Deenihan, Mark. Celebrity Makeup Artist.