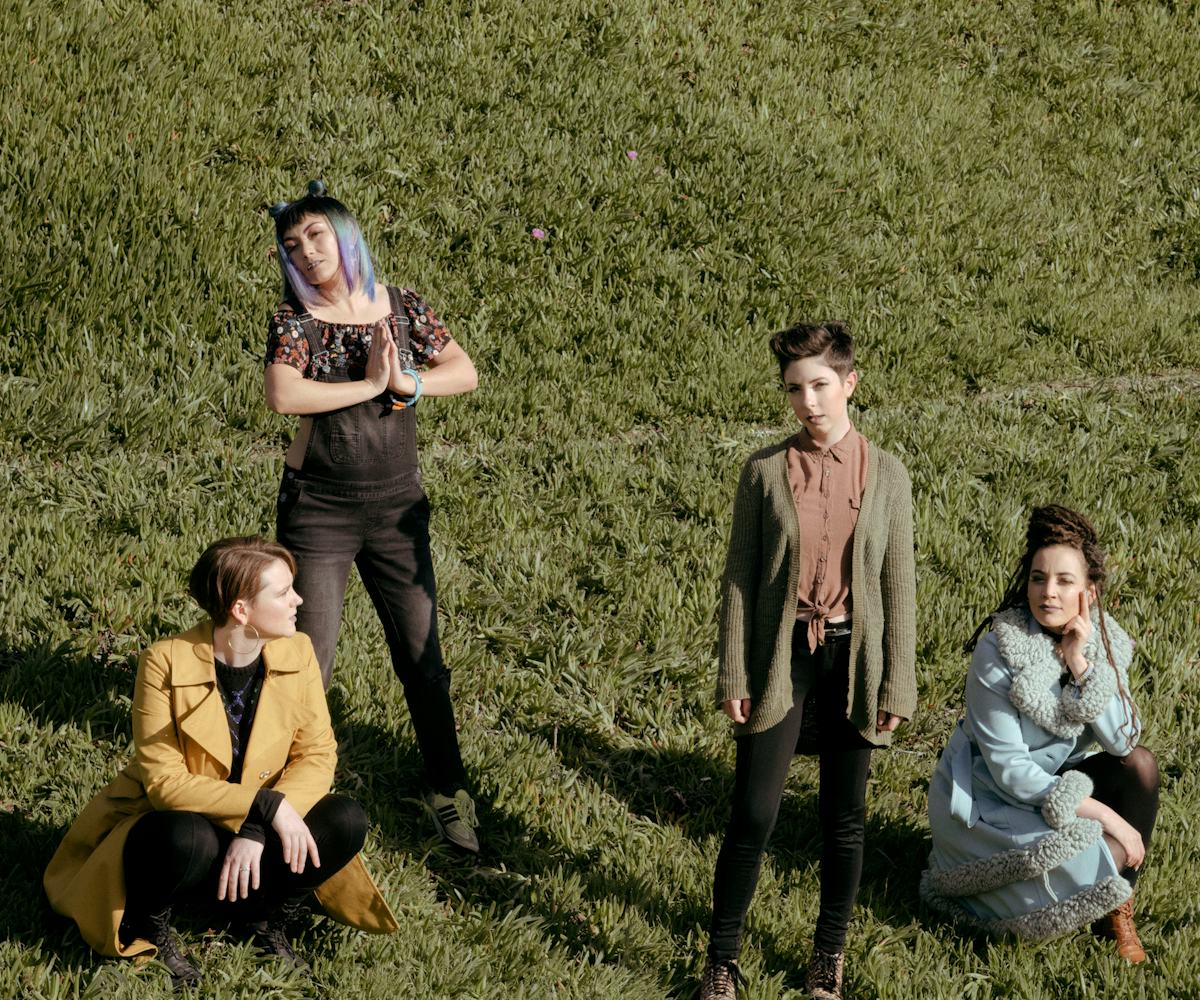 Photographed by Amy Harrity.
Pop Collective Snow Angel Are A Group You Need To Know
The following feature appears in the March 2017 issue of NYLON.
Remember the pure magic of plopping down into a fresh pile of snow and making a full-body waving motion in the cold, white fluff? Such is the essence of Snow Angel, the girl group that is infiltrating Oakland's indie music scene with its rainbow-imbued brand of funk-pop.
The collective is composed of four core members, frontwoman Gabby La La, drummer Emily Studden, bassist Melissa Leigh Hubbell, and Sarah Melekova on Omnichord, and all met just in the last two years, either while performing at local street festivals or through mutual friends. Their sound melds the cosmic psychedelia of The Flaming Lips circa Yoshimi Battles the Pink Robots with the wild feminine mysticism of CocoRosie. Their self-titled debut album, released last winter, is an inclusive, colorful explosion that evokes the bubbliness of a never-ending sleepover with best friends. 
"I feel super inspired by being in this collective," says Melekova. She and her bandmates are hunkered down at San Francisco's beachy enclave Fort Funston, outfitted in a mélange of prints, textures, and metallics. "We're all very different, and together we make a big sound, but individually we also have our different sounds. It's really inspiring to work with musicians who all have their own projects."
Apart from the members' stark individuality, much of Snow Angel's unique appeal comes from their use of instruments that aren't typically heard in indie pop, such as the Omnichord and electric sitar. La La's passion for the sitar, a staple in Hindustani music, began 12 years ago at a garage sale, where she stumbled upon George Harrison's album All Things Must Pass, his first post-Beatles release. The twangs of the guitar-like instrument used throughout the record immediately caught her curiosity.
"I spent years studying classical Indian music," La La explains of the instrument's influence on her. "But my heart's music is pop. I think that's why I'm able to channel the music I studied into something pop-palatable."
Snow Angel tend to look to La La to control the flow of conversation, but they all perk up in response to one particular question: If someone used your album as the soundtrack to a party, what would the theme of the celebration be? Envisioning the phantasmagoric event, the girls respond in an excited stream of consciousness:
"A smiley-face party!"
"Those trolls with the hair that sticks up."
"Everyone would line up and do the 'Care Bear Stare.'"
"In a cat café."
But aside from their vintage-cartoon aesthetic and sophisticated musicianship, Snow Angel are finding refreshing ways to attract fans and provide them with an immersive musical experience. Take the video for their song "Big Group Hug," for example: It's a Kickstarter-funded, 360-degree visual that was directed by Mark Kohr, who has worked with the likes of Green Day, Shakira, and No Doubt. Siciliana Trevino, a longtime friend of La La's and creator of the band's app for Samsung Gear VR, explains further, "It's exciting how music is the perfect marriage of all of these components, especially with the sound that Snow Angel has. They really play off of each other. It's all about having fun and being able to express this magic."
With every futuristic visual, ear worm of a hook, and strum of the sitar, Snow Angel seek to portray one unified message: to make listeners believe in their infinite possibilities of self. "We're everything from college student to mom, to independent woman, to music teacher," La La says. "There are so many different roles that women play in life. I hope that we lead by example, and show people that you should still follow your dreams and have fun. Don't spend your whole life taking care of other people and falling into that generic role of being a woman. Do your thing."
From left: Melissa Leigh Hubbell, Gabby La La, Emily Studden, and Sarah Melekova. Hair: Dana Nelson at Green Twig Salon, San Francisco. Makeup: Tina Inoue at Green Twig Salon, San Francisco.