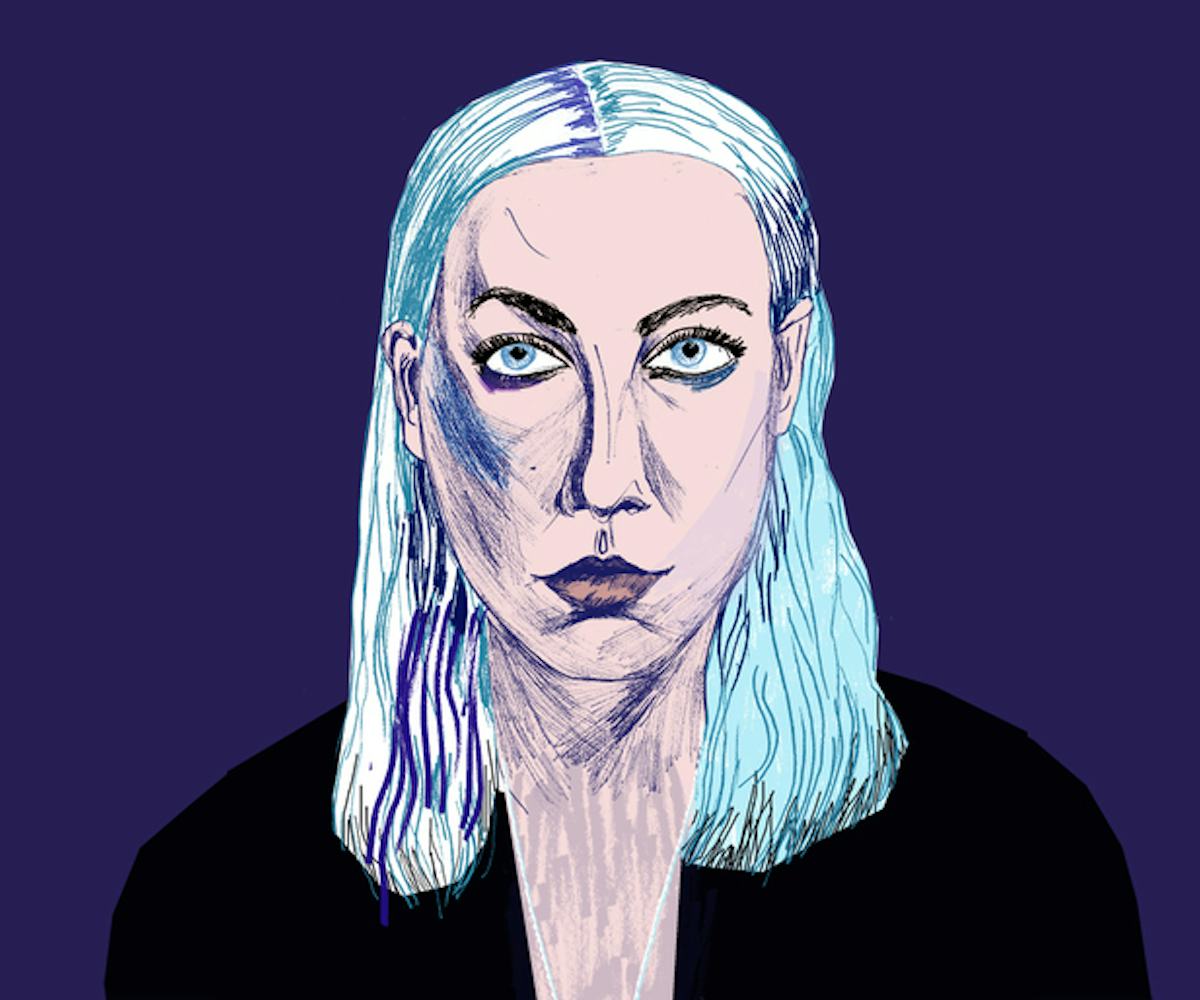 Illustrated by Liz Riccardi
Torres Made Us A Playlist Of All The Songs That Inspired Her New EP
'Three Futures' comes out tomorrow
The following feature appears in the September 2017 issue of NYLON.
"I wanted to make an industrial trance pop record," says Mackenzie Scott, better known as the singer-songwriter Torres. She's perched in Cafe Mogador in New York City's East Village, breaking down the stylistic intentions behind her new album, Three Futures, which used Kate Bush's Hounds of Love, Fleetwood Mac's Tango in the Night, and Portishead's Third as reference points. 
The project is a sonic evolution from the 26-year-old's previous two offerings: 2013's self-titled debut intertwined whispered confessional vocals and ethereal indie-rock atmospherics, while 2015's Sprinter moved in a starker direction.  To bring Three Futures' electronic heartbeat to life, Scott—who was raised in Macon, Georgia, and lived in Nashville before decamping to Brooklyn, New York—ventured to Stockport in northern England to record at Eve Studios. 
"That area is the birthplace of the industrial movement and it served to enhance the dark, brittle nature of the songs we laid down," she says, adding that the electro sounds of Can and Kraftwerk plus the pop of Abba were also in rotation while writing the album. "I ended up with this strange overlap of disco and stark industrial music."  True to this blend, Three Futures' abrasive sonic shell hosts tender lyrical sentiments from Scott as she seeks out the joy and ecstasy that come with self-acceptance—a mood she channeled in a playlist for NYLON that also acts as a companion piece to the new album.
"We Carry On" - Portishead
"This song embodies the type of ecstasy that, thematically, I chose for my own record. It's kind of a relentless joy, but it's maniacal—despite Beth Gibbons's obvious distress!" 
"A Deal With Chaos" - Jóhann Jóhannsson With Hildur Guðnadóttir 
"The moment I heard the first note on the cello, I nearly wept. It reminds me of a ship that's sinking, but it's stunning in its hope. It's like a resigned dying light, which is fascinating to me."
"Breathing" - Kate Bush
"This song is just masterful. The thing that puts it over the edge is the end, when that final chorus drops and she's nearly screaming, 'God, please leave us something to breathe.' When I hear that, it's hard not to throw praise hands in the air." 
"Seven Wonders" - Fleetwood Mac
"Besides the obvious danceability, 'Seven Wonders' is really hopeful. I love that it's about hoping for the future, and, of course, Stevie's voice is one of my top three voices of all time. I believe everything that she sings!" 
"The Big Sky (Special Single Mix)" - Kate Bush
"I love how matter-of-fact this is. It's transcendent; it's like she's actualized enough to see that whoever it is she's singing to, whatever little things they're focused on, they don't matter. She literally says, 'What was the question?/ I was looking at the big sky.' That song gives me life."
"Proof of Life" - Marnie Stern
"This is about making a choice, and Marnie chooses life. She sings, 'The work is never done/ And that is all I have.' It's an act of choice to keep going; she knows there's more to be done even though she says, 'All the gods, they've stopped talking to me.' It's such a fascinating message." 
"Graceless" - The National
"This song is so [frontman] Matthew Berninger: 'God loves everybody, don't remind me.' It's almost like he's being resilient after a panic attack—which is relatable!"
"Un-Thinkable" - Alicia Keys
"I have a hard time with a lot of love songs because I don't believe what they're singing—I'm unfortunately a little jaded. It's a bit dark sonically, but Alicia ends up saying she has hope that potentially something with this person could be beautiful. It's really refreshing and it makes me want to dance."