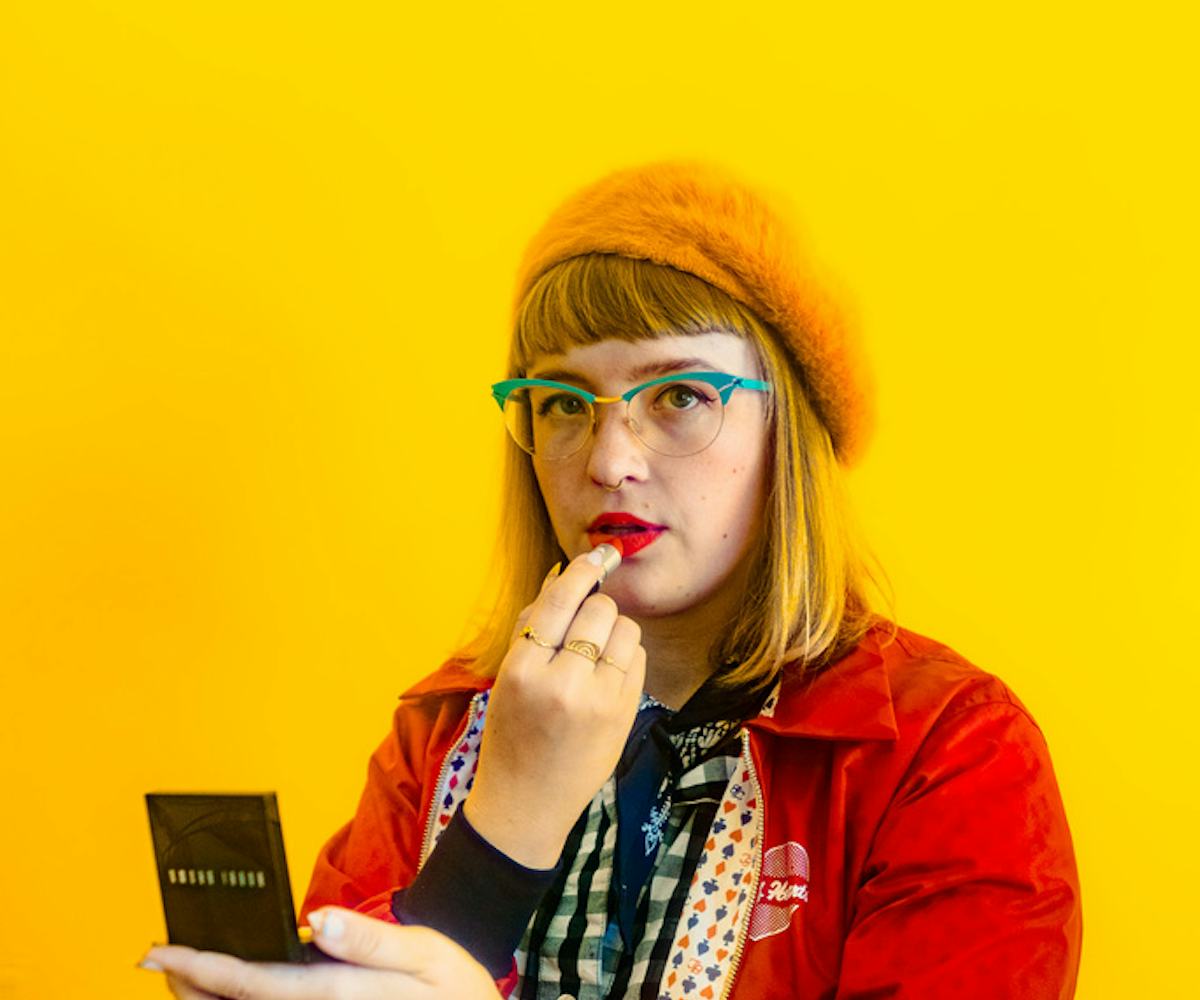 Photographed by Hobbes Ginsberg.
Illustrator Tuesday Bassen Reveals How She Protects Her Art Against Plagiarism
The following feature appears in the October 2017 issue of NYLON.
Catching up with illustrator Tuesday Bassen on the magic of a cat eye, running her eponymous line of clothing, pins, and home goods, and giving the (perfectly manicured) middle finger to corporate art thieves. 
Tell us how you got your start. 
I got my BFA at the Minneapolis College of Art and Design, and moved to New York shortly after with no plans except to pursue a freelance career. I struggled mentally, emotionally, and financially for years, and ultimately moved to Los Angeles with no plans except to enjoy my life. I love L.A., and thought that even if my career as a designer didn't work out, I could become a florist or enjoy the sunshine while doing literally whatever. 
How did you develop your style of illustrating? 
I've been honing my own personal style since high school, when I was especially influenced by pulp films, comic artists, and animators like Julie Doucet, Dame Darcy, and Sally Cruikshank. I often refer to my work as "Easy Rider Slumber Party," which is basically my own fictional utopia of '70s badassery rewritten by women, where intersectional feminism is embraced by biker culture.
I was raised by teenage punk kids who had to adopt practicality as a means of survival. My personal taste developed into a marriage of hand-me-down dungarees and high-camp aesthetics. I grew up with both sensibilities. Eccentricity is often a luxury, and I wasn't able to have beauty regimes like long pointy nails until I found some success in my work and could spend money on non-necessities. When I wasn't able to dress how I wanted, I found solace in drawing what I wished I had, so my work and personal style are a chicken-egg scenario.
Why is it important to you to show diversity in your campaigns, and to produce size-inclusive garments?I don't need to make clothes if I'm offering the same five sizes everyone else does or doing the same thin, white campaigns that are the norm. I try to approach fashion with diversity and empowerment in mind. How does this make the wearer feel? Does this suit different body types? Can my customer reasonably afford this? Did I do my due diligence in making sure I'm creating something ethically? I'm not reinventing the wheel, but I'm trying to make it more inclusive. We ask our friends to model with diversity and body positivity in mind, and we make it a priority to hire women, POC, and LGBTQ professionals to work with us on set. I make mistakes all the time, but see each season as a learning experience to improve myself and try to become the best boss, designer, and creative partner I can be. 
So what's the signature Tuesday Bassen eyeliner? Stila Stay All Day Waterproof Liquid Eye Liner! I used to use a paintbrush and black gel eyeliner, but the Stila pen wins for ease of use, shape of the tip, and staying power. Sometimes I try to mix it up and go for a more natural look, but I just can't quit the cat eye. 
Tell us about your amazing nails. Man, I love my nails so much. I have a ritual for nail appointments. My friend Fariha (@nailjob on Instagram) does them. Every other Thursday, I bring banana boba from our favorite spot, and we gossip about dumb shit and debate what we're going to do on my nails. I always go super long and literally as sharp as possible—there's a part of me that loves having tiny weapons I could poke out an eye with. They make me feel like a badass bitch and very capable. 
Who are some of your beauty icons and why? We just launched my fall line, so all I can think about are the fashion icons we referenced, like Cherie Currie, Queen Latifah, and Jodie Foster. I love Cherie Currie's feathered hair and campy vibe, Queen Latifah's '90s unisex look, and Jodie Foster's understated sleek look. 
Let's talk about your legal dispute with Zara last year. What is the biggest lesson you learned from it?Being ripped off by big corporations sucks. It's soul sucking, even if you have all of the legal protections like copyrights and trademarks that you could possibly file. Even if you're legally owed money, you still have to spend hours and hours advocating for yourself and speaking with your legal counsel. It's hard, but it's worth it, even just to throw a stick in their abusive spokes. If you've been stolen from by a major corporation, I hope you bring them hell and shame online. If you don't speak up, it will continue to be common practice to steal the intellectual property of artists. Break the cycle. Start screaming. File your copyrights and trademarks before it even happens so they owe you more money.