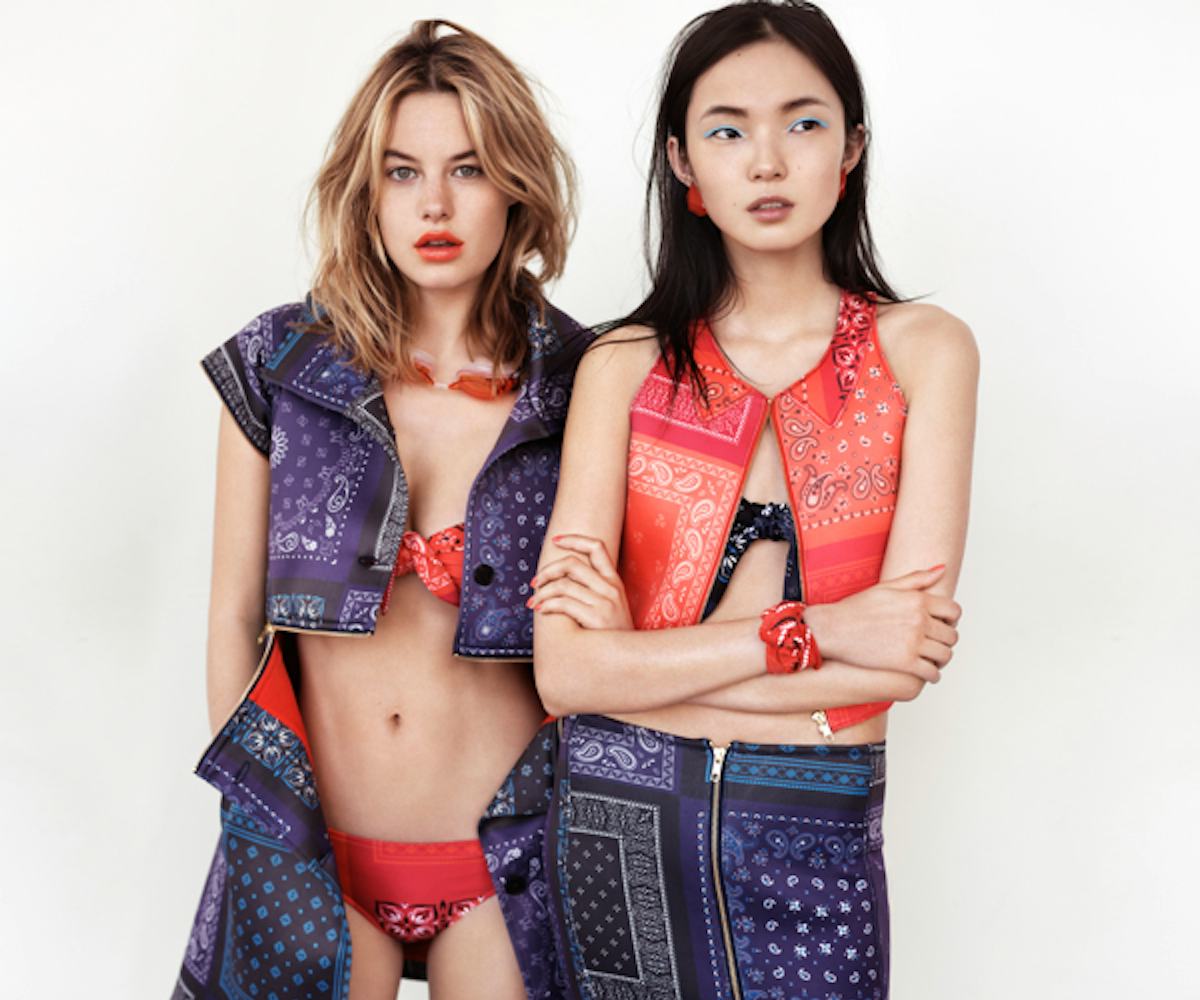 photo by josh olins via opening ceremony
#nylonfw: opening ceremony predictions
spike jonze + jonah hill = crazy awesome.
Nowadays, fashion week is filled with back-to-back presentations and shows. And while there are ways for brands to stand out among the rest via set designs, concepts, and interactive presentations, it seems to all blur together into one mundane, albeit gorgeous, glob of fabric and trend reports.
So Opening Ceremony founders Carol Lim and Humberto Leon decided to switch things up and recruited Jonah Hill and repeat collaborator Spike Jonze to create and stage a one-act play using both models and actors. As one would assume, details have been kept under wraps—but that's only left room for our imaginations to go wild. So, digital editors Liza Darwin and Yasmeen Gharnit decided to flesh out some one-act predictions.
Open curtain....
Liza Darwin, Contributing Editor:
Dream Cast: In my dream world, it would be a mashup of Spike Jonze favorites and Opening Ceremony muses. Think Elle Fanning, Kate Bosworth, Kirsten Dunst...alongside Jonze's ladies like Rooney Mara. 
Summary: With Spike Jonze and Jonah Hill, you never really know. But I'm betting it's a dramedy revolving around a group of 20-something friends trying to make it in New York. Yup, existential crises and all. A little bit Girls, a little bit Her, a little bit "Fuck I'm in my twenties..." you get the idea. Except this time there's got to be a weird twist-- like everyone is a robot or is stranded on a desert island, because you know Jonze and Hill aren't going to make a carbon copy of what's out there already.
Set Design/Setting: Brooklyn? Silverlake? On the moon? Regardless, fingers crossed there's an edible set piece like last time. 
Soundtrack: All indie, all the time. I could easily see Stars, Jack+Eliza, Caribou, and Verite making cameos. Fingers crossed for a live performance!
Yasmeen Gharnit, Digital Editorial Assistant:
Dream Cast: On the actor front, we'd have B.J. Novak, Lizzy Caplan, Jesse Eisenberg & Aubrey Plaza. The models themselves would have to have an odd sense of humor: think Ali Michael and Tilda Lindstam.
Summary: The whole futuristic-inspired fashion thing may be overdone, but Spike Jonze and Jonah Hill would be able to put their own distinct twist on the matter. When Venice finally goes underwater, two couples (B.J. Novak/Lizzy Caplan + Jesse Eisenberg/Aubrey Plaza) set out to find the lost city of Atlantis. When they finally get there, things seem okay at first, but then things go horribly amiss as they deal with the same Millennial struggles they did in L.A., along with whatever temptations Atlantis brings. (Hint: There are many.)
Set Design/Setting: Atlantis. Aqua projections would encapsulate the theatre and would be a few pools set up at the check-in entrance, with mermaid-esque models swimming about.
Soundtrack: There would be a pretty vast range, so I would say anything from Blood Orange to Alt-J to Karen O to SOPHIE, (hopefully) with some throwbacks. And, of course, remixed whale mating sounds.