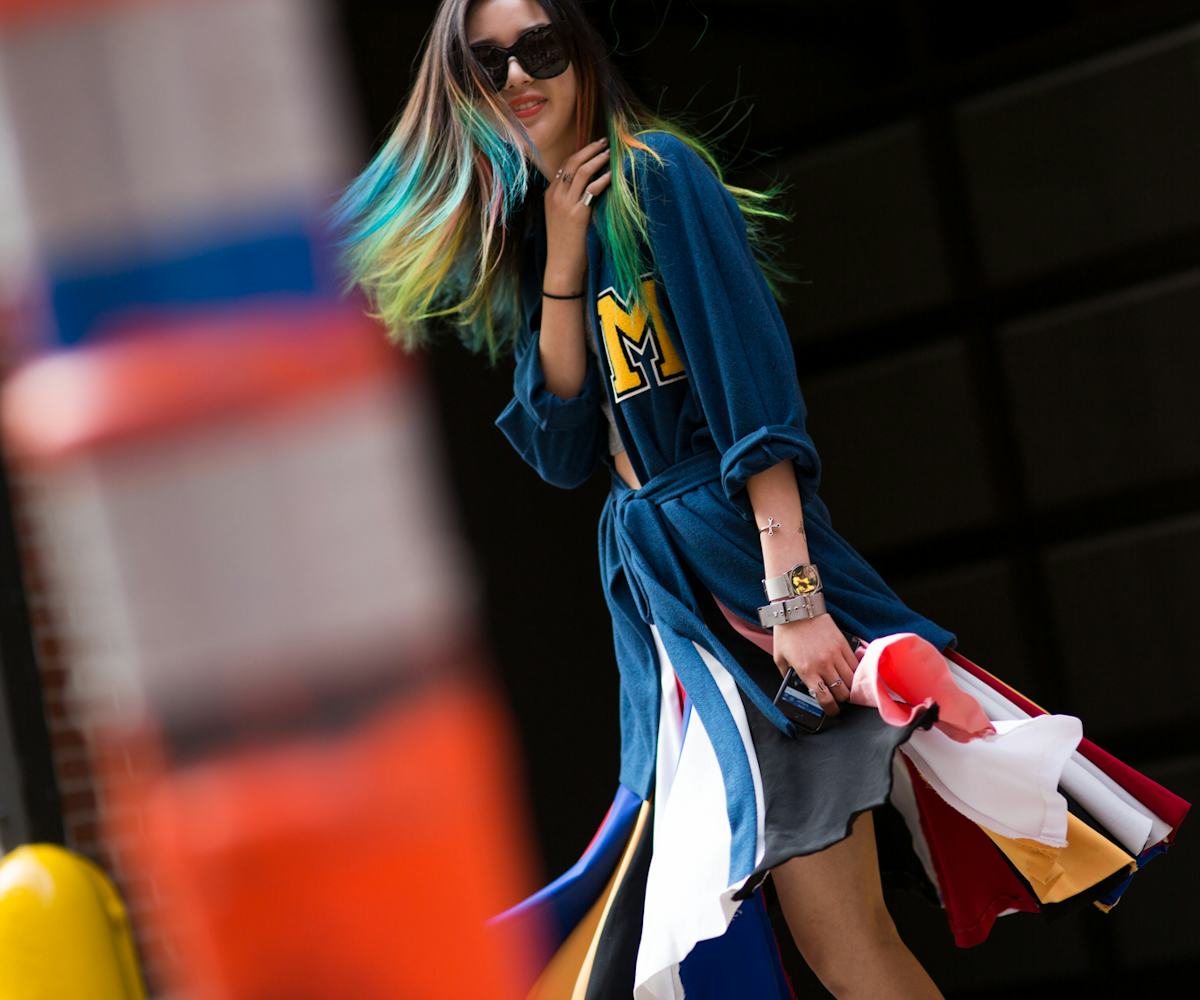 all photos by michael dumler of on abbot kinney
#nylonfw spring 2015 day 2: best street style
It may just be the beginning of New York Fashion Week, hence the beginning of international "Fashion Month," but we've already seen some major looks from some of our favorite designers.
In between running to Peter Som, Charlotte Ronson, Tanya Taylor, and Suno—just to name a few—we saw some awesome street style looks on #NYLONFW Day 2. Once again, we had our photographer, Michael Dumler of On Abbot Kinney, to take some pics of the best dressed off-duty models, bloggers, and fashion lovers. Check out the gallery to see who made our "Best Dressed" list. And be sure to check back every day for more awesome snaps! 
PS -- If you're in need of a refresher, here's our list of the best street style looks from Day 1.
Soo Joo Park
photo by michael dumler of on abbot kinney
Preetma Singh
photo by michael dumler of on abbot kinney
Binx Walton
photo by michael dumler of on abbot kinney
Celine Aagaard & Stella Vaage
photo by michael dumler of on abbot kinney
photo by michael dumler of on abbot kinney
The Beckerman Sisters
photo by michael dumler of on abbot kinney
Courtney Trop
photo by michael dumler of on abbot kinney
Eleonora Carisi & Valentina Siragusa
photo by michael dumler of on abbot kinney
Erika Boldrin
photo by michael dumler of on abbot kinney
Hanne Gaby Odiele
photo by michael dumler of on abbot kinney
Helena Bordon
photo by michael dumler of on abbot kinney
Irene Kim
photo by michael dumler of on abbot kinney
Jacquelyn Jablonski
photo by michael dumler of on abbot kinney
Jenny Albright
photo by michael dumler of on abbot kinney
Josephine Skriver
photo by michael dumler of on abbot kinney
Josephine Skriver
photo by michael dumler of on abbot kinney
Karlie Kloss
photo by michael dumler of on abbot kinney
Karly McNeil
photo by michael dumler of on abbot kinney
Kelly Framel
photo by michael dumler of on abbot kinney
Kristina Bazaan
photo by michael dumler of on abbot kinney
Larissa Hofmann
photo by michael dumler of on abbot kinney
Linda Tol
photo by michael dumler of on abbot kinney
Linda Tol
photo by michael dumler of on abbot kinney
Magdalena Jasek
photo by michael dumler of on abbot kinney
Preetma Singh
photo by michael dumler of on abbot kinney
Shea Marie
photo by michael dumler of on abbot kinney
Susie Lau
photo by michael dumler of on abbot kinney
Tilda Lindstam
photo by michael dumler of on abbot kinney
Zanita Whittington
photo by michael dumler of on abbot kinney