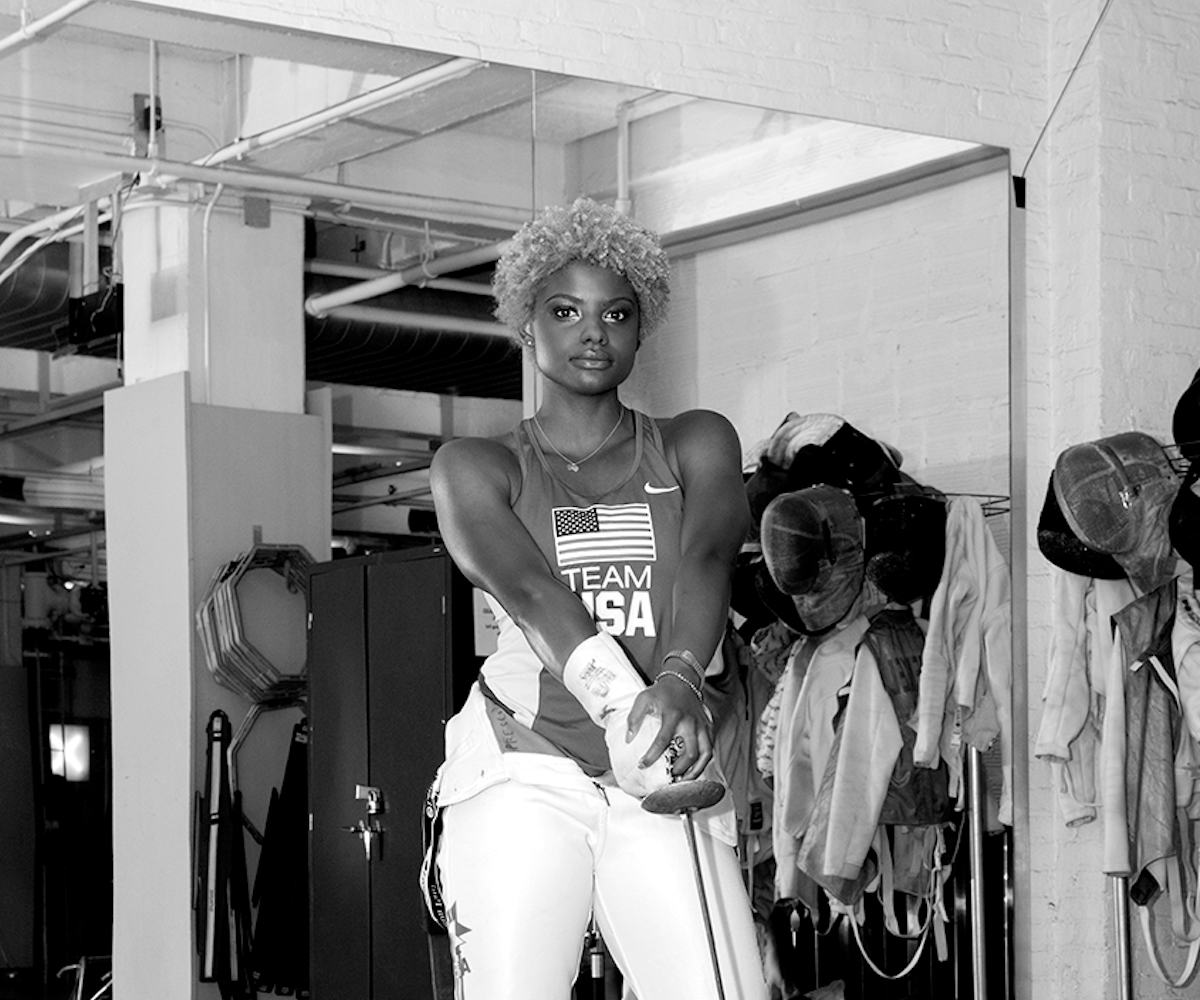 Photographed by Jen Dessinger
Nzingha Prescod Is Changing The Face Of Olympic Fencing
and getting a second stab at the games
As a Brooklyn girl raised alongside her older sister in a single-parent home, it would seem no small wonder that Nzingha Prescod found fencing, a sport often entrenched in the upper class. But Prescod proved a natural foilist at just nine years old when her mother enrolled her in the Peter Westbrook Foundation—an organization founded by the first African-American Olympic fencing medalist—which sponsors lessons for minorities. From there, Prescod's goal became clear: PWF had a reputation for breeding Olympians, and she was going to become one.
"I was always pretty good at this sport," she says, demonstrating the characteristic humility I've come to know well since Prescod and I met as teens at New York City's Stuyvesant High School. Her many accolades include winning the Cadet World Championships in 2008 and 2009, taking gold at the Junior World Championships twice, and representing the United States at the London Olympic Games before turning 20—pretty good, indeed. She placed only 22nd, however, a disappointment she attributes to a lack of confidence. "[Westbrook] said to me before I went to London, 'You have to believe that on any given day, you can beat anyone in the world. Do you believe that?' I was like, 'Uhh…,'" she recalls of her reluctance at the time. Now, the memory only further motivates her to return to the Olympics in quest of a medal. 
This, of course, won't come easily. First, stakes are high for next year's Games in Rio de Janeiro: Of the 12 fencing events, two are rotated out at each Olympics, and the women's foil team competition is set to be cut. This means that female foilists are all gunning for the women's individual event, so Prescod must maintain her ranking as number nine in the world just to qualify (she's number two in the U.S.). There has also been Prescod's battle with early arthritis and a labrum tear in her hip that was surgically corrected late last year. She's since adapted her technique to center on timing short, precise attacks—a taxing process that has required additional training outside of practice. "I've been working with a psychotherapist," says Prescod. "We focus on the process of fencing and not the results, so before a competition I'll make peanut-butter balls or paint my nails with the American flag so that I can get excited. Then, the day of, I'm in the zone."
But one trait has been particularly fundamental to Prescod's success: She detests losing. "In elementary school, I hated when someone else was student of the month," she says, laughing. "I was like, 'No, no. I'm student of the month.'" This competitive nature may also explain why she boasts a degree from the prestigious Columbia University, where she was a political science major with a concentration in race and ethnicity, and now aspires to lobby for government funding of sports programs. But above all, Prescod wants to be the role model that tennis mastermind Serena Williams has been to her: "She's such a champion because she looks fear in the face like, 'I'm coming for you.' I really admire her for that," says Prescod. "It's empowering for young black girls to see me be successful at a sport that they're underrepresented in. So my two goals are to win a medal at the Olympics and to inspire young black girls to be fearless." 
The former ambition is now closer than ever. Since London, she's become the first American woman foilist to win a Grand Prix and the first African-American female to medal at a World Championship, beating the 2012 Olympic champion to win bronze, the biggest prize of her life. She's six months and five competitions away from knowing for sure if she'll return to the Olympics, and her attitude is much improved since the last time she was in this position. "Now, I have a strategy," she says. "I know myself, so I can go out there and be myself to the best of my ability." Prescod has found her self-assurance. She now can see what's been true all along: On any given day, she can beat anyone in the world. 
illustrations by Kelly Shami