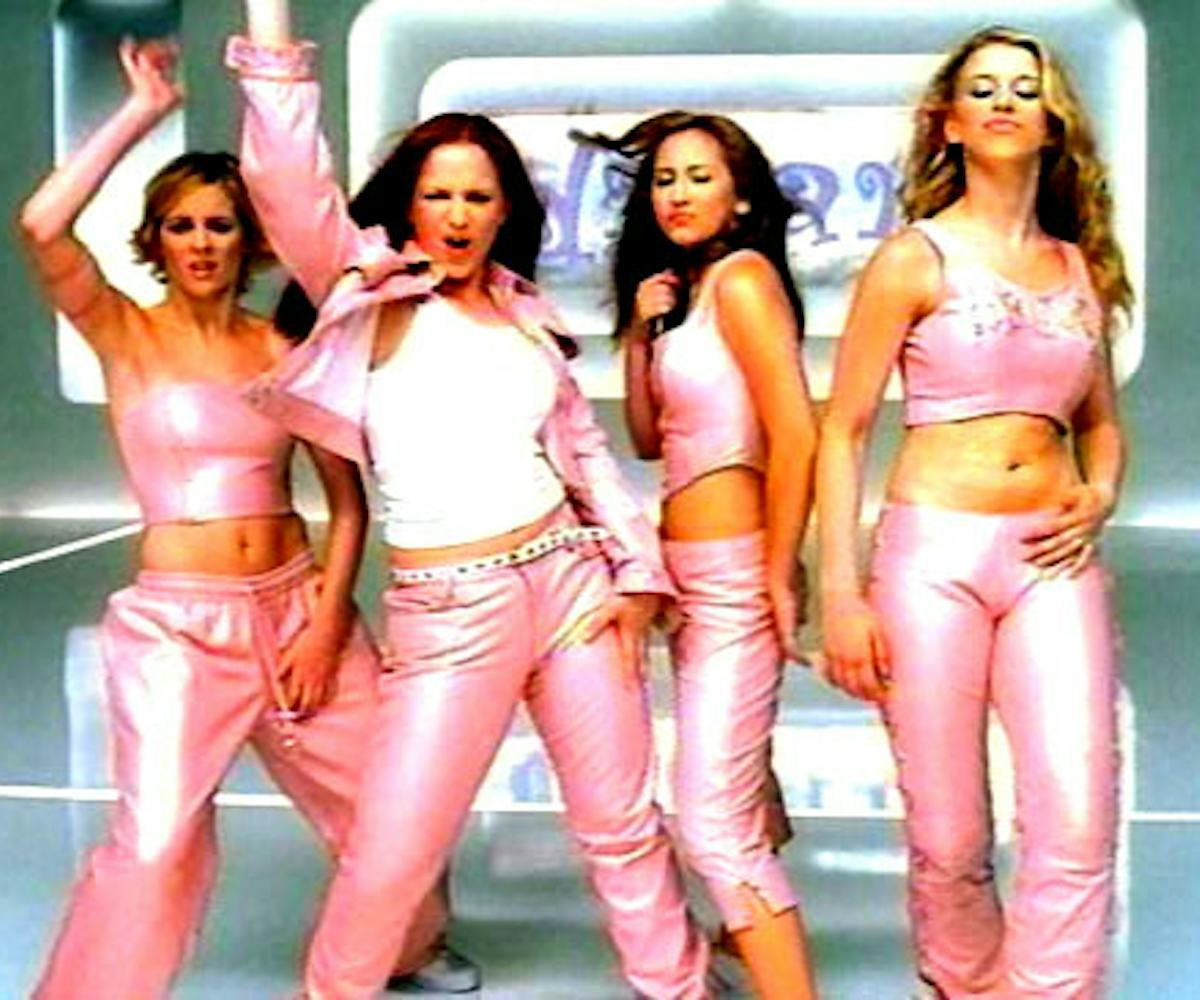 Photo via Big Beat Records
One-Hit Wonders From The 2000s: Where Are They Now?
does stacy's mom still have it going on?
In an age where impromptu-choreographed dance routines thrived and movie soundtracks were, uh, rad, the music industry became saturated with earworm-y singles from artists that, for whatever reason, never took off. Disney, too, was churning out potential pop stars left and right. They came at a time when the album and the stores they were sold in (Sam Goody and F.Y.E.) were on the out and the single .mp3 was on the rise. Perhaps if the industry weren't holding out hope that consumers would still buy full-blown CDs, their star would have burned just a little longer. But 'lo, that was not the case, and nostalgia will hold them forever. Ahead, find out where some of the biggest names are now. We all might not remember the artists, but we definitely remember the songs that gave them their 15 minutes.
Samantha Mumba, "Gotta Tell You"In 2000, Irish singer Samantha Mumba emerged on the sonic scene and took over mainstream radio stations with her debut single, "Gotta Tell You." It was a huge hit, especially in the U.K., and her follow-up song, "Body II Body," which, with David Bowie's approval, sampled "Ashes to Ashes," but Mumba never really broke past the one-hit mark and instead turned to songwriting (she contributed to Play's "Us Against The World," which was in Holiday in the Sun and Lizzie McGuire) and acting. This year, she had her first child with her husband, former police officer Torray Scales.
Blu Cantrell, "Hit 'Em Up Style (Oops!)""Hit 'Em Up Style" is easily one of the most iconic breakup songs of all time, and yet, for some reason, despite her incredible voice, she never quite made it. She did come close after her feature on Sean Paul's "Breathe" two years later, though. She dated Jay Z, then broke up with him, and in 2012, she wrote a song about their relationship and the way he treated her. People speculated that Jay and Beyoncé named their child, Blue Ivy, after her. 
Sadly, last year, she was taken into police custody for a psychological evaluation after she reportedly ran around Santa Monica at 2 a.m. screaming that someone had poisoned her. Not much has been reported since.
Fountains of Wayne, "Stacy's Mom"During the summer of 2003, there wasn't a single person in suburban America who hadn't heard "Stacy's Mom." The band, which has been together for 20 or so years, is still very much a thing, despite the fact that they haven't released music since 2011's Sky Full of Holes.
Stacie Orrico, "(There's Gotta Be) More to Life"In the aftermath of "(There's Gotta Be) More to Life," Orrico lived in Africa for a bit, studied women's literature and acting at school in New York, and as she announced in a video in 2013, "Probably, like most of you, I have been living my 20s, wandering and finding myself, and wandering again. And spending days feeling incredibly lost and confused about who I want to be and where I want to go, and having moments of beautiful enlightenment." In that same video, she announced that she had an album in the works, but it doesn't appear to have been released.
Kevin Lyttle, "Turn Me On"There was a moment in the mid-2000s when whining and Soca-infused pop was all the rage. You had Nina Sky, M.V.P., and Kevin Lyttle. "Turn Me On" was everywhere in 2004 and reached number four on the Billboard Hot 100. Then, he disappeared and was named the Cultural Ambassador of St. Vincent and Grenadines. He founded the non-profit Janice Little Foundation to fight against heart disease and, according to his site, has raised $500K in medical supplies for the nation. He still makes music, too. His most recent song "Bum Bum" is with Mya and available now.
James Blunt, "You're Beautiful"Where oh where has VH1's You Oughta Know artist James Blunt been? After his 2004 song, "You're Beautiful," and its chilly, kind-of-poetic video, he faded off the charts. Now, he owns a share in a restaurant called La Vache, has a chairlift named after him in Verbier, and hosts Australia's X Factor. He's also in on his joke and frequently trolls his online trolls. Follow him on Twitter for a lesson or two in how to respond to your haters.
Kat DeLuna, "Whine Up"You know you're in the mid-2000's when you begin your music video about grinding on people singing an "opera thing." It's a thing we should question but won't, because it was the mid-2000's and that's enough of an excuse. What isn't excusable is the fact that Kat DeLuna's career didn't take off because of this song. She clearly has pipes, but her follow-up songs just never stuck like "Whine Up" did. She's still making music, though, and touring. Her latest song is an ode to the bum called "Bum Bum," and is probably one of the nakedest videos of 2015.
Yael Naïm, "New Soul"There once was a time you could not enter a Barnes & Nobel and not hear Yael Naïm's album. You probably thought, Gee, this sounds familiar. Why do I know this? and one of the employees would say it was the same artist who did "New Soul." Anyhow, Naïm went on to be featured in Apple's first commercial for its Macbook Air. She also was a voice on The Simpsons. Other than that, she just put out a new album called Older and will be touring Europe through the end of the year.
Ester Dean, "Drop It Low"You know Ester Dean's music, you just didn't know she made it. She's one of pop music's biggest producers and has made hits for Nicki Minaj ("Super Bass"), Rihanna ("Rude Boy," "What's My Name?," "S&M"), Katy Perry ("Firework"), and Beyoncé ("Countdown"). So technically, she's not a one-hit wonder per se, but her own music never took off. (Funny how that is, eh?) "Drop It Low" is a genuine banger, but nothing ever came from it. Luckily, she's still working behind the scenes and is acting. You can see her in Pitch Perfect 1 and 2.
Metro Station, "Shake It"Hey, isn't this the band that Miley Cyrus' brother is in? It is! What happened to them? Well, Trace (Miley's brother) left the band to pursue a solo career, but then came back in 2014. It's still making music and touring. Rock on, boys.
MIMS, "This Is Why I'm Hot"Shawn Mims—a.k.a. MIMS—shot to the top of the Billboard Hot 100 chart in 2007. "This Is Why I'm Hot" also charted across the pond, in the U.K. Unfortunately, he and his label feuded after he claimed it failed to pay him money for Music Is My Savior (MIMS, get it?). He went on to release a few albums, but none of them were as, uh, hot.
D4L, "Laffy Taffy"After encouraging girls to shake their "Laffy Taffys," the Atlanta hip-hop group went on to record a few more songs, their last one being 2006's "Betcha Can't Do It Like Me." Since then, there hasn't been much news, aside from the fact that member Fabo got a high-school diploma and attended college in 2009.
Dream, "He Loves U Not"Before Robyn's "Call Your Girlfriend," and before you could slide into someone's DMs, there was Dream's "He Loves U Not." Although they opened for NSYNC on their No Strings Attached tour, they never quite created another hit, and drifted into oblivion. They did, however, reunite to sing an a-capella version of "He Loves U Not" earlier this year.
Daniel Powter, "Bad Day"Apologies in advance for sound tracking the rest of your day with this song. Once an earworm, always an earworm, right? Anyway, Powter's still doing his thing and turning things around through songs. It's less coffee house and more OneRepublic, but still, solid jams.
Tweet, "Oops (Oh My)"Tell you what I did last night. I listened to Tweet's "Oops (Oh My)" and wished 2015 would spawn something as good. And you know what? Ask and you shall receive. Tweet signed a record deal with Missy Elliott and Timbaland and put out a new, slow R&B jam in September. Oh me, oh my, Tweet's career is about to fly.
Eamon, "F**k It"Did you know that Eamon's number-one hit, "F**k It," was so successful, he made an Italian version? It's true. His follow-up single, "I Love Them Ho's (Ho-Wop)," didn't mimic the success of his first. He left Jive Records in 2008 and has been putting out a few singles here and there. According to his Twitter, he has a new album coming out, but in the meantime is flirting with Instagram apps.
DJ Sammy, "Heaven"Before EDM was EDM, there was straight-up techno dance music. Thanks to Sweden, Spain, and Ibiza, club culture was becoming more mainstream and the boom-dittys got radio play. DJ Sammy's "Heaven" was a mainstay. It's a cover of Bryan Adams' song that got the people moving, but once it peaked, that was kind of it. DJ Sammy went on to work with Enrique Iglesias, but that's been the biggest thing since. He's still spinning the turntables, though.