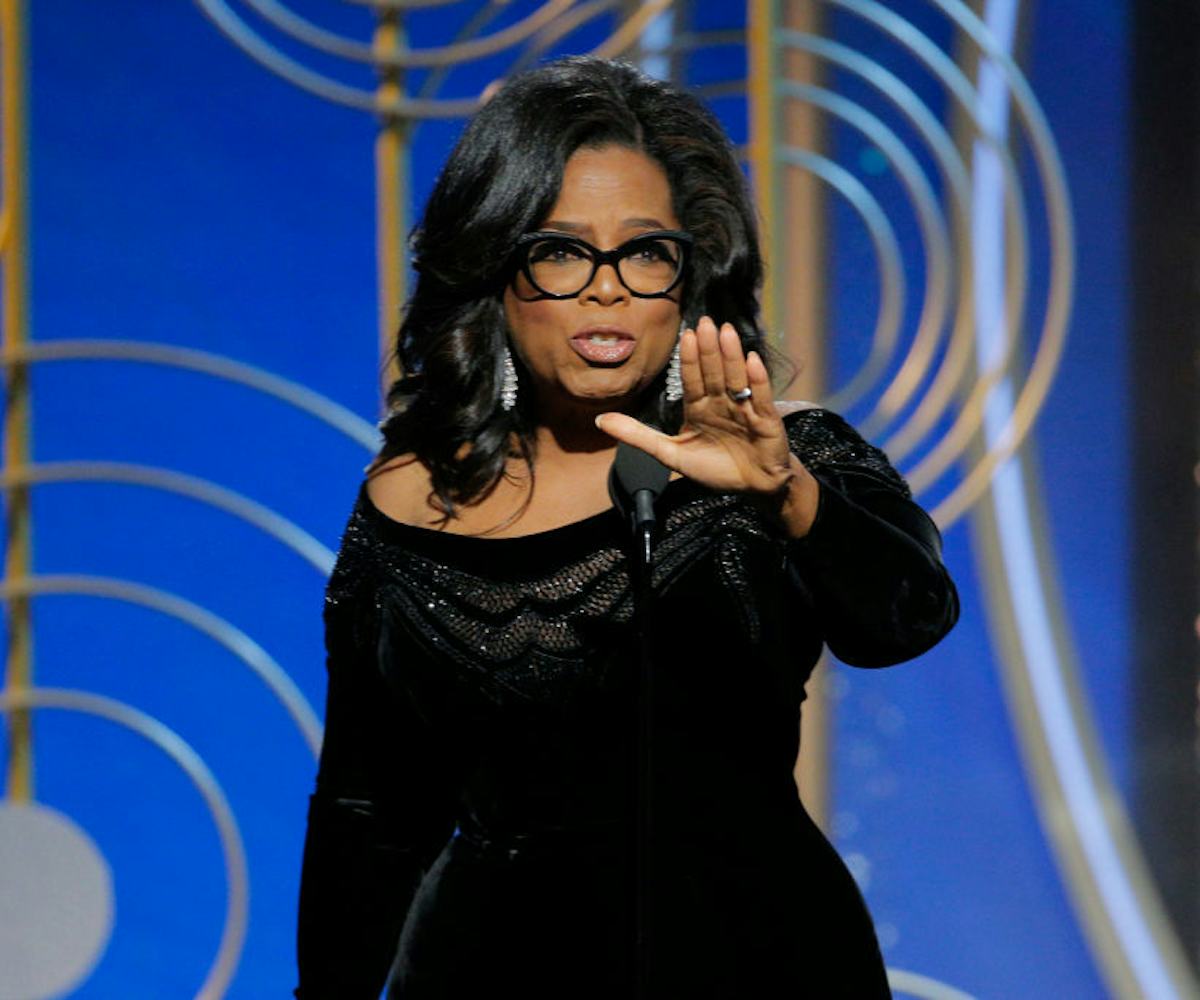 Photo by Paul Drinkwater/NBCUniversal via Getty Images
Oprah's Golden Globes Speech Will Melt Your Cynical Heart
"A new day is on the horizon"
In the lead-up to the 75th Golden Globe Awards, much of the conversation centered around how its attendees would incorporate a political message into this celebration of excess, art, fame, and glamour. Awards shows are often a platform for activism—think: the once-ubiquitous red ribbons during the height of the AIDS crisis or the anti-Bush speeches during the early-2000s—but this year was different. This year actresses and actors had pledged to wear black to signify their unity in what has become known as the Me Too movement, one which has formed as women work together to end the culture of patriarchal oppression which has led to rampant sexual abuse and gender-based inequality in Hollywood, and, of course, across all professional industries and walks of life.
Tonight, we got to see this movement in action. The red carpet was filled with black, and it certainly looked like a funeral for men like Harvey Weinstein, Kevin Spacey, and so many others. And yet, it was also difficult at points not to feel a little cynical, to wonder if this type of activism was going to be more than merely performative. It was hard not to think about the fact that many men in this year's Golden Globes audience have their own rumors floating over their heads (like Best Actor winner Gary Oldman); it was hard not to wonder where exactly Weinstein would have been sitting were it not for The New York Times and New Yorker exposes. (Who are we kidding? At a prominent table, just like always.)
And yet, there were many things that made us have some hope. Like, for example, learning about the millions of dollars raised by the Time's Up initiative, which will be distributed via a legal defense fund, so that, as Natalie Portman told Vulture, "women and men across all industries who don't have access to legal aid or the funds necessary for legal aid can have that, so we don't have this kind of power imbalance in the legal system, as well, that is creating retaliation for people speaking up, and this kind of bullying into silence that has endangered so many people."
And then there was Oprah. After being presented Cecil B. DeMille Award for Lifetime Achievement by a very emotional Reese Witherspoon, Oprah gave an instantly iconic speech, one that had countless people on Twitter hoping it would turn out to be a presidential stump speech. Oprah started by recounting the story of Recy Taylor, a black woman raped by white men in the Jim Crow South, who used her voice to fight for justice for herself and all others like her. Oprah said, "For too long, women have not been heard or believed if they dare speak the truth to the power of those men. But their time is up. Their time is up."
Oprah also spoke of the little girls who might be watching her tonight and would be inspired by her the way she was once inspired by Sydney Poitier, highlighting the importance of representation and how much it affects the way we see our own importance. Oprah stressed how the personal becomes universal, and change starts with our own actions and words, saying, "What I know for sure is that speaking your truth is the most powerful tool we all have, and I'm especially proud and inspired by all the women who have felt strong enough and empowered enough to speak up and share their personal stories."
It was easily the most inspiring speech we've seen in some time, one that serves as a reminder of the rich possibility that still exists within our country. Oprah is a beacon of hope, and so when she said, "I want all the girls watching here and now to know that a new day is on the horizon," it was hard not to imagine a future where she could lead us to that new horizon and far away from our current national nightmare, in which we're led by a man who has been accused of sexual assault by 19 women. This doesn't mean that we expect Oprah to solve all our country's problems, rather, it was just a welcome experience, a reminder that there are some self-made billionaires who are paragons of intelligence, grace, and positivity. In other words, regardless of how dark things are right now, thanks to Oprah, you can consider our cynical hearts melted for at least a little while. 
Now, if only Get Out and Call Me by Your Name had won, we'd be fully happy...