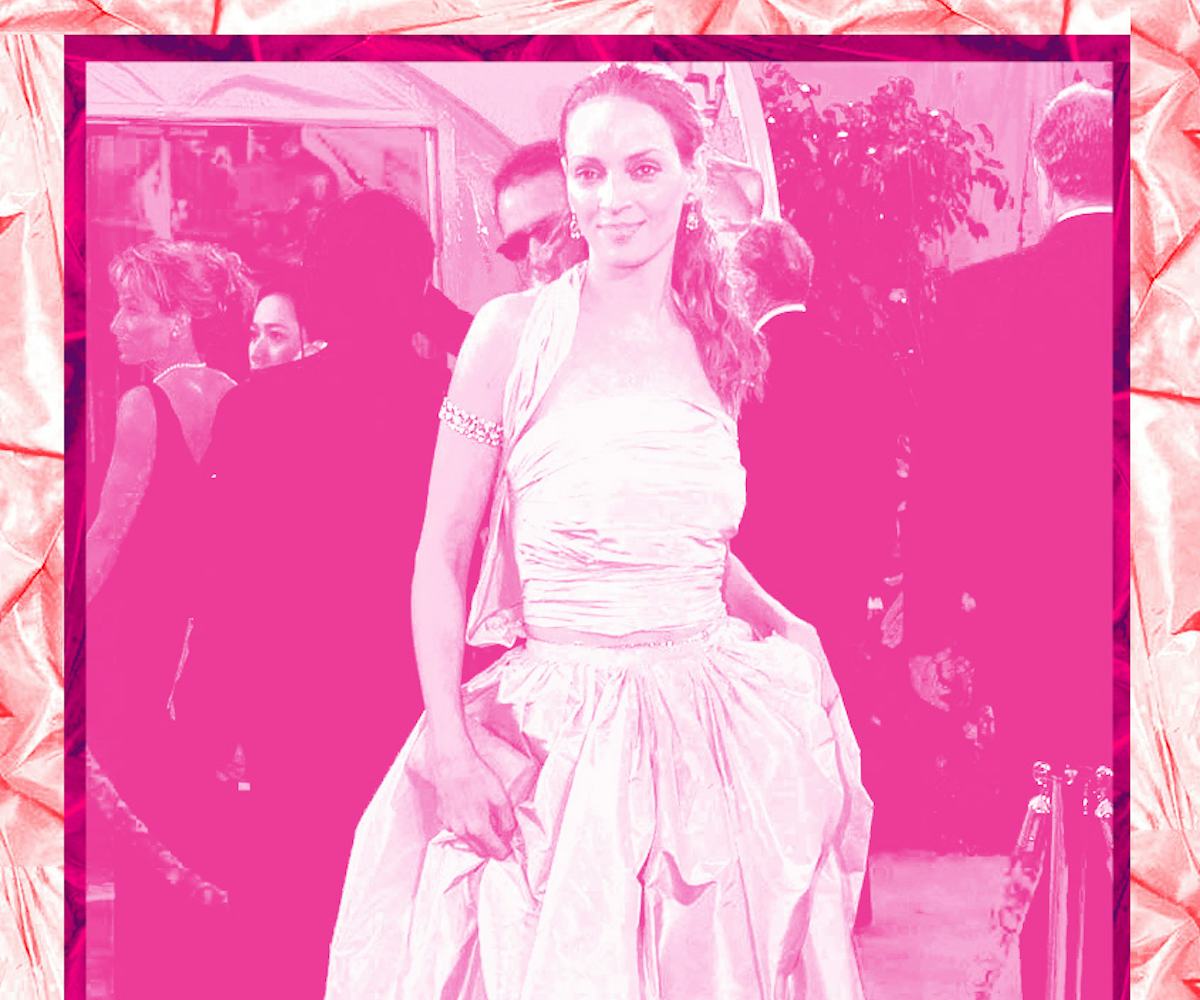 all photos via getty images
11 oscar dresses that haven't aged well
Unless you grew up with a professional stylist, chances are that you have gone through your fair share of style snafus. (Hey, if anyone dug up our prom photos, they would see a whole lot of ill-conceived tulle.) And, as you've heard a thousand times before, celebrities are, indeed, just like us. But unfortunately for our favorite actors, musicians, and filmmakers, the beast that is the red carpet is forever captured by the shutter-loving paparazzi. That means that every little moment is cemented for the entire world to view, forget about...and then rediscover again.
With that in mind, we're celebrating 11 Oscar dresses that haven't aged all too great. The ladies who wore them, of course, are a whole different story, but sometimes you just wear a dress that isn't so classic. So click through the gallery, then revisit your own fashion regrets. And remember: Beauty may fade, but red carpet images last forever.
Related Articles:
The 15 Best Grammys Looks Of All Time
The Official Oscar 2015 Nominations List
The 14 Most Stunning Looks From The Golden Globes
The 8 Best Beauty Looks Of The Golden Globes
Tyra Banks at the 2001 Oscars. There are ways to pull off a princess dress on the Oscars red carpet (see: Sarah Jessica Parker's '09 Dior Haute Couture gown), but Miss Banks definitely missed the mark on this one. It may be the color, which doesn't exactly feel "classic."
Uma Thurman at the 1999 Oscars. Well, we can't say she doesn't look well rested...
Heather Graham at the 2003 OscarsNo one needs a dress with a built-in vest, and yet, this perplexing gown has one—and a bevy of random sheer and lace details. Plus a corset! Always a corset!
Ellen Page at the 2008 OscarsShortly after turning 21, Page showed up to the 80th Annual Academy Awards—where she was nominated for Best Actress (Juno)—in an ill-fitting black spaghetti-strap tiered dress. You know what? It's totally fine to not care about the red carpet, but this is something that could be considered beachwear. Luckily, her beauty game is perfection.
Diablo Cody at the 2008 OscarsNot only is Cody incredibly talented, but she also has a beautiful flapper-meets-pinup-girl beauty look working for her. We would have loved to see her in a classic mermaid silhouette, but instead, we got a leopard bedsheet gown. Oh, and she's wearing gold snakeskin ballet flats under. Welcome to the jungle.
Mariah Carey at the 2010 OscarsWe should know better than to shade the queen of shade, but Mariah has no reason to look like a mother-of-the-bride. Carey probably has every major designer on speed-dial and yet it looks like she went to the prom boutique at a local mall. Girl, you are more glamorous than this!
Sandra Bullock at the 2004 OscarsThis look has divided the NYLON office. Bullock looks like she should be placed upon a wedding cake, which is lovely. But didn't someone stop her and say, "You are actually wearing a wedding dress to the Oscars."
Kate Hudson at the 2001 OscarsYes, the opalescent fringe bibbed gown is an issue in and of itself, but it's the perm that takes this over the edge. Poor Penny Lane. Fortunately, Kate has redeemed herself 2,000 times over.
Gwyneth Paltrow at the 2002 OscarsIt may sound fabulous to wear an Alexander McQueen gown to the Oscars sans bra, but Paltrow has said that this is her biggest style regret. "I still love the dress itself but I should have worn a bra and I should have just had simple beachy hair and less makeup," said Paltrow. "Then, it would have worked as I wanted it to — a little bit of punk at the Oscars."
Juliette Binoche at the 2001 OscarsIt's as if a flapper met a pirate, then went to a 19th century brothel, where she got a little chilly and put some arm socks on. We would follow Juliette into the gates of hell, but the aughts were hard on all of it.
Jennifer Connelly at the 2002 OscarsThe dress itself isn't a tremendous issue (though it certainly is busy). However, on the way to be photographed by the entire world, did she get cold and think "Hmm, I should drape a cotton cloth around my neck ever so haphazardly"?