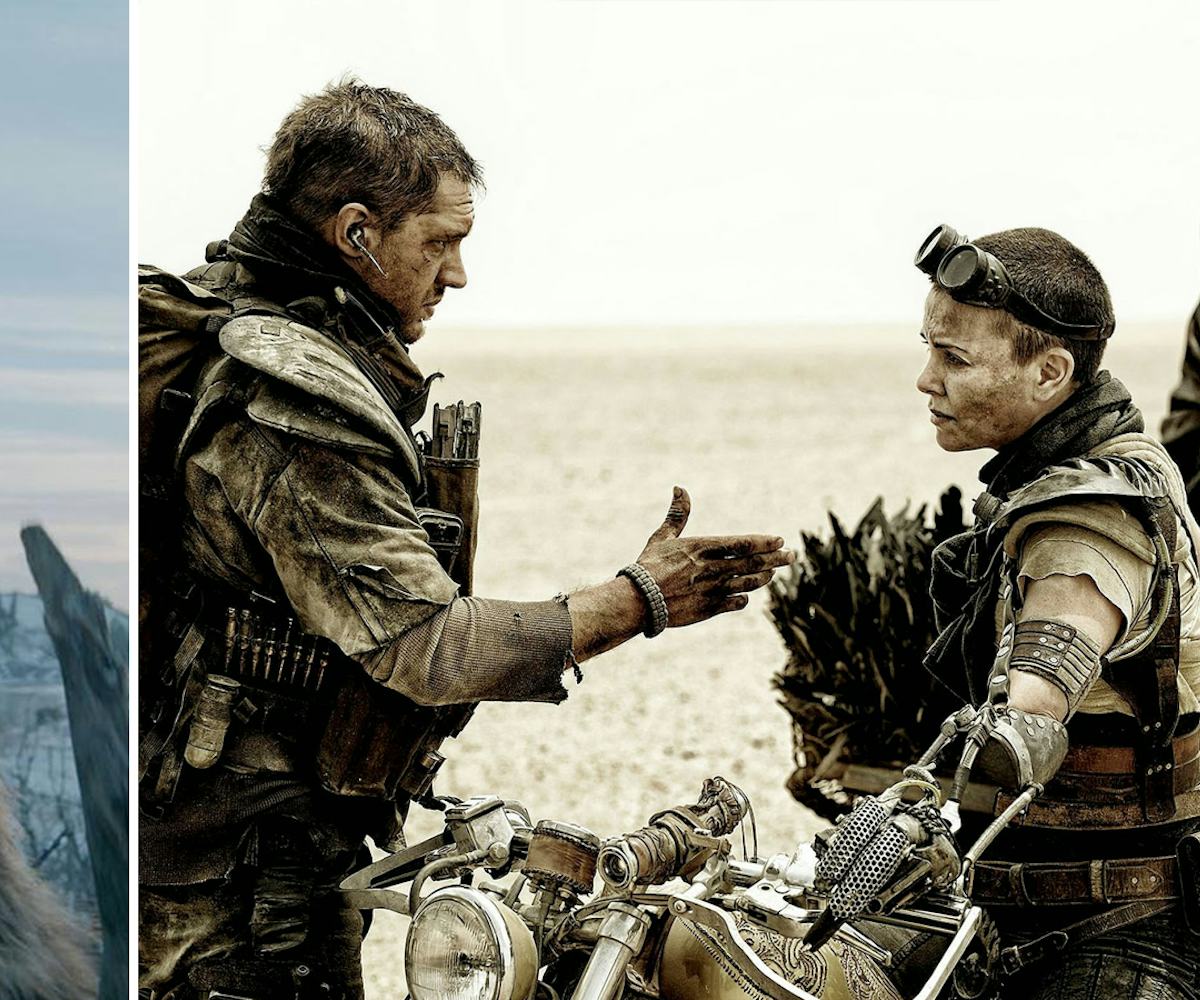 Photos courtesy of Twentieth Century Fox and Kennedy Miller Productions
This Is Who Will Win This Year's Oscars, And Who Should
The Oscars are this Sunday, which means it's time to gamble. After all, why else would you watch a vapid, self-congratulatory, four-plus hour awards show if there weren't a few dollars to be made? When filling your ballots, it's important to remember that now, more than ever, the Oscars are becoming less about actual merit, and more about which studio waged the most successful awards campaign, or which nominee has the most industry goodwill. That means the disparity between who should win, and who will win is growing.
Luckily this year's crop deserves the accolades, which means there won't be any Crash-beats-Brokeback Mountain travesties. With that said, here's our list of who should and who will win this year's top awards. And if you do win a little extra coin, we accept Venmo.
Best Actor
Who Will Win: Leonardo DiCaprio, The Revenant. At this point, Leo could openly endorse Donald Trump, and the trophy would still be his to lose. The actor has steamrolled through awards season, and if he doesn't win on Sunday, it might go down as one of the biggest shockers in Oscar history.
Who Should Win: Leonardo DiCaprio, The Revenant. Yes, he ate raw bison liver. Sure, he slept inside a steaming horse carcass. But when Leo walks away with his first Oscar, it won't be for his performance in The Revenant, which might not even be the best work of his career. Leo, who might be our generation's greatest actor, is just due, plain and simple. Consider this one, a lifetime achievement award, 30 years ahead of schedule.
Best Actress
Who Will Win: Brie Larson, Room. Every few years, America loves crowning a new sweetheart, and with Larson already taking home the Golden Globe, Critics' Choice, BAFTA, and SAG awards, Sunday will be her official coronation.
Who Should Win: Brie Larson, Room. In a role that could have easily descended into melodrama, Larson crafted an instinctive, ferocious, and devastating performance as a desperate mother fighting for the survival of herself and her son. Meanwhile, watching the effervescent Larson IRL, as she giddily charmed her way through awards season, just makes her performance feel that much more transformative.
Best Supporting Actor
Who Will Win: Sylvester Stallone, Creed. There's nothing the Academy loves more than a comeback story. Couple that with the fact that rewarding an actor from a predominantly African-American movie might help alleviate some of their #OscarsSoWhite guilt, and well, this one's looking like a unanimous decision for Rocky.
Who Should Win: Idris Elba, Beasts of No Nation. Yes, we know he wasn't nominated, but Elba's startling performance as a charismatic warlord was enough to earn him a SAG Award and sure as hell should've been enough to earn him, at least, an Oscar nod, if not the win. This glaring injustice represents the Academy's diversity problem in a nutshell.
Best Supporting Actress
Who Will Win: Alicia Vikander, The Danish Girl. The Swedish ingenue was in so many films this year, she was bound to win for something. And, if Vikander does end up holding off Kate Winslet, who's been gaining momentum down the homestretch, it'll be for her performance in Ex Machina just as much as The Danish Girl.
Who Should Win: Rooney Mara, Carol. Despite an incredibly nuanced performance in Todd Haynes' essential lesbian romance, Mara just doesn't have the same headline-ready narrative as Vikander. Don't worry all you Mara-heads. She'll be back. 
Best Director
Who Will Win: Alejandro Iñárritu, The Revenant. We get it. Making The Revenant was grueling, like an episode of Man vs. Wild masquerading as a film shoot. That's been the linchpin of The Revenant's Oscar campaign, and boy is it working. After winning the top DGA award, the Birdman director is virtually set to become the first director to win back-to-back Best Director Oscars since Joseph L. Mankiewicz did it in 1949 and 1950.
Who Should Win: George Miller, Mad Max: Fury Road. It took 30 years for Miller to fully realize the rebirth of his post-apocalyptic chase thriller, and it was time well spent. It's both grim and gorgeous, muscular and surprisingly feminist. Most impressive is how little Miller relied on green screens, choosing practical effects instead. Plus, the acrobatic action sequences were meticulously choreographed by Miller himself. Unfortunately, action movies don't get much love when it comes to the Academy's major awards, even if it is an all-timer.
Best Picture
Who Will Win: The Revenant. This may be the toughest award of the night to predict, but if history is our guide, it's the movie that peaks closest to Oscar night that usually takes home the top prize. Spotlight already had its moment, and so did The Big Short. That leaves us with The Revenant, whose massive wins at the Directors Guild and the BAFTAs, have given Leo and Co. all the momentum in the world heading into Sunday.
Who Should Win: Mad Max: Fury Road. Was there a more memorable moviegoing experience this year? Nope. Was there a more critically acclaimed movie released this year? Nope. Will we ever see anything like it again? Nope.
Best Animated
Who Will Win: Inside Out. It's been three long years since Pixar won this award, but with Inside Out, the world's top animation house is back with its most universally adored film since Toy Story 3. In Vegas, they call this a "lock."
Who Should Win: Inside Out. A case could be made for Charlie Kaufman's wonderfully weird and deeply profound Anomalisa winning, but who are we kidding? Pixar's unique ability to blend smart, funny, and sad is on full display here. Inside Out was not only the best-animated film of the year but one of the best films of the year, period.