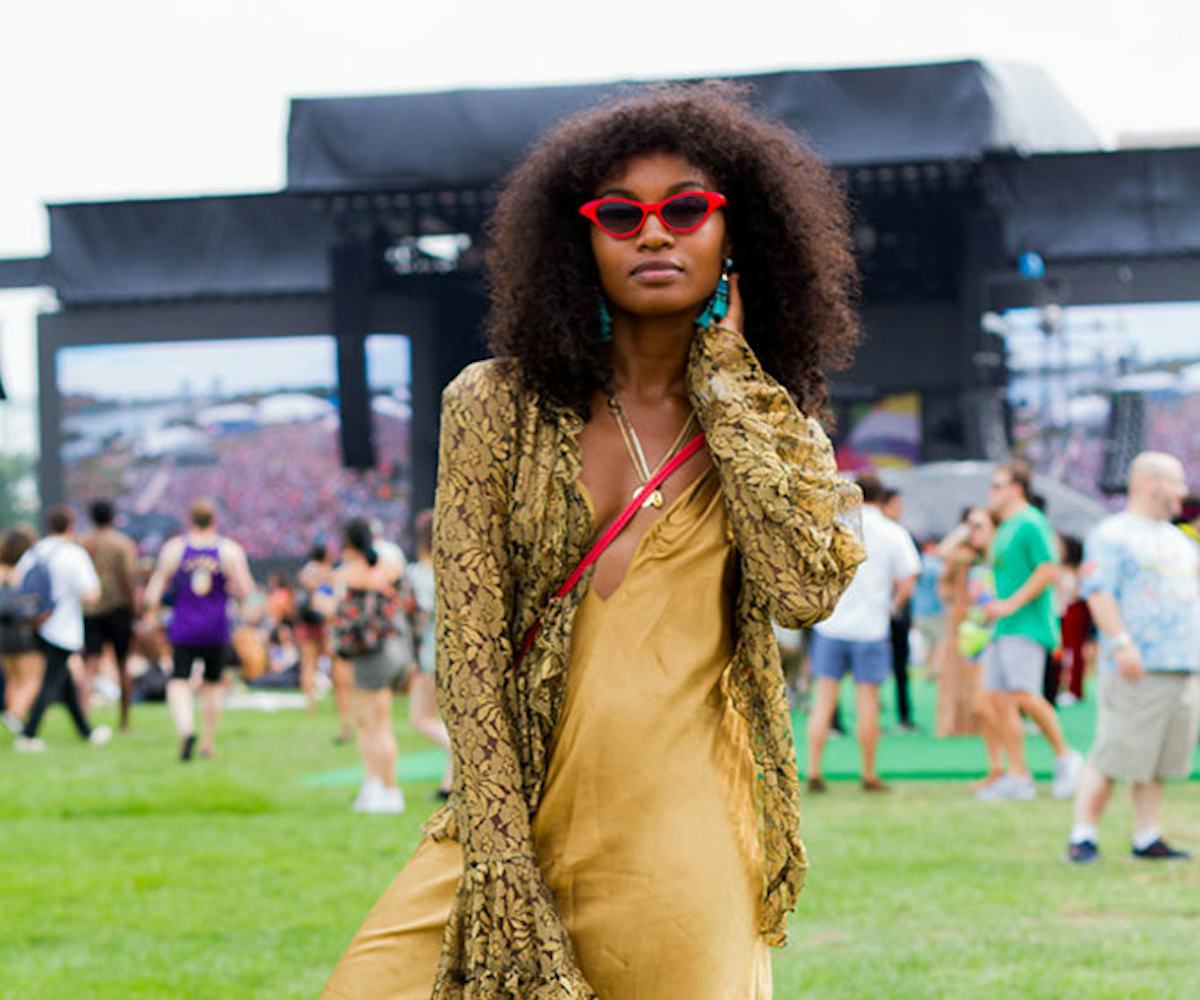 Photographed by Jane Bruce.
What People Wore To New York City's Coachella
Panorama attendees brought out the fashun for its second year
When first introduced last year, Panorama Music Festival was marketed as being New York City's answer to Coachella. We'll be honest, it's not quite there yet—it's only the festival's second year after all—but it's one to pay attention to nonetheless.
Artists like Frank Ocean, A Tribe Called Quest, MGMT, and Nine Inch Nails took to the stage this past weekend, making it one of the most diverse lineups of the year. In response, it also had some of the most diverse festival attendees, both in the makeup and style departments.
What do you wear to watch a brooding Frank Ocean? Tribe Called Quest's last New York show? And a vibrant Tame Impala performance? Colorful sunglasses, fishnets, and definitely no flash tats or flower crowns. See some of the originality NYC's fashion mavens cooked up this go-around. 
Photographer: Jane Bruce
This outfit is so layered we're not sure where to start: The blue boom box purse, the early aughts style move of wearing a bandana as a top, the midi plaid skirt, the pink hair. It's all so, so good.
These boots were made for festival'ing.
Don't ever let anyone tell you that patent leather, ruffles, and polka dots don't mix.
We managed to spot this pair in the wild despite their matching camo.
High school band outfit but make it fashion.
Can we declare red the color of the season yet or what?
Florals pants are the cool girl response to flower crowns.
We know what this girl's doing in #HerCalvins.
A tiered dress that's easy, breezy, and perfect for an outdoor concert.
Go for an unexpected shoe color to switch things up.
We wouldn't want to be stuck behind her hair for, you know, viewing purposes. But we will give her round sunglasses, coordinated top and shorts, and cutout boots a shout-out.
Living her life like it's golden (and red! and turquoise!).
Rocking orange for Frank, we presume.
Suns out, double buns and skin out.
Always make sure to accessorize your look with a little ~personality~.
Someone get us that shirt with a side of fries stat.
#CarefreeBlackBoys
A divine being who happens to be wearing the best leather shorts we've seen in a long time.
Pretty sure we wore an outfit very similar to this when we were seven and now we definitely want it back.
Sarongs don't only belong on the beach.
Neither do palm tree prints!
Babe, you got this.
We're supreme-ly fond of this dominatrix bumble bee number.
Edge up your white slip dress with a bold pair of boots, matching bandana, and door knockers and you, too, will have everyone doing a double take.
His friends shouldn't have any trouble finding him in the crowd.
Yes to contrasting textures attracting.
More pleats please.
A graphic sweater dress is the perfect day-to-night festival piece.
Gianni Versace would approve.
Have seafoam green eyebrows ever looked cooler than when complemented with a see-through lace top? Nope.
You could be a race car driver in those clothes.
Little House on the Panorama prairie.
Her corseted chain belt was almost enough to distract us from the dope handcuff earrings. All are ace in our book.
Like a kiss from a red-and-white striped rose.
Festive earrings for a festival-going girl.
Cue Tinashe's "Flame."
An outfit with some real flare.
Bright red palazzo pants made all the better with ruffle detailing and a gleaming smile.