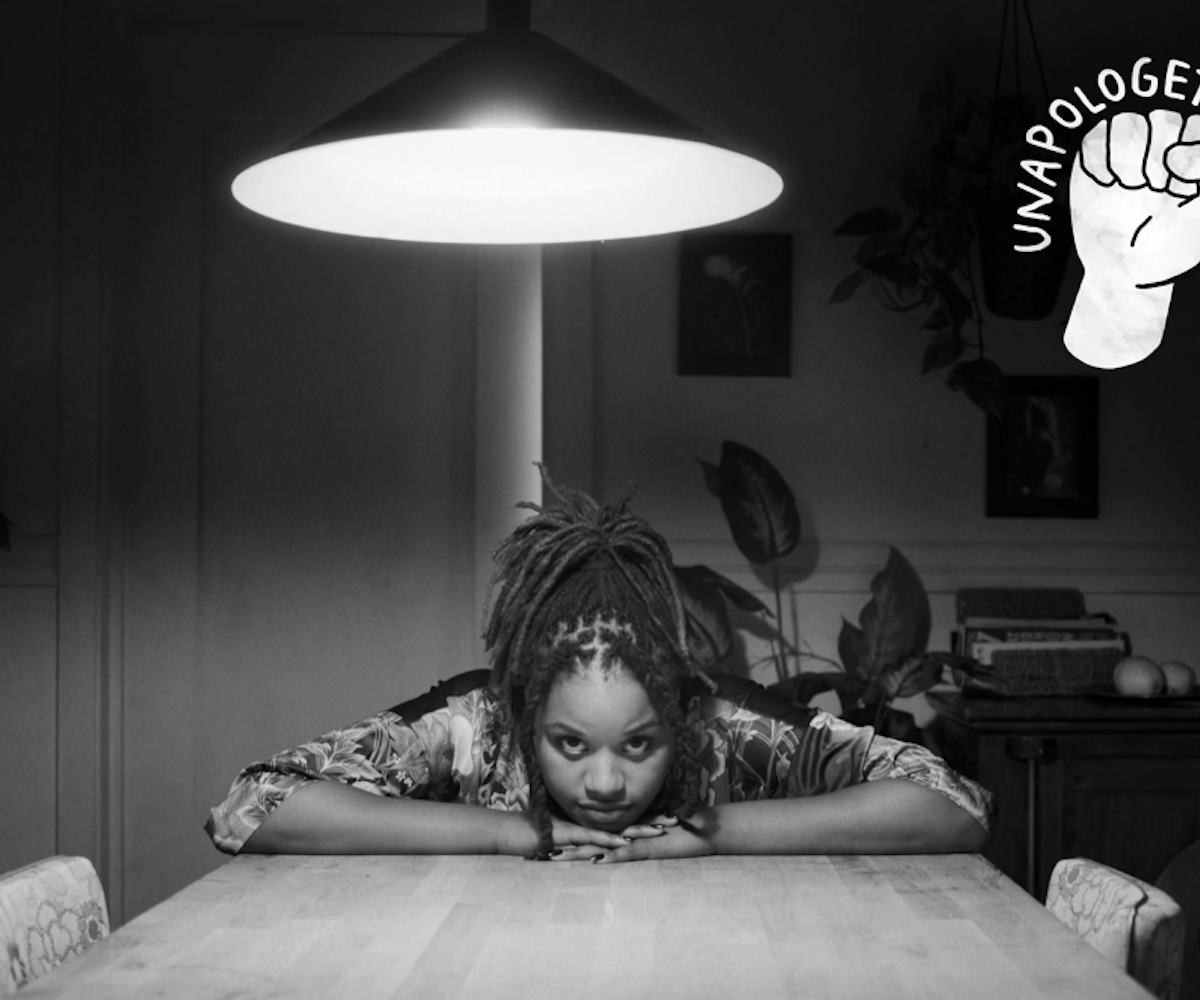 PJ Refused To Let The Music Industry Tell Her She Wasn't Something Special
Don't try and put PJ in a box
In celebration of Black History Month, NYLON is running a spotlight series called UNAPOLOGETIC. Every day, we'll celebrate different aspects of black culture through profiles, interviews, roundtables, reviews, videos, and op-eds. #Blacklivesmatter and we hold that truth to be self-evident.
Last month, we introduced you to the tunes of PJ. The genre-bending artist dips her hand in a little bit of everything, with an emphasis on pop, R&B, soul and hip-hop. PJ describes it as "everyday people" music that is meant to convey an honest depiction of life as a millennial.
"It's just crazy to me 'cause I feel like nobody listens to just one genre anyway," she says. "I don't understand how people get so hung up on 'oh, this person is this and this person is that' when the average person goes from pop to trap to R&B. It's crazy."
As the daughter of a young mother, PJ grew up listening to Lauryn Hill, Nas, Michael Jackson, Britney Spears, and the Backstreet Boys in the suburbs of Greensboro, North Carolina. She recalls how her mom wanted to be a rapper, but that never came to fruition. When PJ moved to Atlanta to live with her dad at the age of 13, she experienced major cultural shock, as she was fully exposed to the hip-hop scene for the first time. 
Learn more about how this 26-year-old went from working behind the scenes for other artists to being the talent at the front and center in the interview, below.
When did music come into the picture for you?
I feel like I always wanted to be an artist. I used to watch Michael Jackson all the time and Showtime at the Apollo. I remember I asked my dad for a guitar, and he got me one, but I never took lessons so I literally just used to bang on it. I started getting super interested in music when I was in high school. There was this technical program, and they taught you how to play beats and record music, so that was the start of it. I remember when MySpace was out, I used to record and put little covers up and things like that, and then I thought I wanted to be an audio engineer. But when I went to college for it, it wasn't as interesting as I'd thought it would be. 
How did you transition into the music world, eventually going from writing songs for other artists to writing for yourself?
Right before I was about to graduate, I tried to get a job in Nashville, but I couldn't really find anything. I was trying to get an internship, and [since] Nashville's predominantly country music, it's hard when you're not trying to do country. So I went to this expo, which is where I met my managers; I just went to L.A. trying to get a job, really, and then I just ended up meeting them. That's when I moved to L.A. and I started writing. I got signed as a full-time songwriter, so I was writing songs every day, though nothing happened [for a year]. I was so frustrated, like, "Why won't anybody take any of my songs?" [But then I wrote] a song for Meek Mill, featuring Paloma Ford, and that was the start of me writing for people. Then it was Wiz and Trey Songz... A lot was happening, [but] at the same time, it was a struggle for me. 
This whole time while I was writing for people, I'm like, "I really want to be an artist." People didn't really see me in that light because I didn't fit the standards of what an artist is supposed to look like. I just kept writing, and I started writing about my frustrations and how I wasn't really given a fair chance, and that was just coming through my music. I feel like that's why I always have a tone of being the underdog. Even now, I still feel like that, but Atlantic offered me a deal, and we took it. When I started working, before I got the deal, I had a couple songs done, like "Make Believe," which they wanted to give away to another artist. It was just so crazy; I was like, "No, that's my song. That's my story."
What motivated you to push through? 
I felt like the journey was super hard. Part of it was my fault, 'cause I was kind of looking for somebody else's opinion, like, "Oh, okay you can be an artist." Like I needed them to tell me that in order to move forward and chase what I wanted. So I was walking around and talking about everything I was going through, like not having enough money, feeling like people were overlooking me for whatever reason, and that's what it was about. 
Do you ever feel like you put too much pressure on yourself as an artist? With your last album, did you find yourself striving to achieve more than you could realistically handle?
I'm not worried about the talent—I feel like Rare is a cupcake. Everything that I love is like a musical cupcake—it's got pop and hip-hop, and it's like a unified thing. I'm not so worried about the drama as I am the message. I feel like my message is saying be yourself; be who you are and don't give up. It's cliche, but I feel like I make come-up music for people in my position. I feel like there's so much music on the radio, and it's like this little space with all of us 20-year-olds and all the people who went to school, and then who didn't have a job; nobody talks about it, not knowing what to do and figuring yourself out. I feel like the majority of people my age or younger are all going through the same thing. But I feel like it's everyday people music. I want it to be a fairtale for those people.